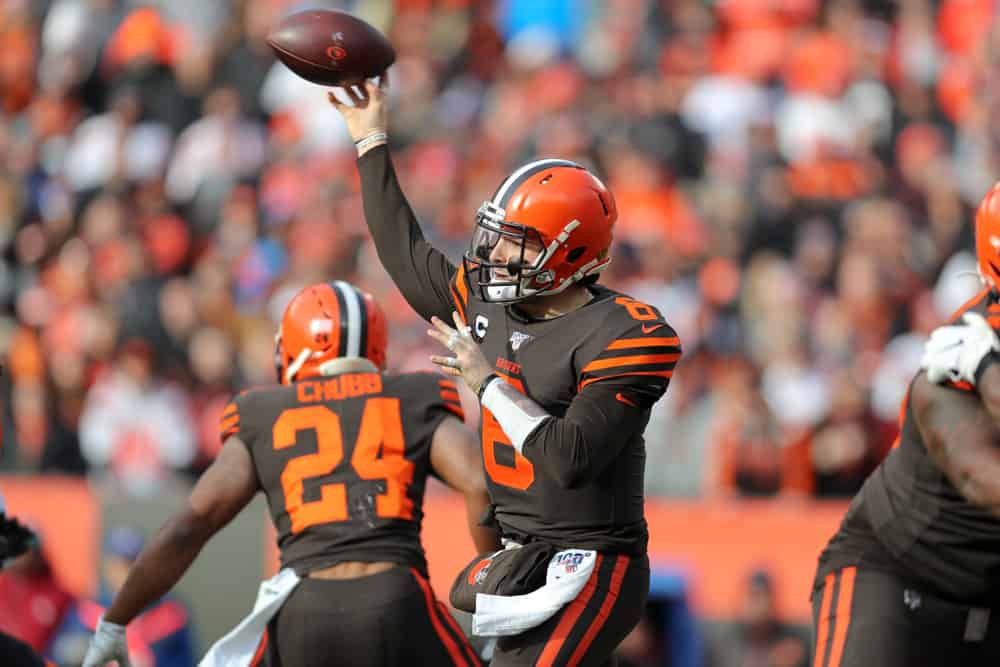 Every NFL quarterback needs an "old reliable," someone he can count on for a clutch catch to keep the offense running while helping him develop an in-game rhythm. Said option may not get all the targets every week, but certainly enough to merit some defensive focus and free up primary receivers.
In 2018, wideout Rashard Higgins took this job for the Cleveland Browns, consistently ensuring quarterback Baker Mayfield could keep the sticks moving with a key reception.
In 2019…well, said role remained vacant for the most part. While this wasn't the sole reason for Mayfield's struggles last season, it certainly didn't help the cause.
Though it's early in training camp, initial results seem to indicate he's found his safety net for the upcoming season — Austin Hooper.
Mayfield has already established a strong rapport with his new tight end, who possesses career numbers which indicate he's ready become a much-needed reliable target for the Browns' offense.
Obviously, Odell Beckham Jr. and Jarvis Landry remain the marquee members of Cleveland's passing attack. This, of course, means opposing defenses will tailor their respective game-plans around ensuring these two don't make too much impact, which further hammers home how important it is for Mayfield to have a security blanket.
As mentioned, Higgins gave him this in 2018. He averaged a high catch percentage (73.6% on 53 targets), yards per target (10.8) and yards per reception (14.7). Essentially, when Mayfield needed a first down, Higgins was there to provide it.
There wasn't a single member of Cleveland's offense who generated those types of numbers last year.
Running backs Nick Chubb (73.5%) and Kareem Hunt (84.1%) both boasted solid catch percentages, yet each averaged 7.7 yards per reception. Wideout Damion Ratley (16.7) and tight end Ricky Seals-Jones (16.4) had strong yards per reception numbers, but weren't targeted nearly enough to make a consistent impact.
As for Higgins, he spent the year in then-coach Freddie Kitchens' doghouse for reasons still mostly unclear, finishing the season with only eleven balls thrown his way.
Again, there was more to Mayfield's 2019 struggles than his not having a consistently reliable target. Still, he spent much of last season unable to develop a rhythm, and this likely played a part in that.
For all we know, a new coach may help Higgins regain his role as Mayfield's safety net. However, early camp indications imply that'd require stealing the job from Hooper.
Mayfield's rapport with his new tight end has been plenty noticeable over the last week, as Zac Jackson of The Athletic noted the trust developing between these two in several of his practice recaps.
When combining this early chemistry with Hooper's career numbers, it's not a leap to assume he can be one of Mayfield's most trustworthy targets this season.
Hooper was targeted at least 65 times in each of his last three seasons with the Atlanta Falcons, receiving a career-high 97 last year. Within all of these campaigns, he never had a catch percentage below 75.4%. He's also coming off a season where 55% of his 75 receptions went for a first down.
Simply put, Hooper is imposing enough to force defenses to keep an eye on him. Provided he's continually moving the chains — which his career 10.5 yards per reception indicates he can do — he'll require more attention.
From Mayfield's perspective, the quicker one target becomes reliable, the more dangerous his others become. If opponents have to increase their focus on Hooper, it should give Beckham and Landry a little more breathing room.
Obviously we'll have to wait to see if what's taking place in practice can translate into live games. Still, Hooper is already getting plenty of attention, both from observers and his quarterback.
Should Cleveland's new tight end prove to be a dependable target, it could help the offense develop far more momentum than what we saw at any point last season.