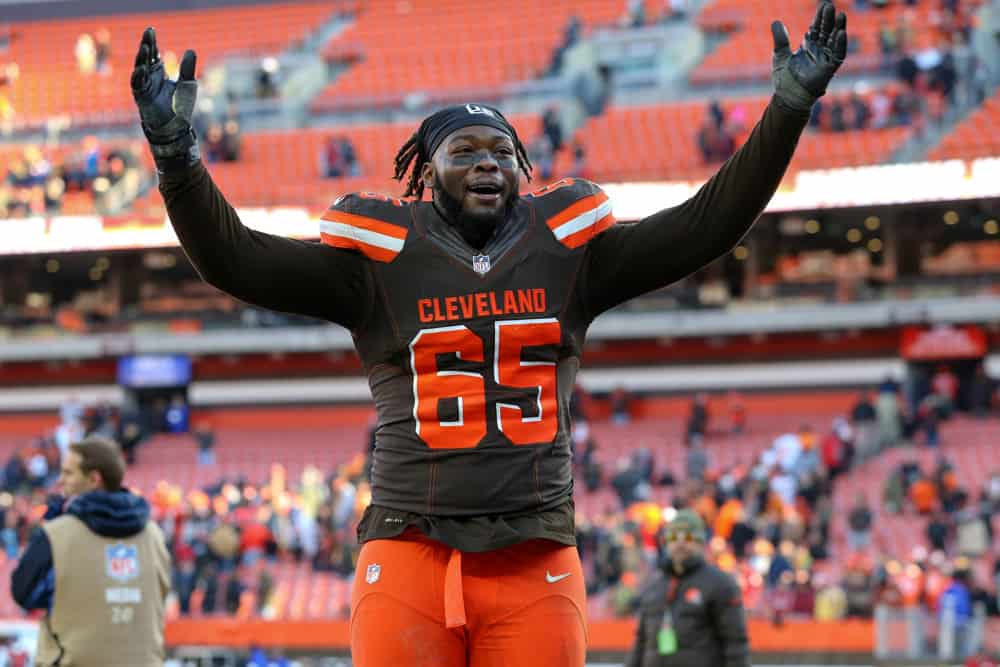 On Tuesday, Cleveland Browns defensive line coach Chris Kiffin said the following about fourth-year defensive tackle Larry Ogunjobi: "He is chasing greatness."
#Browns D-line coach Chris Kiffin said DT Larry Ogunjobi is one of few guys he got to meet before lockdown in pandemic, he wants to be great, he's hungry, he sees other guys getting accolades as top DTs in league, and he wants to get there

— Nate Ulrich (@ByNateUlrich) August 18, 2020

This high praise for the Ogunjobi is a great thing to hear.
He has been a force for the Browns each of the last two seasons.
In 2019, he ranked 20th in solo tackles (33), 31st in assists (12), and 14th in sacks (six), according to Pro Football Focus.
Last season was just Ogunjobi's second as a full-time starter.
He is on the rise, and Kiffin sees great potential in him.
Who is Chris Kiffin?
Chris Kiffin, the brother of Ole Miss's new head football coach Lane Kiffin, enters his first season with the Browns.
Kiffin came from being the pass rush specialist coach with the San Francisco 49ers
He is ready to improve the Browns' defense overall.
PFF ranks the Browns defensive line as the 12th-best in the NFL.
In 2019, the Browns ranked 18th in team pass rush win rate, according to ESPN.
In addition to the pass rush, Kiffin will have to improve the Browns' 5.0 yards per carry allowed last season.
With this high number of yards allowed on the ground, the Browns ranked as the third-worst rushing defense last season.
Kiffin needs to turn things around, and he has been seeing positive aspects of his defense thus far.
Kiffin had many great things to say about Myles Garrett, Olivier Vernon, rookie defensive tackle Jordan Elliott, and Ogunjobi.
What did Kiffin Have to Say about Ogunjobi?
Kiffin is ready to see Ogunjobi take the next step, especially because of his attitude and intangibles:
"From the day I met him, I could just tell how hungry he is, how eager he is, and that he wants to be great. He is chasing greatness. He has all the intangibles. He has the tools, the athletic ability, the skillset, and the strength."
The new defensive line coach thinks that Ogunjobi can be a top interior defensive lineman:
"We have to help him rush the passer on third down, teach him some moves, and make him a three-down player that can dominate. Not just be good, that can dominate in this league."
With Kiffin's can-do attitude combined Ogunjobi's strong attributes, this could be a match made in heaven:
"He sees all those other guys getting all the accolades as far as top defensive tackles in the league, and he wants to put himself up there."
We should all be looking forward to Ogunjobi's continued rise to the top.
How has Ogunjobi's Training Camp been going?
Ogunjobi has been sidelined from practice, along with some other big-name Browns:
RB Nick Chubb (concussion), WR Jarvis Landry (hip), DT Larry Ogunjobi (groin), LB Mack Wilson (knee) among those not practing today #Browns #BrownsCamp

— Daryl Ruiter (@RuiterWrongFAN) August 19, 2020
Fortunately, the Browns do not start the season tomorrow, so the Browns have some time to recover.
If Cleveland can limit its injuries heading into 2020, there is a good chance that the team can get off to a good start.
It seems that Wilson will be out to start the season with his hyperextended left knee.
However, if Chubb, Landry, and Ogunjobi are sidelined to begin 2020, there will be some problems for the team.