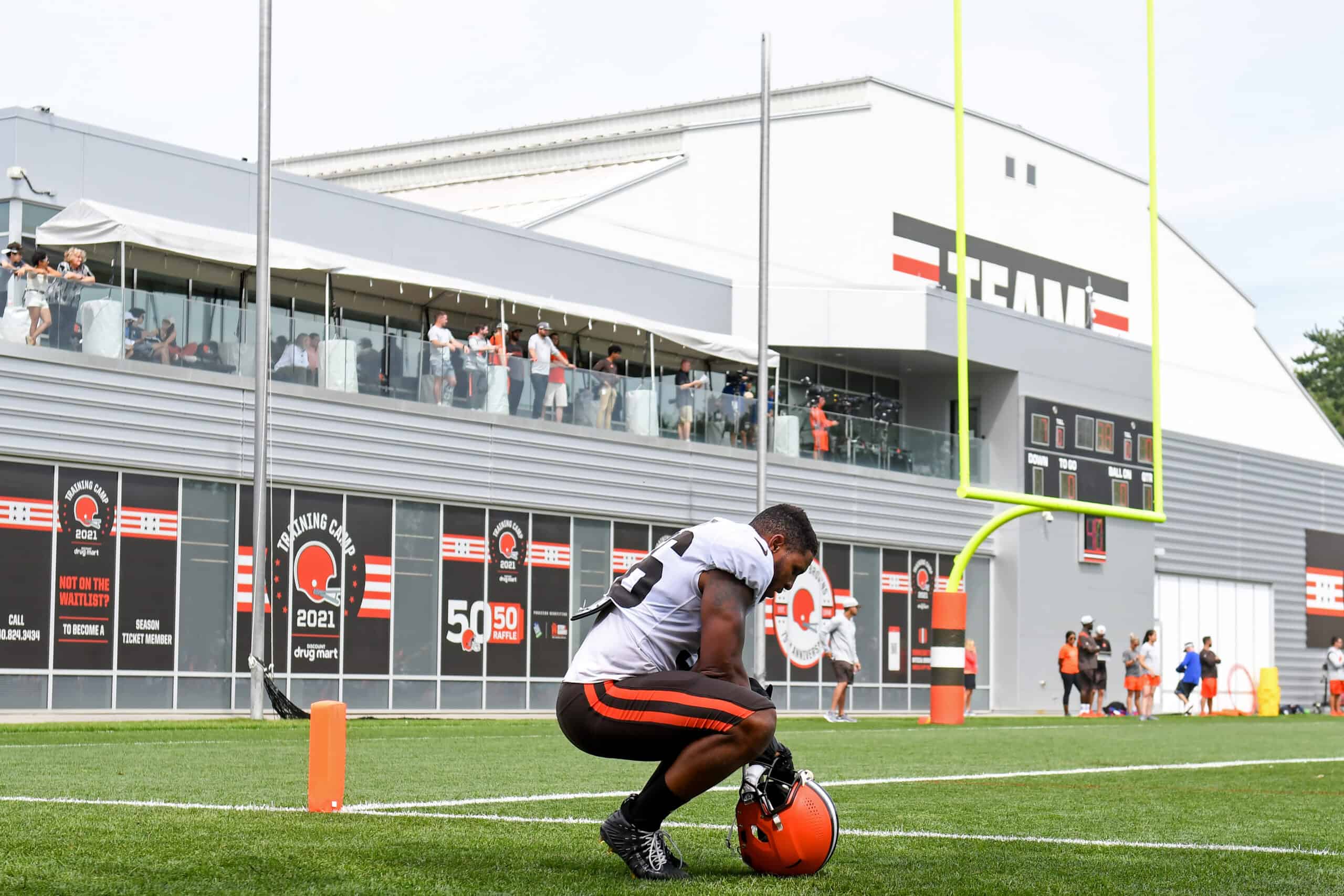 The Cleveland Browns announced roster cuts one day ahead of the deadline.
Five players were cut to bring the roster down from 85 to 80.
We have placed K Cody Parkey on IR and reduced our roster down to 80.
📸 » https://t.co/JUSwU23TmV pic.twitter.com/gvEMjiSwPm

— Cleveland Browns (@Browns) August 23, 2021
The roster cuts involve placing three players on injured reserve and waiving two others.
Injured reserve players include:
Of course, the biggest surprise on this list is kicker Cody Parkey.
He kicked an extra point and the ensuing kickoff in the first half of yesterday's preseason game against the New York Giants.
That was his last work in the game as Chase McLaughlin kicked an extra point and field goal in the second half.
After the game, Coach Stefanski reported that Parkey had a quad injury but no more detail was provided.
Parkey was the Browns' kicker for every game of the 2020 season except for Week 1.
He replaced Austin Seibert who kicked poorly against the Ravens.
Designating him to IR before September 1 means he cannot be reactivated this season.
Any player placed on IR before September 1st cannot be designated for return, meaning K Cody Parkey's season is over #Browns.

— MoreForYouCleveland (@MoreForYou_CLE) August 23, 2021
#Browns coach Kevin Stefanski stops short of naming Chase McLaughlin kicker for Week 1, but Cody Parkey is going on IR, so it sounds like McLaughlin vs. anyone else who might be available or become available

— Nate Ulrich (@ByNateUlrich) August 23, 2021
Chase McLaughlin
McLaughlin was claimed off waivers from the New York Jets this spring.
He competed well with Parkey, and it was anyone's guess who would land the job.
Some believe McLaughlin has a stronger leg.
Chase McLaughlin has a way stronger leg than Cody Parkey so this might work in the #Browns favor. https://t.co/tOfXmyS93Q

— MoreForYouCleveland (@MoreForYou_CLE) August 23, 2021
McLaughlin has a pretty solid track record.
Chase McLaughlin #Browns Facts:

– His career long is 52 in the NFL, 54 in college.
– Over his career in CFB + NFL, he's gone 110 for 111 on PATs. Automatic.
– Named All-Academic Big 10 his junior year
– He has never missed a FG under 39 yards in the NFL (12 for 12) pic.twitter.com/QqppLpSdXy

— Cheeks (@alittlecheeky) August 21, 2021
His problem is he could not find one team to call home.
In his two seasons, he was with five different teams.
He made a 49-yard field goal in yesterday's game.
Chase McLaughlin not just a "camp leg."
Browns claimed him off waivers in May.
Like that he never missed a P.A.T. at Illinois.
Liked his 49-yard field goal today.

— Steve Doerschuk (@sdoerschukREP) August 22, 2021
The Browns still have time to bring in other kickers for a tryout if they choose to do so.
McLaughlin has not officially be named the starting kicker yet.
Other Roster Moves
Those were not surprising.
Unfortunately, Montrel Meander ruptured his Achilles in yesterday's game so he requires season-ending surgery.
#Browns coach Kevin Stefanski said LB Montrel Meander (Achilles tendon) will need surgery

— Nate Ulrich (@ByNateUlrich) August 23, 2021
He was brought back after Jacob Phillips' injury so the Browns continue to struggle to get healthy and deep at the linebacker position.
On the other hand, the Browns are deep at wide receiver with Donovan Peoples-Jones, KhaDarel Hodge, and Demetric Felton among others so waiving Hollins was not shocking.
Next week is the big roster cut from 80 to 53 so the Browns have some tough decisions to make in the coming days.