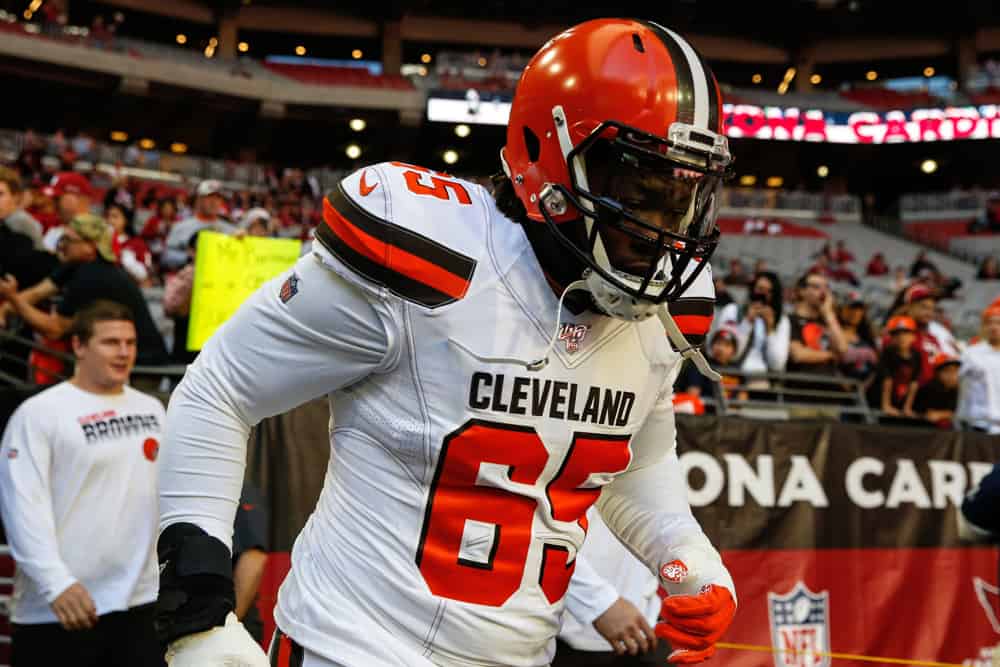 The Cleveland Browns continue to go defense heavy this offseason.
They've added another defensive piece in tackle Malik Jackson.
Malik Jackson is signing with the Browns, per source

— Jeremy Fowler (@JFowlerESPN) March 19, 2021
The veteran tackle is expected to immediately slide into a starting role in 2021.
The 31-year-old will replace Larry Ogunjobi who signed with the Cincinnati Bengals earlier this offseason.
It was uncertain how the Browns would handle the loss of Ogunjobi, but it appears they've actually upgraded at the position.
Jackson Over Ogunjobi
Neither player should be thrown into the category of an elite tackle.
Both are considered fairly average, but Jackson might actually be a slightly better option for Cleveland.
Last season, both players put up mediocre numbers, but Jackson graded much better than Ogunjobi.
Malik Jackson had a better PFF grade than Larry Ogunjobi in 2020 #Browns

Malik Jackson

64.7 PFF GRADE
TACKLES 20
ASSISTS 7
FORCED FUMBLES 0

Larry Ogunjobi

53.0 PFF GRADE
TACKLES 30
ASSISTS 9
FORCED FUMBLES 1

— Mike (@MIKE_BROWNS_UK) March 20, 2021
On paper, it was a down year for Jackson, but he still found a way to be productive.
His 28 tackles and 2.5 sacks were his lowest since his rookie season in 2012.
To be fair, Jackson was a part-time player with the Philadelphia Eagles last season.
He only started in six of the 15 games that he appeared in, which could be part of the reason his stats are down.
Ogunjobi put up fairly similar stats and was a full-time starter in Cleveland over the last three years.
The Browns didn't feel comfortable committing to a long-term deal with Ogunjobi, so this might be a better solution for the organization.
Did Cleveland Make The Right Call?
At first glance, it certainly seems that Cleveland made a smart decision by signing Jackson.
Over his nine seasons, Jackson has 267 tackles, 35 sacks, and six forced fumbles through 126 games.
His best seasons are likely behind him, but clearly Jackson was still an impactful player last season.
It's also worth noting that Jackson has plenty of playoff experience under his belt.
In fact, Jackson has played in 11 playoff contests and scored a touchdown during the Super Bowl.
#VFL Malik Jackson with the first TD of the Super Bowl! #SB50 #GBO pic.twitter.com/RkUviWqPKO

— Vol Hype (@volhype) February 8, 2016
His experience and veteran leadership should make him well worth the money.
At this point, Jackson just wants a chance to win after getting multiple hefty contracts earlier in this career.
He took a cheap one-year deal worth $4.5 million with Cleveland, so it's tough for that to backfire on them.
Ogunjobi is a fine player and does have plenty of potential, but isn't what the Browns need right now.
Cleveland needs a veteran presence who can help lead and teach the younger players.
Fans shouldn't expect Jackson to make the Pro Bowl, but he should be an upgrade over Ogunjobi.