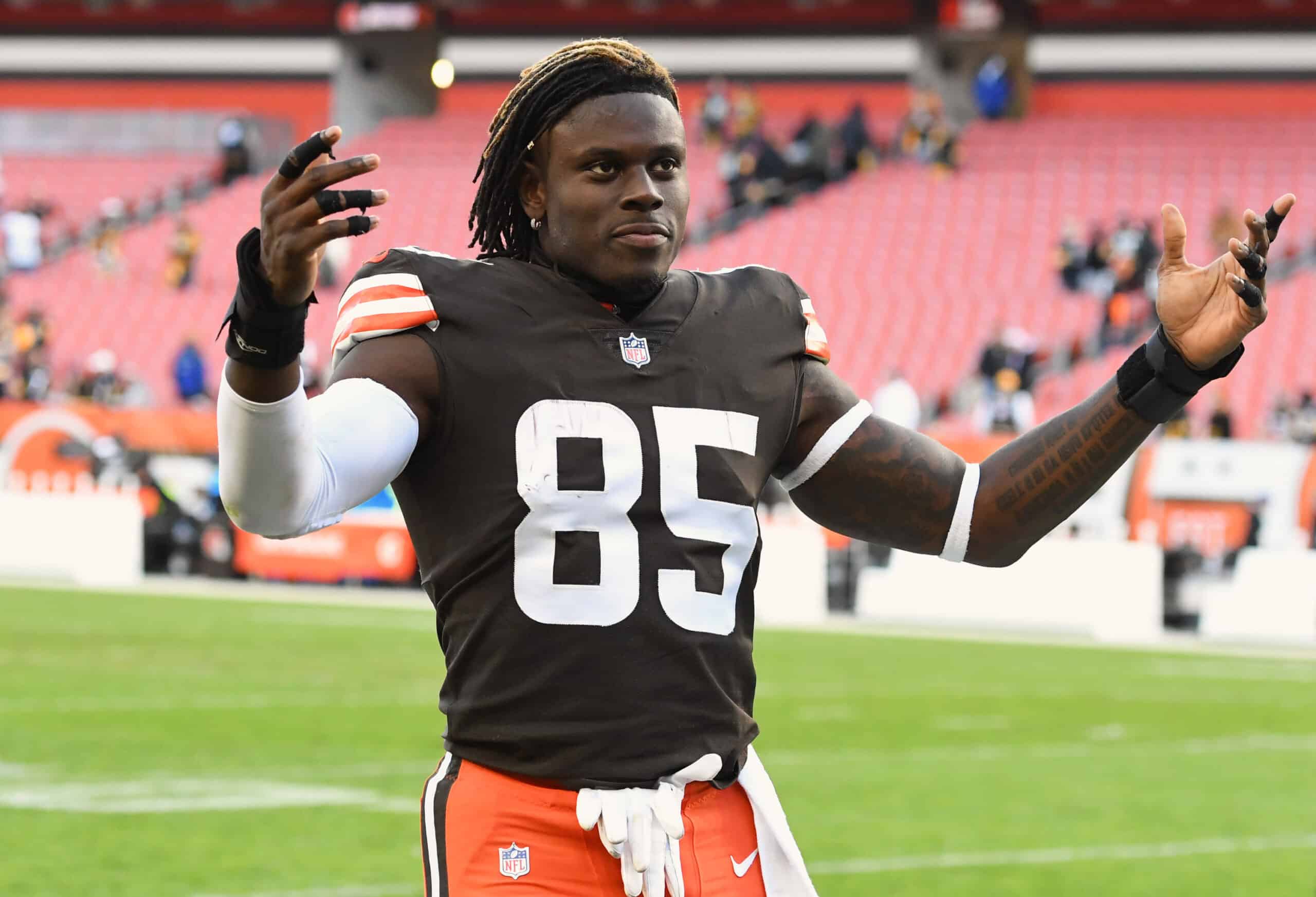 The NFL offseason is finally beginning to heat up.
The Cleveland Browns are making one of the first big moves of the offseason.
They've decided to franchise tag tight end David Njoku.
Source: The #Browns tagged TE David Njoku. The first one.

— Ian Rapoport (@RapSheet) March 7, 2022
The former first round pick is reportedly the first player to be franchise tagged this offseason.
Njoku has put together a rollercoaster of a career in Cleveland and it doesn't look like it's going to end in 2022.
Bringing Back Njoku
Despite rumors of wanting out of Cleveland, Njoku has remained with the Browns since being drafted in 2017.
His career started out strong with back-to-back successful seasons.
After that, injuries took a toll on him and the drops started to add up as well.
Luckily, the Browns took a chance on Njoku and decided to accept his fifth-year option in 2021.
He put together a fairly respectable season with the Browns, which likely would've given him decent value in free agency.
However, the Browns have decided they want to keep Njoku around and likely work out a long term deal.
Cleveland will reportedly pay Njoku $10.8 million by franchise tagging him this offseason.
#Browns TE David Njoku will play on a 10.834M franchise tag cap hit for the 2022 season as the team works towards a long term extension. pic.twitter.com/5oC6ZB1DrX

— MoreForYouCleveland (@MoreForYou_CLE) March 7, 2022
That is quite a lot to pay for a tight end who has registered one 40-plus catch season in his career.
Despite that, the Browns continue to believe in Njoku's ability and want to keep him around.
The Browns will now be paying two tight ends over $10 million for this upcoming season.
Two-time Pro Bowl tight end Austin Hooper is set to have a cap hit of $13.2 million in 2022.
Clearly, the Browns want to heavily utilize the tight end position going forward.
Too Much Money?
It's a bit surprising that the Browns are willing to pay Njoku with Hooper still under contract.
As mentioned before, Cleveland clearly believes in Njoku and they want to keep him around long term.
He hasn't really proven to be worth a long term extension, but maybe he can earn it in 2022.
The Browns still have plenty of cap space left over to upgrade at wide receiver and defensive line.
Browns fans shouldn't be shocked if the team moves on from Hooper after the 2022 season.
After that, they sign Njoku to a long term deal and have him as their primary tight end going forward.