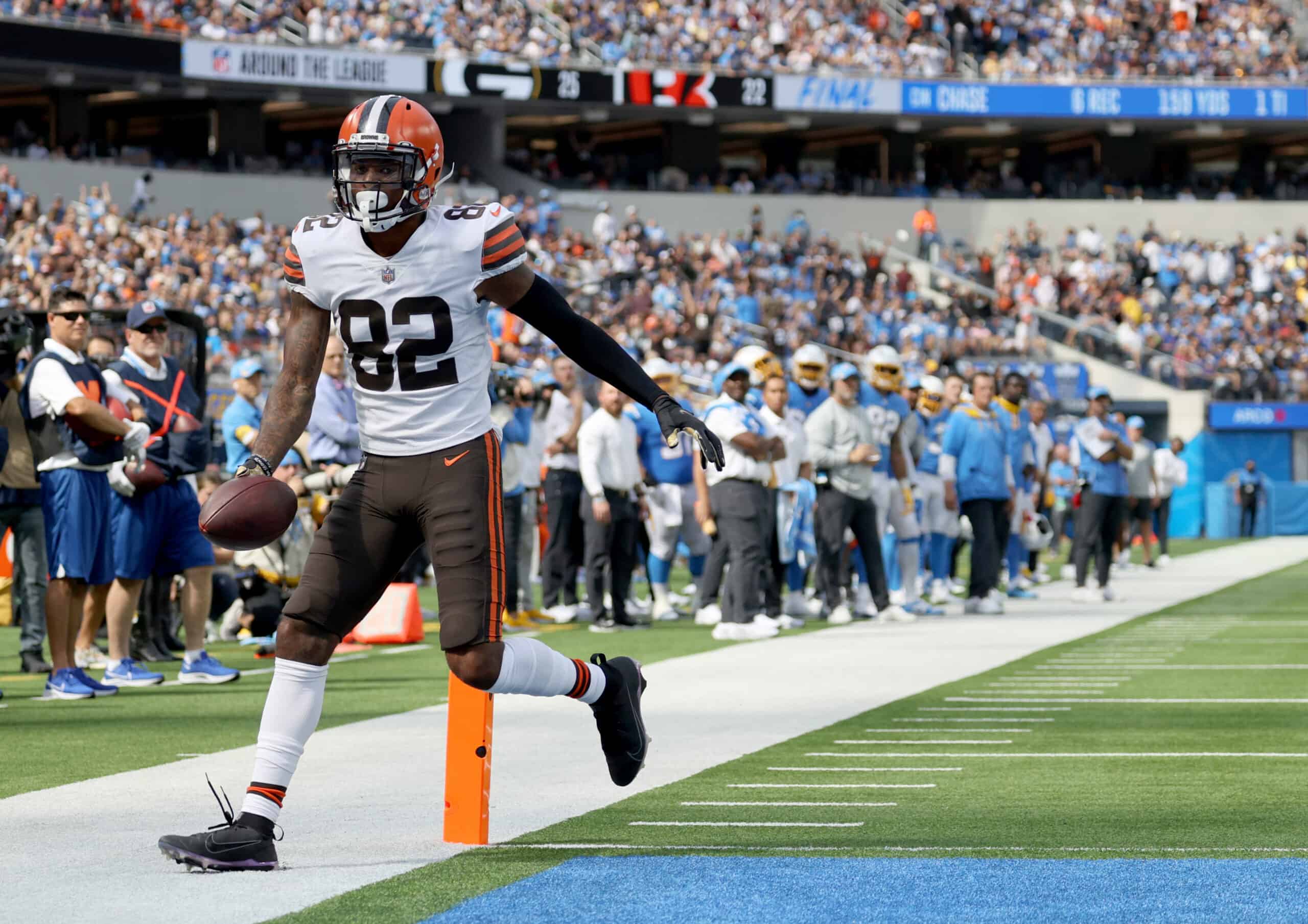 The Cleveland Browns had a fantastic day on offense Sunday against the Los Angeles Chargers.
Unfortunately, the defense did not show up in the 47-42 loss.
The usual stars on offense such as Baker Mayfield, Nick Chubb, and Kareem Hunt all showed up in a big way.
Odell Beckham Jr., however, continued his struggles with Mayfield under center.
In terms of players who raised their own personal stock, we have to shy away from the defense in Week 5.
So in doing that, let's look at three Browns players who stepped up and shot their stock up even in defeat.
3. David Njoku
What a day it was for David Njoku.
He finished the day with seven catches for 149 yards and had a 71-yard touchdown as well.
Baker Mayfield ➡️ David Njoku

FOR 71 YARDS 🔥

(via @NFL)pic.twitter.com/AjKJYWJQ6f

— Bleacher Report (@BleacherReport) October 10, 2021
It was the Njoku show all day and it is about time that was the case.
The former first-round pick went from asking to be traded just a few months ago to being a key part of the offense against one of the AFC's best teams in the Chargers.
He had a total of 111 yards before Sunday's game.
Now he should have his sights set on going for his first 1,000-yard season.
Being a top target of Mayfield's will help that cause.
2. Chase McLaughlin
Yes, we are talking about the kicker.
On a day in the NFL full of missed kicks, Chase McLaughlin was perfect for the Browns.
He hit two field goals and nailed all four of his extra points.
McLaughlin remains perfect on the season in terms of field goals and extra points.
It may sound obvious, but having a reliable kicker is a key to success and could be the difference between being a true Super Bowl contender and just falling short.
Browns fans are used to kickers cracking under the pressure, so this performance from McLaughlin was another fantastic sight to see.
1. Rashard Higgins
The saga of Rashard Higgins continues.
This time, it is a positive thing to discuss.
Rashard Higgins 🔥pic.twitter.com/LIZOYsSWFN

— PFF CLE Browns (@PFF_Browns) October 10, 2021
Higgins did only have three receptions Sunday, but one went for a touchdown.
That is more than what could be said of how Beckham played on the day.
Higgins seems to have a great connection with Mayfield, or so that is how it appears to fans.
Both players have also noted how well they are as a duo.
So why is Higgins not involved more?
That is a fair question and one only Kevin Stefanski can answer.
Yet with Jarvis Landry out it appears Higgins is starting to get more attention.
He had seven targets a week ago against Minnesota and had five in Los Angeles.
Beckham and Mayfield just can't get going and a drop by the former did not help things Sunday.
If Mayfield wants to target Higgins and the receiver is reliable, there is no reason why his stock can't keep rising as the season goes on.