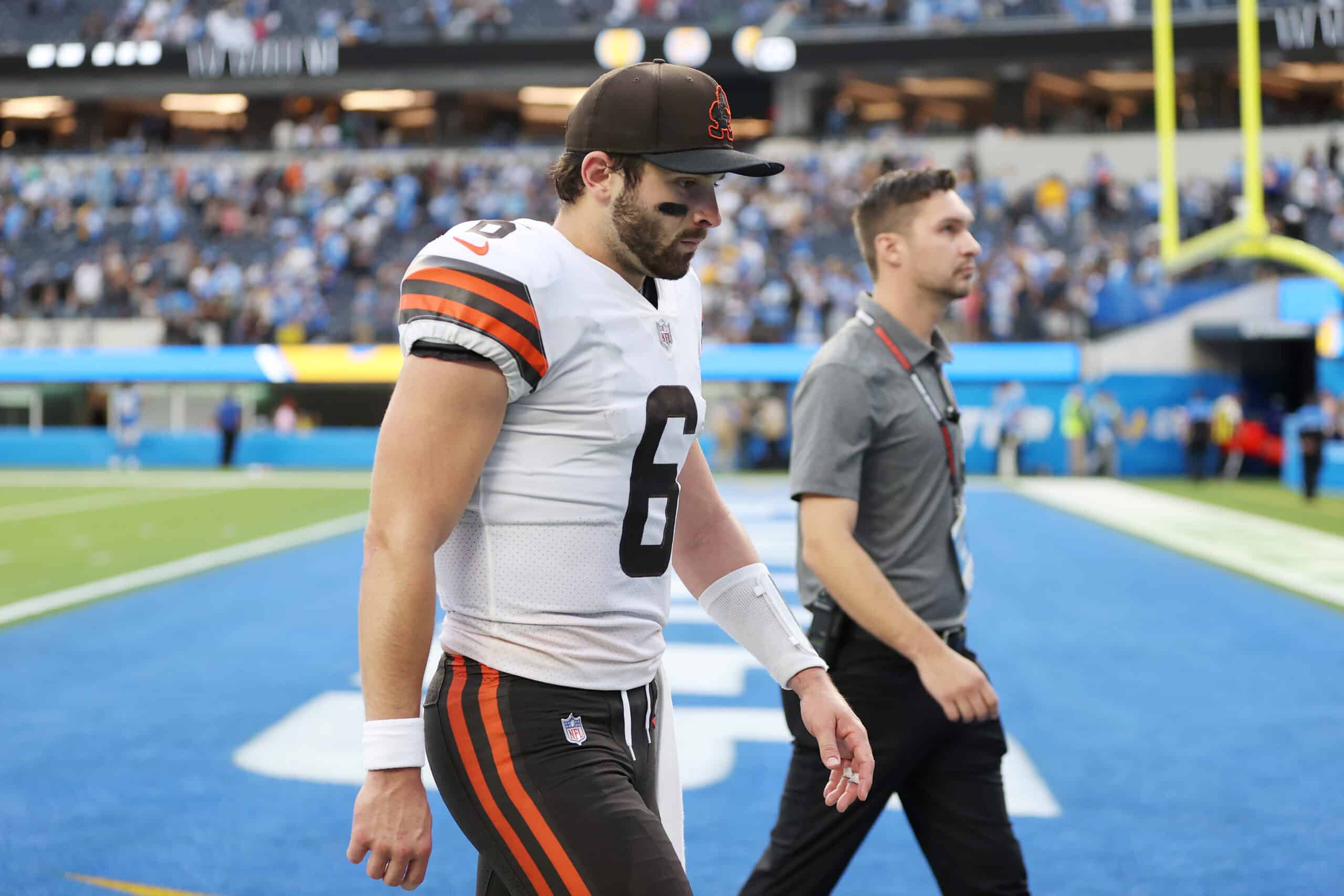 Cleveland Browns quarterback Baker Mayfield uttered the words that most Browns fans were thinking or screaming in the Browns loss to the Los Angeles Chargers on Sunday night.
The words were directed at the refs and what they were looking at as they failed to call pass interference against the Chargers.
In the play Mayfield references, he alleges that they had two chances to call it in one play.
Listen to Mayfield's version of the communication with the refs in his postgame press conference at around the two minute point.
Among his words were the phrases:
"Forward the fine letter"
This was in reference to the Browns asking the ref:
"How the hell he missed that call"
#Browns Baker Mayfield said they should just "forward the fine letter" because they asked the refs "how they hell he missed that call" when they failed to call PIs on Donovan Peoples-Jones and Rashard Higgins.

— Camryn Justice (@camijustice) October 11, 2021
I just don't understand this. Lots of things we could have done better to win this game, but this can't happen @NFL pic.twitter.com/XQXuysKEaW

— BURNT ORANGE (@BURNTORANGE_CO) October 11, 2021
There were more instances of calls that should not have been calls.
One of these was called for offensive holding against the #Browns…the other was called for defensive pass interference…bad calls happen in the #NFL but these are just egregious pic.twitter.com/eIiSo4TtYS

— Eric Urbanowicz (@Stoshball) October 11, 2021
Mayfield Called Out The Refs But Said Other Things
This will be the headline; however, Mayfield said other things that were also true.
Mayfield commended the play of the patchwork offensive line that has been decimated by injuries.
He also talked about how the Browns left too many points on the field in the first half.
By not converting on those plays, they put themselves in a bad position at the end of the game.
Hence, the questionable referee calls and non calls come into play.
Defended Stefanski's 3rd And 10 Play Call
With the game on the line on 3rd and 10, Coach Stefanski called a running play.
Mayfield defended his coach saying that a similar play worked last week in the Vikings game on 3rd and 20.
The takeaways from this game will unfortunately both be negative.
They are the bad officiating and Stefanski's less than satisfactory play calling at the end of the game.
A Loss Is A Loss So Let's Move On
In the end, the Browns have to quickly learn from this game and get ready for the Cardinals.
Taking on the last undefeated team in the NFL in Week 6 at home will be equally challenging.