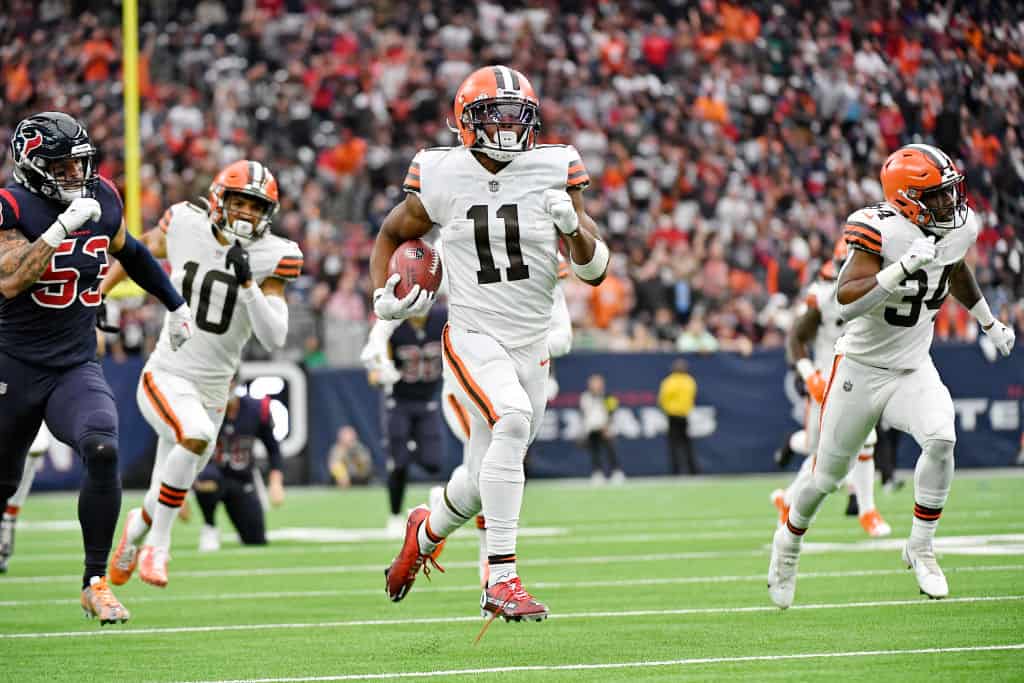 Deshaun Watson has plenty of help in his bid to return to his All-Pro form.
Cleveland Browns GM Andrew Berry traded, signed, and drafted additional speedy and sure-handed receivers.
Elijah Moore, Marquise Goodwin, and Cedric Tillman join Amari Cooper running routes in front of Watson.
But today, the Browns' most sure-handed wideout spoke to the media, via Scott Petrak.
#Browns WR Donovan Peoples-Jones on getting better in Year 4. pic.twitter.com/a1c97S352e

— Scott Petrak ct (@ScottPetrak) September 4, 2023
Donovan Peoples-Jones has gotten noticeably better in each of his three seasons to date.
And he told Browns beat reporters that he spent his offseason preparing for another career year in 2023.
Whether that means point-of-catch, situational awareness, or reading defenses, fans expect even more from DPJ.
Coming off a 61-catch, 839-yard season, that would lock him in as the Browns' WR2.
Peoples-Jones put up his best numbers in 11 games with Jacoby Brissett and a rusty Watson.
According to a statistic called "catch score" by ESPN Analytics, he already owns the surest hands in the NFL.
Only Pittsburgh's George Pickens matched his grade of 99, drawn from a mix of chip data and NextGen stats.
Other databases previously found Peoples-Jones to be among the NFL's best contested-ball receivers.
Catch Score fr ESPN Analytics
Short definition — makes catches & makes difficult catches. For full explanation of this complex stats using embedded chips & NextGenStats, read at source
#1 Ranked–tie; 2 AFCN WR
*Donovan Peoples-Jones
*George Pickens@wyche89 @BuckyBrooks pic.twitter.com/g6W4k24UIj

— NFL Fact Checks (@wildlifeluvr) August 31, 2023
He excels at putting himself in a good position for the reception and can take it away from defenders.
But that isn't enough for DPJ, who studies the game hard to find ways to improve as an overall player.
The key now is to find enough targets in a crowded field to maximize his free-agent offers next year.
And he wants to make it as hard as possible for Berry and the Browns to move on from him.