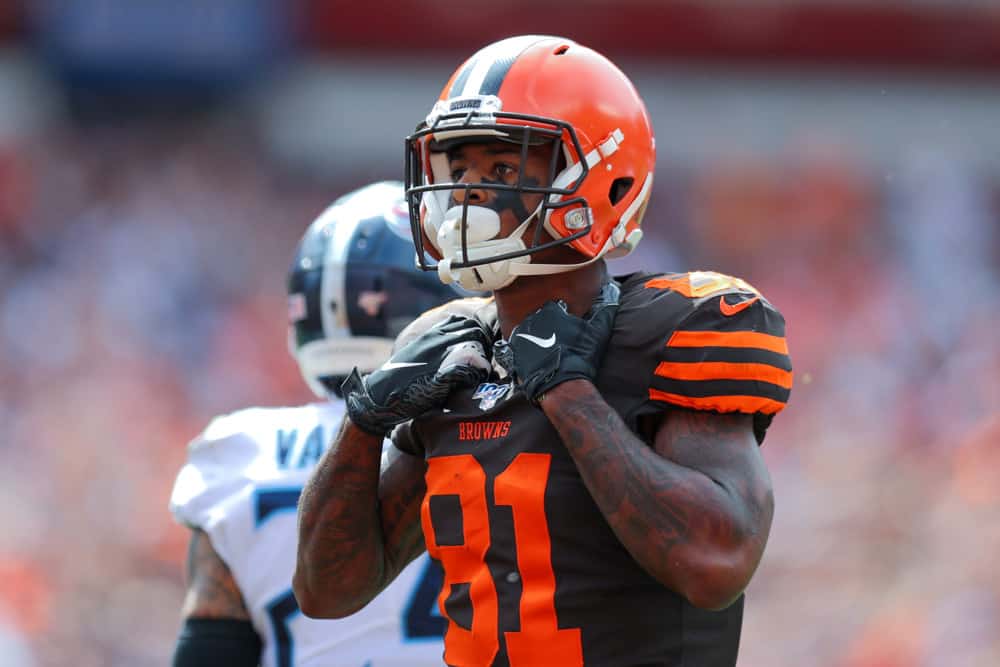 Cleveland Browns fans may be asking themselves this question.
Where is Rashard Higgins?
Rashard "Hollywood" Higgins has been nowhere to be seen during the first 3 games of the 2020 season.
The 5th year wide receiver was inactive in yesterday's game against the Washington Football Team.
ICYMI: #Browns WR Rashard Higgins is a healthy scratch, WR Khadarel Hodge was a captain for today's game

— MoreForYouCleveland (@MoreForYou_CLE) September 27, 2020
Background
Rashard Higgins has 1 catch for 9 yards in 2020.
That happened in the season opener against the Ravens.
Against Cincinnati in Week 2, he only played in five snaps.
Training Camp
Higgins had a good showing at camp.
He was in competition for the third WR position behind OBJ and Jarvis Landry.
KhaDarel Hodge and JoJo Natson were also reportedly in the running for this roster position.
It's worth noting that neither of these players has exploded either.
In 2020, Hodge has 3 catches for 51 yards.
Natson has been limited to special teams play, and it has just been reported that he is out for the season with a torn ACL suffered in yesterday's game.
Tough news for Browns one day after the win over Washington.

WR and PR/KR JoJo Natson lost for the season with a torn ACL, Stefanski says.

— Andrew Gribble (@Andrew_Gribble) September 28, 2020
Prior to the Week 1 game against the Ravens, Coach Stefanski explained what Higgins brings to the WR group.
"Rashard did a nice job. He grinded. He earned that role. I think you saw at practice he had some moments that were very impressive. There is obviously a rapport with the quarterback. They have thrown a lot of balls to each other. Excited for Rashard and then just looking forward to him being in that room and competing with the rest of the guys."
Career
Rashard Higgins has experienced highs and lows during his 4-year career with the Browns.
Higgins left Colorado State University after his junior year to enter the NFL Draft.
He was selected by the Browns in the 5th round of the 2016 NFL Draft (172nd overall).
His rookie contract was worth $2.5 million.
One year later, in 2017, he was waived and signed to the Browns practice squad.
Higgins had his best seasons in 2017 and 2018 with 312 and 572 yards receiving.
He has 7 career TDs, 2 in 2017, 4 in 2018, and 1 in 2019.
In 2019, his performance was hampered by a knee injury he suffered in the season opener which caused him to miss 3 weeks.
The expectations for Rashard Higgins in Cleveland have always seemed a little out of whack. In four+ seasons, he really only has the second half of 2018 to point to.

— Ben Axelrod (@BenAxelrod) September 27, 2020
Not A Good Fit?
Higgins is still young, only 25 years old.
It is likely that he still has untapped potential, but he is on a crowded and talented Browns offensive roster.
Beyond OBJ and Landry, TEs Austin Hooper and rookie Harrison Bryant are also vying for the ball.
And given Coach Stefanski's propensity to heavily use TEs in his schemes, they will be targeted.
Also, Kareem Hunt is a dual-threat as he can line up as a WR at any point and make plays.
So maybe the disappearance of Rashard Higgins has more to do with how the Cleveland Browns offense has changed this year and less to do with Higgins or his talent.
Contract And Trade Rumors
In 2019, trade rumors circulated regarding Higgins.
The Eagles were rumored to be interested.
If a deal happened, it was expected to be right before the October 29, 2019 deadline.
The trade deadline came and went with no activity.
Then, the 2020 offseason sparked rumors that the Buffalo Bills were interested in Hollywood to add depth after acquiring Stefon Diggs via trade.
Can confirm that the #Bills have expressed interest in former #Browns WR Rashard "Hollywood" Higgins.

Higgins had a 39-572-4 stat line in 2018. He had 4 receptions in 2019. One of which was a GW TD vs. Buffalo.

@BuFFanatics noted interest in Higgins yesterday. #BillsMafia

— Ryan Talbot (@RyanTalbotBills) March 19, 2020
In the end, the Browns signed Hollywood to a 1 year $910,000 contract in May 2020.
It is a long season ahead so it remains to be seen what will happen with Rashard "Hollywood" Higgins.