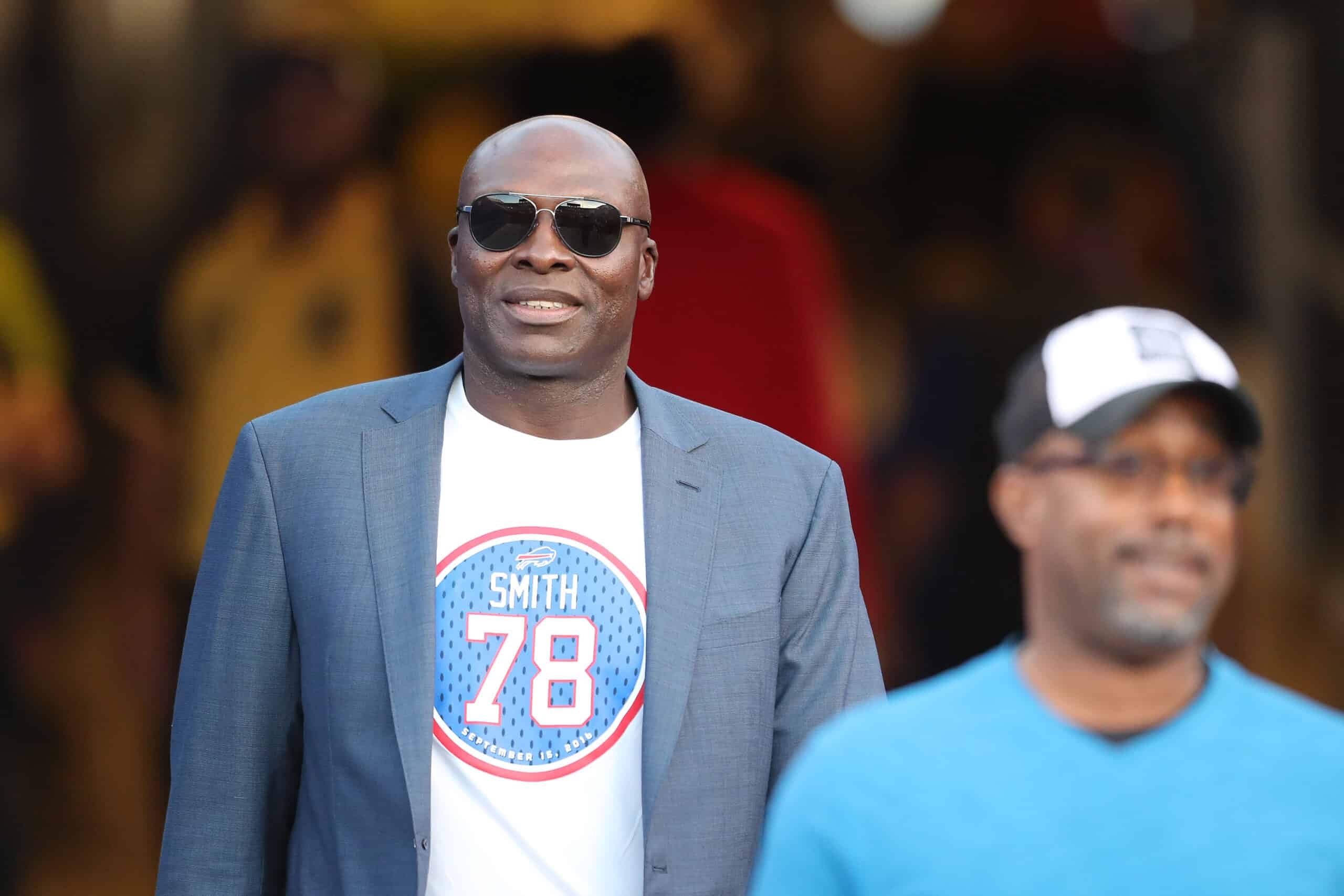 By now, everyone has seen Cleveland Browns defensive end Myles Garrett's Halloween decorations.
In his yard is a "graveyard" of NFL quarterbacks.
It is a sparse sampling of gravestones with quarterbacks names on them.
Mac Jones, Justin Fields, and Justin Burrow are among those pictured.
Myles Garrett really decorated his front yard with QB gravestones for Halloween ☠️ pic.twitter.com/HBCj4Sd4ru

— Pickswise (@Pickswise) October 14, 2021
Garrett's decorations were definitely a conversation starter.
After the Cardinals game, Kyler Murray was heard asking him about why he was included.
Murray is correct; he should not have been included given how he man-handled the Browns in Week 6.
With Halloween just days away, Buffalo Bills legend Bruce Smith decided to decorate his front yard Myles Garrett style.
Check it out.
Bruce Smith's QB graveyard puts Myles Garrett's to shame 😂🪦 pic.twitter.com/7Whgi78h1e

— PFF (@PFF) October 27, 2021
Bruce Smith's Decorations
Garrett's decorations are minuscule in comparison to Smith's.
Rightly so, Bruce Smith had a long and successful 19-year career.
He had 200 career sacks so that would be a lot of quarterbacks.
Hall of Famers are definitely included.
Troy Aikman, Dan Marino, Steve Young, and John Elway are represented in Smith's yard.
He also has forgotten quarterbacks like Steve Grogan, Jesse Palmer, and Bubby Brister in there.
One who is definitely not there is his former Buffalo Bills teammate and fellow Hall of Famer Jim Kelly.
Garrett Says Decorations Are Motivating
In the video clip, Garrett is heard telling Murray that the decorations motivate him.
Ben Roethlisberger is among the quarterbacks featured in Garrett's Halloween playground.
The Browns host Roethlisberger's Steelers on Halloween in their first divisional matchup of the season in Week 8.
Garrett needs to have a big game because the Steelers are coming to town with their own internal motivation.
The Steelers want to avenge the two straight losses that the Browns delivered to them in Week 17 and in the wildcard playoffs in January.
Hopefully, the Browns make it three in a row.
Watch the Browns take on the Steelers at 1:00 PM EDT on Halloween.