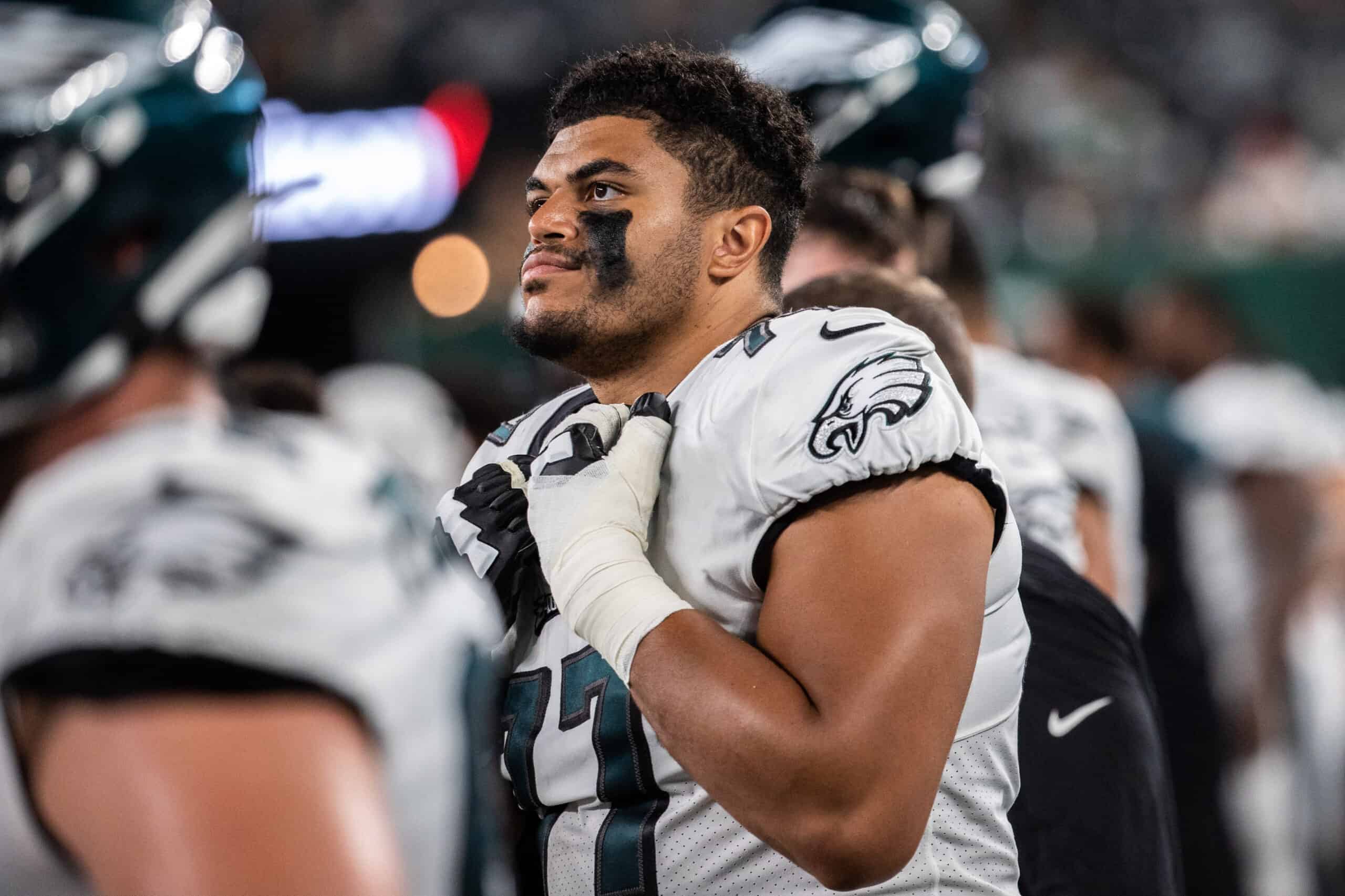 As the Philadelphia Eagles continue to clean ship and attempt to start fresh, it's been rumored that offensive tackle, Andre Dillard might be on the block.
Deshaun Watson is not the only intriguing name who could be traded before the deadline. Others: Melvin Ingram (#Steelers), LJ Collier (#Seahawks), Andre Dillard (#Eagles), Kyle Fuller (#Broncos), Andy Isabella (#AZCardinals), Marlon Mack (#Colts).

Story: https://t.co/o1BuERfnlF

— Ian Rapoport (@RapSheet) October 24, 2021
According to ESPN's Jeremy Fowler, the Cleveland Browns could have interest in Dillard.
Philadelphia had been saying that Dillard wasn't available for trade talks, but things have changed as the trade deadline draws ever closer.
For the Cleveland Browns, a guy like Dillard could add valuable depth to an offensive line that has been decimated by injuries.
Here's how the current injury report looks leading into Sunday's rivalry matchup against the Pittsburgh Steelers.
OT Chris Hubbard is on the injured reserve
G Blake Hance is listed as questionable
OT Jedrick Wills Jr. is listed as questionable but expected to play
OT Jack Conklin is listed as questionable but expected to play
G Blake Hance did not practice Wednesday
The arrival of Andre Dillard would mean another reliable body to bolster the battered offensive line.
Baker on the possibility of having all starters back on the O-Line.

📼: https://t.co/t0UW4FST8I pic.twitter.com/D1LhcAoLhy

— Cleveland Browns (@Browns) October 27, 2021
Who is Andre Dillard? 
Dillard is an offensive tackle that was originally drafted by the Philadelphia Eagles in the first round of 2019 as the 22nd overall pick.
After playing his college ball at Washington State University where he excelled on the offensive line, he struggled early in his pro career.
After a disappointing rookie season, Dillard missed all of 2020 with a biceps injury and saw his job fall to 2018 seventh-round pick, Jordan Mailata.
Unfortunately for Dillard who was drafted with the hopes that he would be the long-term solution at left tackle, Mailata excelled when he got his chance.
So much so, in fact, that Mailata was rewarded with a four-year $64 million extension.
Mailata went down in September of 2021, giving Dillard a chance to start in his place and redeem himself.
In four games as a starter in 2021, Dillard has played well and earned an impressive 78.0 pass-blocking grade from Pro Football Focus, and he's ranked in the top 30 at his position of left tackle.
Dillard's performance has bolstered his potential trade value and is making him ever so appealing to the Cleveland Browns who have a banged-up offensive line.
What Would the Browns Have to Give Up? 
Because of his re-emergence as a potential starting offensive tackle for teams in need, the Eagles aren't just going to give him away.
Philadelphia is in somewhat of a rebuilding process and has many needs.
Their three biggest needs are arguably at receiver, on the pass rush, and at tight end.
Any team in a rebuild is also looking for draft picks, which I'm sure Philly would be more than happy to receive.
The Browns are blessed with lots of talent at both receiver and tight end, and it's possible that some sort of deal could be reached including someone at this position.
While the Browns haven't specified who's available for trading purposes, I can't think of a single Browns fan that would be sad to see a deal involving Odell Beckham Jr.
Because they're in a rebuilding process with a new head coach and a young quarterback, it would be shocking to see them trade for OBJ.
Other names include Rashard Higgins, Anthony Schwartz, and Harrison Bryant.
Each of these players would likely see significant playing time with the Eagles who are desperate to find help for second-year quarterback, Jalen Hurts.
One of these players combined with a draft pick or two might be enough to convince Philadelphia to part ways with Dillard.