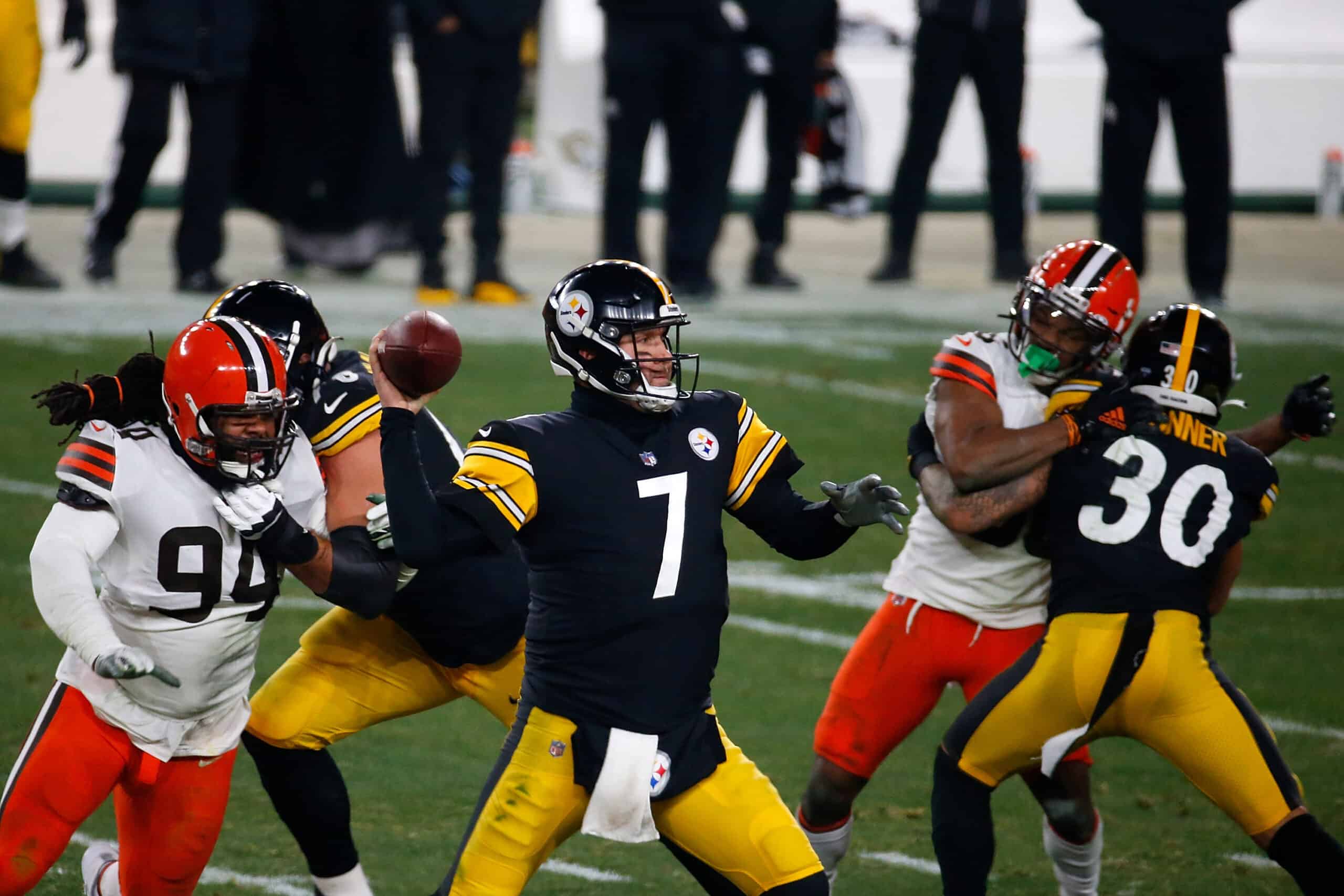 Everybody knows Ben Roethlisberger is washed up and he has no offensive line to protect him.
And everybody knows the Cleveland Browns are the most complete and exciting team in the AFC North.
It stands to reason we can expect an era of Browns dominance over the Steelers to kick off soon.
2021 AFC North odds via @betonline_ag
Baltimore Ravens 5/4
Cleveland Browns 2/1
Pittsburgh Steelers 13/5
Cincinnati Bengals 18/1

— Daryl Ruiter (@RuiterWrongFAN) February 11, 2021
And why not this season?
Pittsburgh just lost their fourth starting offensive lineman and it could take time for their replacements to meld.
And the loss of Bud Dupree has to hurt a little, right?
Meanwhile, Andrew Berry restocked the Browns' defense, so they'll be just as good as the 2020 offense.
Cleveland Browns QB Baker Mayfield is the most popular 2021 MVP bet based on money wageredhttps://t.co/DlrI72efN6 pic.twitter.com/9DrA8HLwBe

— Ben Axelrod (@BenAxelrod) June 17, 2021
Speaking of which, Baker Mayfield is as confident heading into 2021 as in any previous season.
He mastered Stefanski 101 by the end of last year and expects to excel in the 2.0 version.
So would you buy or sell; the Browns will beat the Steelers twice in 2021?
Sell: Steelers Stronger Than Expected 
Cleveland Browns fans are rightfully excited about the potential of their favorite NFL team.
But rumors of the Pittsburgh Steelers' demise might be premature.
Roethlisberger seemed to fade as 2020 went on, and he's not known for offseason conditioning regimens.
But there is no reason to expect the aging veteran won't continue to adapt to his limitations.
Schedule makers also helped Ben by putting a Bye Week ahead of his first Browns encounter.
Ben Roethlisberger looking at the #Browns 2021 starting defense and realizing he's about to spend two games on his back. LFG!! pic.twitter.com/IlPgjxPpga

— Vintage Browns (@VintageBrowns) April 14, 2021
And the rematch is a Monday Night Football event in Pittsburgh, a setup in which he is 5-0 in his career.
Even without Bud Dupree, the Steelers have a top-notch defensive line and pass rush.
Cleveland's top-ranked offensive line provides an offset, but the rest of the Steelers' defense is tough, too.
And for all the "Stefanski-is-a-genius" talk, Mike Tomlin has never coached a sub-500 team in the NFL.
Writing off Pittsburgh could be a learning experience for a young, up-and-coming Browns team.
Buy: Cleveland is Built To Beat The Steelers 
Cleveland Browns fans can't expect errant snaps and other unforced errors each time they face the Steelers.
This is why Andrew Berry made quick work of revamping Joe Woods' defense.
Fans have to look beyond the names to see the genius in the Browns' makeover.
Almost every new player is faster than the player he replaces.
Most of them also cover or rush the pass better, too.
Browns defense looking scary 👀 pic.twitter.com/ItGC6JNQVz

— PFF (@PFF) April 14, 2021
And none of them compromise the Browns rushing defense.
Dump-offs to wide-open backs and scrambling long-thought-retired quarterbacks were no doubt in Berry's head.
Roethlisberger will find he has less time and fewer options against the latest Cleveland defense.
Meanwhile, Odell Beckham Jr and Anthony Schwartz will keep the Steelers from blitzing Mayfield as effectively.
And the offensive line helps Nick Chubb and Kareem Hunt make fans question the defensive line's reputation.
There is Another Reason To Buy the Sweep 
There is a reason why NFL.com calls the Browns roster the most complete team in the league.
It is because they are the most complete team in the league.
Cleveland's defense has the speed, strength, and smarts to take on any style of offense.
And the Browns attack is poised to explode in Stefanski's second go-round.
Pittsburgh is not likely to be as bad as some prognosticators say.
🎖️ 🏈 Top Moments: No. 36 – Browns defeat Steelers 45-7 in 1950 for rivalry's first game in Cleveland

See More Now!! >> https://t.co/UeK8kw1x8j pic.twitter.com/rstb6YPxbP

— Cleveland Browns (@Browns) June 18, 2021
But there is one thing about the Browns that offsets any remaining life in Ben Roethlisberger's team.
Every player, every coach, and every fan knows they have to beat the Steelers and Ravens.
That is the only way to earn their rightful place as kings of the AFC North.
Baltimore might present a tougher foe this year, which only makes winning the Steelers games more important.
And that is why Cleveland will sweep the Steelers in  2021.