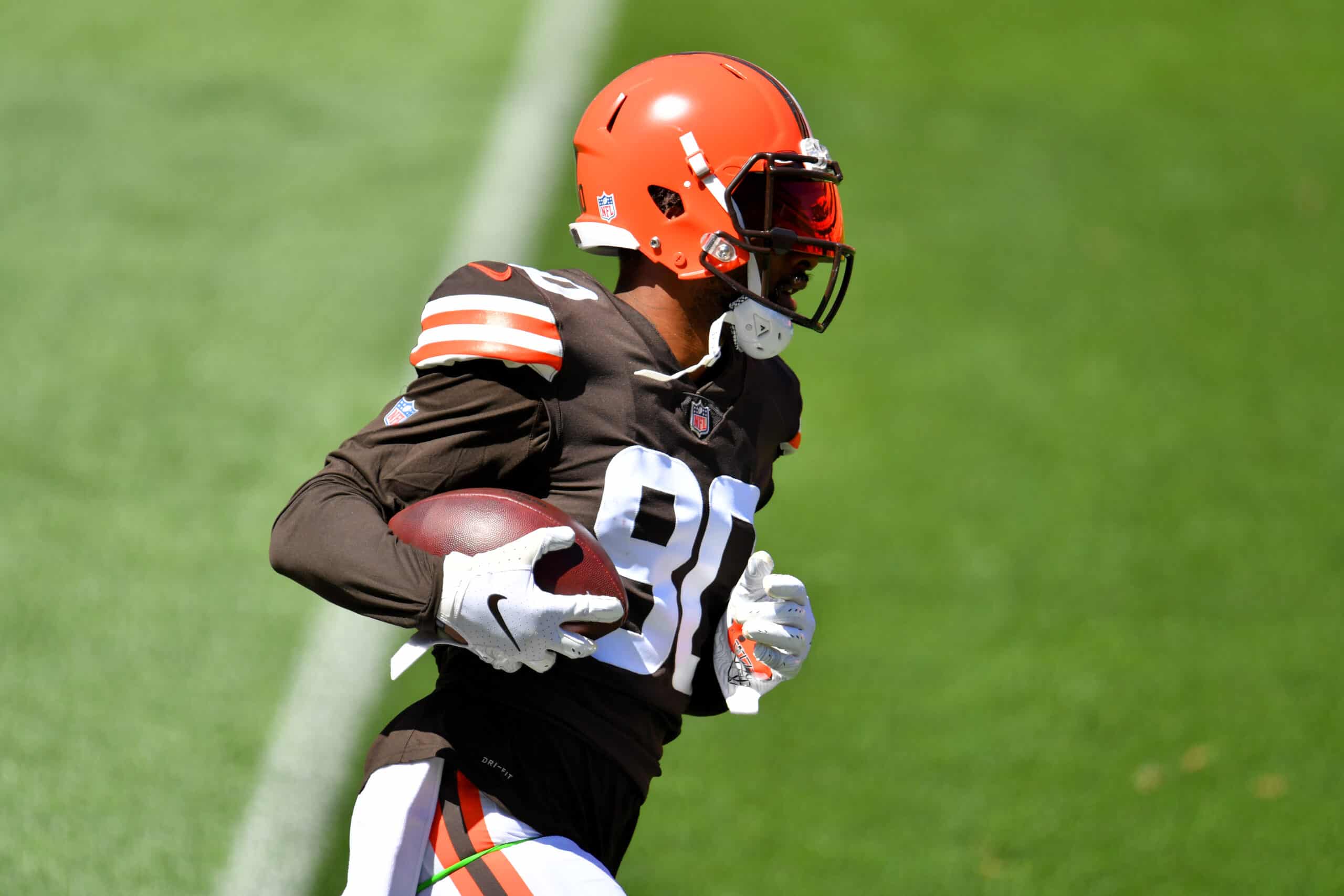 The drama never seems to end for the Cleveland Browns.
The organization has another disgruntled wide receiver on their hands after the Week 10 loss to the New England Patriots.
After the game, wideout Jarvis Landry mentioned that he hasn't been given the ball much, but is doing what he can when targeted.
#Browns Jarvis Landry on his involvement in, and the state of, the passing game. pic.twitter.com/z93Tm35F7H

— Camryn Justice (@camijustice) November 16, 2021
It has been a terrible season for Landry and these kinds of comments aren't going to make anything better.
Despite that, Landry has a great chance of making a real impact against the Detroit Lions in Week 11.
Buy
It's about time for Landry to make his presence known this season.
The five-time Pro Bowl wideout has been productive throughout his career.
It's honestly quite surprising that Landy hasn't produced for the Browns in 2021.
However, he has been banged up and missed time due to injuries.
Now, Landry is healthy and back to being the No.1 wideout for this offense.
He is obviously frustrated by his lack of success and wants to play better.
Both Landry and quarterback Baker Mayfield were working hard together in practice this week.
#Browns Baker Mayfield throwing to WRs, including Jarvis Landry and Demetric Felton pic.twitter.com/QDmSL8ZUui

— Fred Greetham (@FredGreetham9) November 19, 2021
It seems like the two of them are trying to get back on the same page.
Landry has produced three successful seasons in Cleveland, so he's not going to fall out of the shuffle now.
Over the course of his career, Landry has seen over 100 targets in each of his first eight seasons.
The Browns need their Pro Bowl wideout now more than ever before.
Luckily, the Browns will get a matchup against a Lions defense that ranks 29th in pass DVOA this season
This secondary cannot seem to stop anyone, which means Landry could have a fantastic game.
Also, Landry's best game of the season was five receptions for 71 yards in the season opener.
That is not exactly an impossible task against one of the worst defenses in the league.
Sell
The targets have been decreasing for Landry ever since he joined the Browns.
In 2018, Landry finished the season with 149 targets and 81 receptions.
The number of targets has only gone down from there.
Now, Landry has 34 targets with 23 receptions for 219 yards through six games this season.
He has done some incredible things in Cleveland, but his best days are likely behind him.
Jarvis Landry reaches deep into his bag of tricks for this touchdown! ????

The upset-minded Browns (+5.5) lead the Chiefs 15-3.

Landry anytime TD (+165) ????#Browns | #ChiefsKingdom | #CLEvsKC pic.twitter.com/lQqP3pNuRO

— TwinSpires Sportsbook ???? (@TS_Sportsbook) September 12, 2021

Over the last two games, Landry has 10 total targets and 37 receiving yards.
In fact, Landry has only surpassed 40 total yards twice this season.
The hope is that Landry does get more involved against the Lions.
However, the Browns might continue to pound it on the ground with starting running back Nick Chubb returning this week.
It's also worth noting that Mayfield has been banged up this season, so they might not want to air it out with him.
As already mentioned, Landry's best game of the season isn't exactly something difficult to surpass.
He'll have a favorable matchup, but that could also mean a blowout win for Cleveland.
In that case, the Browns wouldn't throw that ball often at all after taking a big lead.
The cards appear stacked against Landry despite a matchup against one of the worst pass defenses in the league.