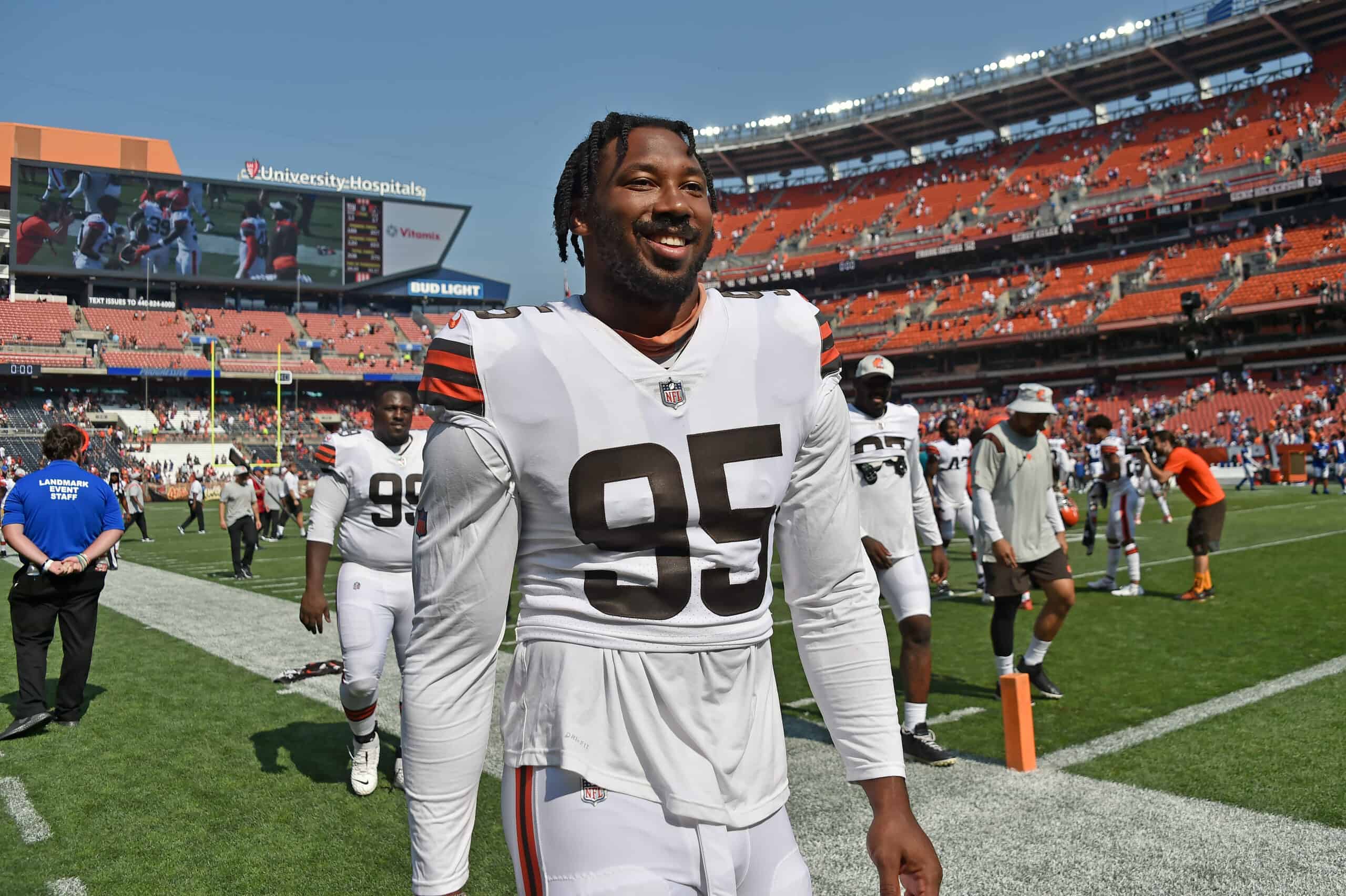 The 2021 season has not gone as planned for the Cleveland Browns.
However, there have been a few bright spots for the organization.
One of them being superstar pass rusher Myles Garrett.
The two-time Pro Bowl defensive end has recorded 14 sacks in 12 games.
That being said, Garrett does have a chance at surpassing the NFL single-season sack record.
There are only five games left in the regular season, but Garrett hasn't been an easy player to slow down.
Buy
Garrett is on pace to have the best season of his young professional career.
Through 12 games, Garrett has 42 tackles, 28 quarterback hits, and 14 sacks.
Those 14 sacks are already a career-high for Garrett and there are still five games left to be played.
Not only are those 14 sacks the most for Garrett, but it actually leads the NFL heading into Week 13.
There is a good chance that Garrett will be heading to his third Pro Bowl of his career.
The NFL sack leader❗#ProBowlVote ⚡️ @Flash_Garrett ️ pic.twitter.com/jXUgPGpmMO

— Cleveland Browns (@Browns) December 1, 2021
It seems like opposing teams have no answer when it comes to stopping Garrett.
Although, he will have an uphill battle to become the new all-time single-season sack leader.
That honor is currently held by Michael Strahan who recorded 22.5 sacks in a single season during the 2001 campaign.
Over the last 10 years, only Jared Allen and Justin Houston have come close to surpassing that mark with 22 sacks.
Now, Garrett will get five games to put himself on top of the leaderboard.
He would need to record nearly two sacks per game to be able to surpass Strahan's record.
Obviously, that is not an easy task, but Garrett has recorded at least a half sack in every game.
The Browns are in must-win mode now, so Garrett needs to do everything he can to help the team win.
The odds are not exactly in Garrett's favor, but he has gone above and beyond thus far.
Cleveland needs something special to happen to make the playoffs, so maybe Garrett can be that spark.
Sell
What Garrett has been able to accomplish this season is impressive.
Although, it might be tough for him to surpass Strahan's record with only five games left in the season.
As already mentioned, Garrett sits at 14 sacks heading into Week 13, which does lead the league.
NFL Sacks, Interceptions, and Tackle Leaders through week 12! pic.twitter.com/k3hLJVyUQO

— SmarterThanTheLeague (@SmarterTTL) December 2, 2021
However, Garrett being able to get roughly two sacks a game through the rest of the season is a tough task.
Through 12 games, Garrett has only been able to record more than one sack in three of those contests.
Obviously, fans would love to see Garrett become the new sack leader, but the odds are not in his favor.
He'll also have to go up against some tough teams over the next few weeks.
No one should be doubting Garrett's abilities, but surpassing Strahan at this point in the season would be nearly impossible.
Regardless, Garrett finishing as the NFL sack leader for the 2021 season would be something special for Browns fans.
Who knows, maybe Garrett will come out of the bye week stronger than ever before, but regardless it has been an impressive season by him.