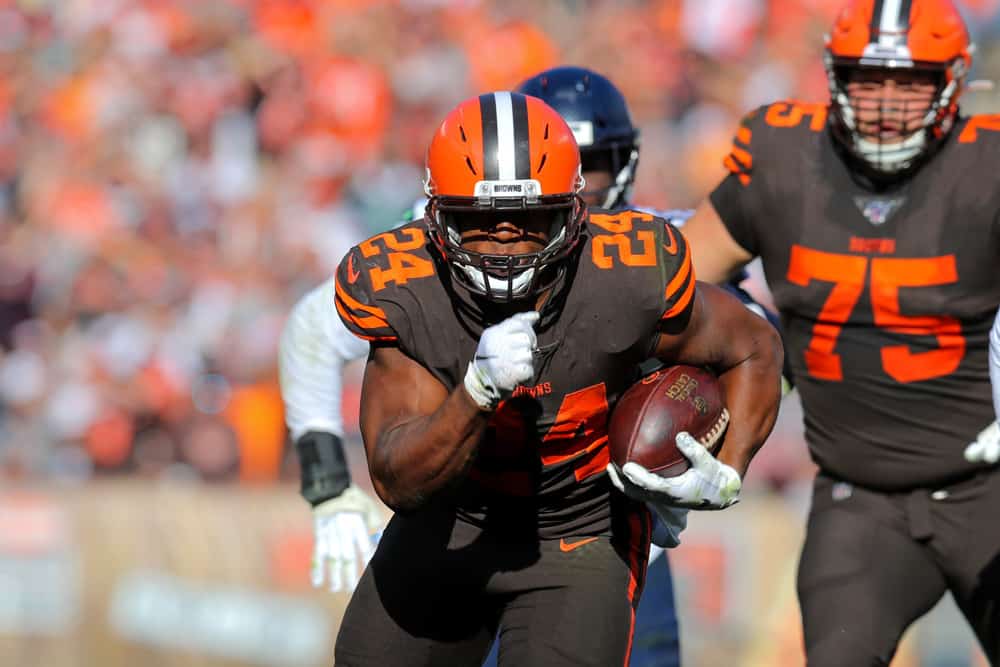 The Cleveland Browns are looking forward to building off the success of the 2020 season in 2021.
In all facets of the game, the Browns improved considerably, evidenced by the 11-5 record and wildcard playoff victory over the Pittsburgh Steelers.
This is the time of year where we can debate the possibilities for 2021 and not be wrong regardless of what side we take.
With that being said, let's look at the possibility of running back Nick Chubb winning the NFL MVP award in 2021.
Buy
When Nick Chubb is healthy, he is a tough man to stop.
This man @NickChubb21 was not messing around in 2020. 😤 @Browns

(via @thecheckdown)pic.twitter.com/3joPZgXoe6

— FOX Sports: NFL (@NFLonFOX) March 30, 2021
In 2020, he missed four games with the MCL injury.
Despite that, he still rushed for 1,067 yards and 12 touchdowns.
There is no reason to believe that Nick Chubb will not return to his 2019 full season form with 1,494 yards.
Adding a 17th game to the regular season schedule also favors Nick Chubb because the Cleveland Browns offense is built around the running game.
Expect Chubb to have even better statistics at the end of the 2021 season.
The NFL MVP usually comes from a playoff team which is definitely the expectation of the Browns for 2021.
Though Nick Chubb is more motivated by ball than money, he is also running for a new contract with potential free agency on the horizon for the 2022 season.
All those factors add up to a winning formula for Nick Chubb to earn his first NFL MVP award.
Sell
Nick Chubb is at a disadvantage to earn the NFL MVP award not because of who he is but because of his position.
He is a running back, and the NFL MVP has turned into a quarterback award.
Eleven of the past twelve #NFL MVPs have been quarterbacks and the odds are telling us that it's not about to change.🏆 MVP odds preview: https://t.co/8Al7pfYIE7 pic.twitter.com/BimWQkCJjE

— Bodog (@BodogCA) September 5, 2018
In the 2000s only four running backs have won the NFL MVP; they are Marshall Faulk, Shaun Alexander, LaDainian Tomlinson, and Adrian Peterson.
Nick Chubb is an excellent candidate for the award given he has a good 2021, but he is not the only running back that could be considered.
Derrick Henry and Dalvin Cook also have the credentials and can put together seasons to earn the honor.
The other thing is that Nick Chubb splits his playing time and carries with Kareem Hunt.
This tactic helps the Browns offense be successful, but Nick Chubb's stats do take a hit because of it.
Nick Chubb Does Not Care About Individual Statistics
Though he would be honored to get the NFL MVP award, individual accolades do not motivate Nick Chubb.
His words and actions show this to be the truth.
That's our RB 😤

📺: @NFLonFOX pic.twitter.com/TNMnLnEb45

— Cleveland Browns (@Browns) November 15, 2020
The stats and awards are secondary to winning.
This is one of the many reasons Cleveland loves Nick Chubb.
He works hard, is not super talkative as he allows his play to do the talking, and does not have flashy touchdown celebrations.
No wonder he was a previous Browns' nominee for the Art Rooney Sportsmanship Award in 2019.
When nominated, Chubb humbly accepted and said:
"I love my teammates. I want to do whatever I can to put them in better positions, to help them out any way I can and just win games at the end of the day. Nothing else really matters to me but my team and winning."
For this and many other reasons, Chubb will always be a Cleveland Browns MVP even if he does not win the NFL MVP award.