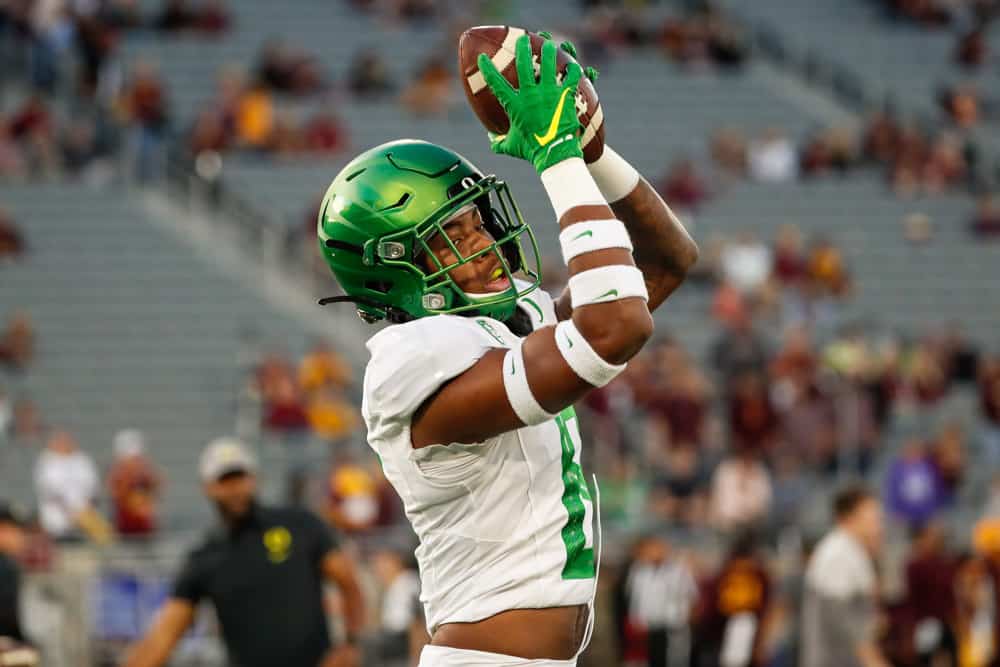 Oregon safety Jevon Holland worked out at Oregon's Pro Day on April 2, 2021.
Holland's name has been mentioned as a top safety prospect and could be an option for the Cleveland Browns.
Because he opted out of the 2020 season, there is not recent film on him.
With no NFL Combine, the Oregon Pro Day was Holland's opportunity to shine.
Jevon Holland
Holland played two seasons at Oregon.
In 27 games, he had 110 tackles, 9 interceptions, and 1 defensive touchdown.
Holland is 6'1″ and weighs 207 pounds.
As with all prospects, Holland's draft profile contains positives and negatives.
The biggest plus for Holland is his versatility.
He could play safety or slot cornerback.
Holland appears to have situational awareness but lacks the explosiveness of some of his peers.
Pro Football Network summarizes Holland's draft prospects as follows:
"Teams with a need in the slot, with an additional need for safety depth, best fit Holland's skill set. The Saints, Washington Football Team, Raiders, and Cowboys all present potential matches, but his value is likely highest later on Day 2."
Holland had a good Pro Day so some have even elevated him to a potential first-round draft pick.
Jevon Holland runs an impressive 4.45 unofficial 40 time at Oregon's Pro Day per @TaylorBisciotti of NFL Network.

Expected to go as early as the first round, Holland has the versatility NFL teams covet in a defensive back, with good speed and size at 6-1 and 207 pounds. pic.twitter.com/laSc0LpFsQ

— SportsPac12 (@SportsPac12) April 2, 2021
Cleveland Browns Interest In Jevon Holland
The Browns are likely intrigued by Holland because of the versatility he offers.
Given the Browns suffered from a lack of depth in 2020, Holland could be plugged into the defense in different capacities.
In spite of his good outing at Oregon's Pro Day, his one-year hiatus from the game in 2020, during COVID-19 and to prepare for the draft, likely lowered his draft stock to a second-day pick.
On the second day of the draft (April 30), the second and third rounds will be conducted.
The Browns have one second-round pick and two third-round picks.
They are:
59th overall (second round)
89th overall (third round)
91st overall (third round)
Of course, the Browns are not the only team interested in Jevon Holland.
Holland has indicated that he spoke with the Pittsburgh Steelers, and Green Bay Packers GM Brian Gutekunst was at Oregon's Pro Day specifically to see Holland.
The Los Angeles Chargers and Chicago Bears have also met with Holland so it is anyone's guess who might draft him or when.
The good news is that the NFL draft speculation will finally be over at the end of the month since the 2021 NFL Draft takes place from April 29 – May 1.