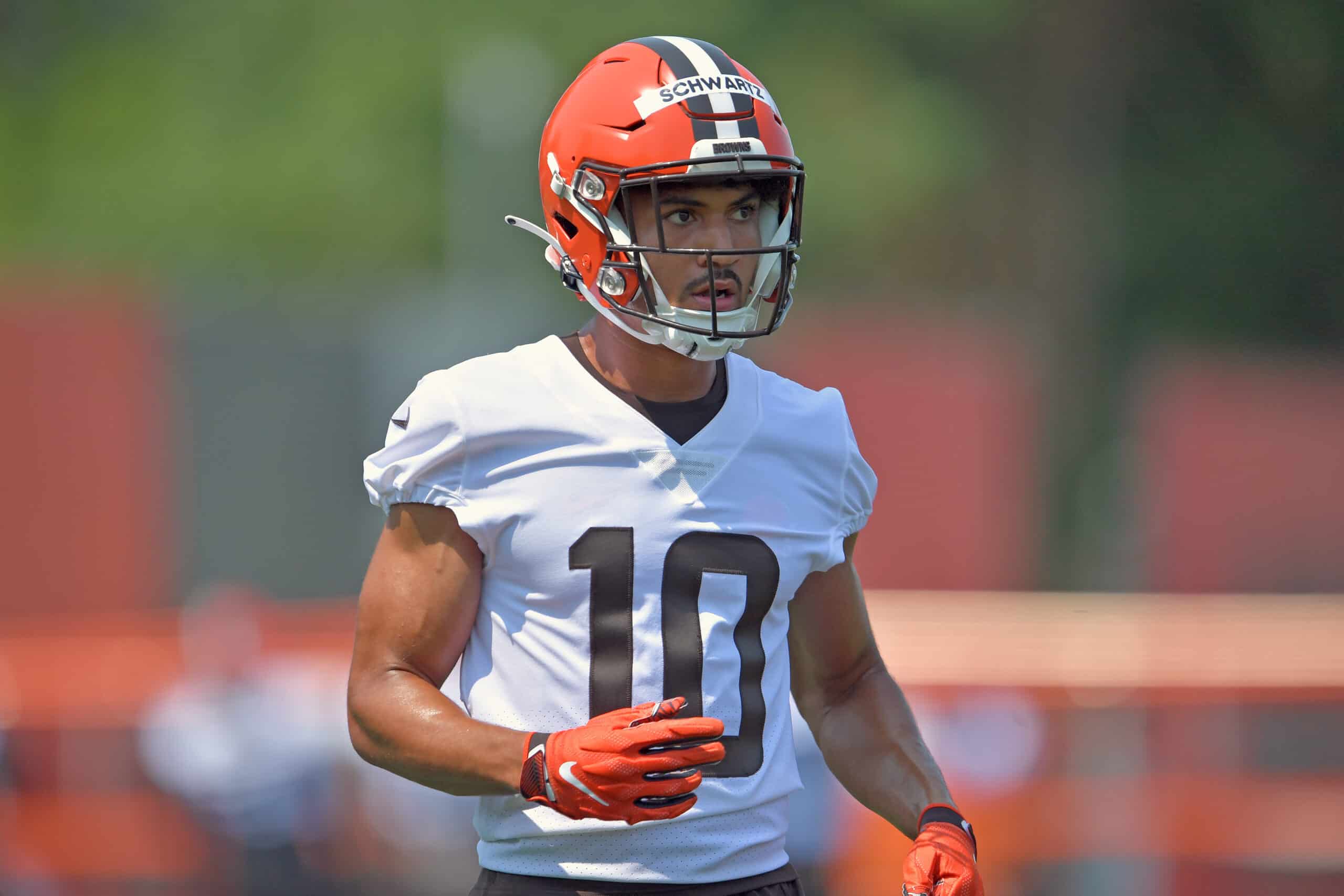 It is no secret that the Cleveland Browns need improved production out of the wide receivers in 2022.
With Jarvis Landry's status up in the air, the young receivers are what's left on the roster right now.
Among them is Anthony Schwartz who had an up and down rookie season in 2021.
After a year in the NFL and plenty of adversity, can Schwartz make a big leap in his second year?
Before we answer that question, let's take a look at some of Schwartz's highs and lows in 2021.
Schwartz was off to the races in Week 1.
Anthony Schwartz has 2 catches for 60 yards in his first #NFL quarter! ⚡️

📺 via @NFL @bakermayfield l @TheRealF1ash pic.twitter.com/0ut4RML7ts

— Bally Sports Cleveland (@BallySportsCLE) September 12, 2021
It was short-lived.
Schwartz was the intended receiver on the play when Baker Mayfield first injured his shoulder in Week 2.
Here's how Baker Mayfield hurt his shoulder following throwing an INT against the #Texans on Week 2.pic.twitter.com/FoGLlSvfozhttps://t.co/moKRUsc5vR

— Dov Kleiman (@NFL_DovKleiman) October 7, 2021
He finished 2021 with 10 receptions out of 23 targets for 135 yards and 1 touchdown.
That touchdown came late in the season in the Green Bay game on Christmas Day.
ANTHONY SCHWARTZ FIRST CAREER TD 🙌 pic.twitter.com/s1ot29wWfk

— PFF CLE Browns (@PFF_Browns) December 26, 2021
Looking ahead, Schwartz can most definitely step up in 2022, and here are two reasons why.
1. He Is Eager To Improve
Schwartz, the 91st overall pick in the 2021 NFL Draft, felt as though his confidence was growing until Week 10 when he suffered a concussion that sidelined him for weeks.
He wants to enter the 2022 season as a more significant contributor.
"I think that next step is becoming one of those top two, top three receivers on the team. I want to be able to make plays for the team and make plays to win and hopefully be a part of us going to the playoffs and go to the Super Bowl."
Because his career began on the track, he is still honing his route-running and ball-handling skills.
Another area where he needs to build confidence is in tackling.
That is where he faltered on that fateful Week 2 interception; he did not use his speed to catch up with the defender and make the tackle before Mayfield got involved.
He will become a playmaker if he puts all of the pieces together.
2. His Speed Is An Asset
Schwartz's speed is part of the reason the Browns drafted him in 2021.
He fills a gap in the roster; no one else on the Browns team possesses that type of speed.
Schwartz ran a 4.26 40 at Auburn's Pro Day last spring.
The good news is he thinks he can get faster and is working on that.
My guy was MOVIN' 😳

A 4.26u 40 for Anthony Schwartz at Auburn's Pro Day 🔥

(via @AuburnFootball) pic.twitter.com/6pmWXpiZNi

— The Checkdown (@thecheckdown) March 18, 2021
Conclusion
If Schwartz improves, his playing time will increase dramatically.
There is no doubt he is an exciting young player.
He is willing to put in the work and has a strong desire to improve and compete better.
Those are positive first steps in his development.
The Browns are thin at wide receiver so free agency and the draft will likely supplement the current roster with Landry still being a question mark.
Ironically, Landry has been a mentor to Schwartz, and the two have been working out together since before Schwartz was drafted by the Browns.
Anthony Schwartz says mentorship from Jarvis Landry 'is going to do a lot for me'

📰 » https://t.co/RAAwCKo5Kb pic.twitter.com/kgafGeNcBv

— Cleveland Browns (@Browns) May 14, 2021
Schwartz has Tyreek Hill speed but has not yet evolved into the ball handler and route runner that Hill is.
The sky is the limit for him if and when he does that.