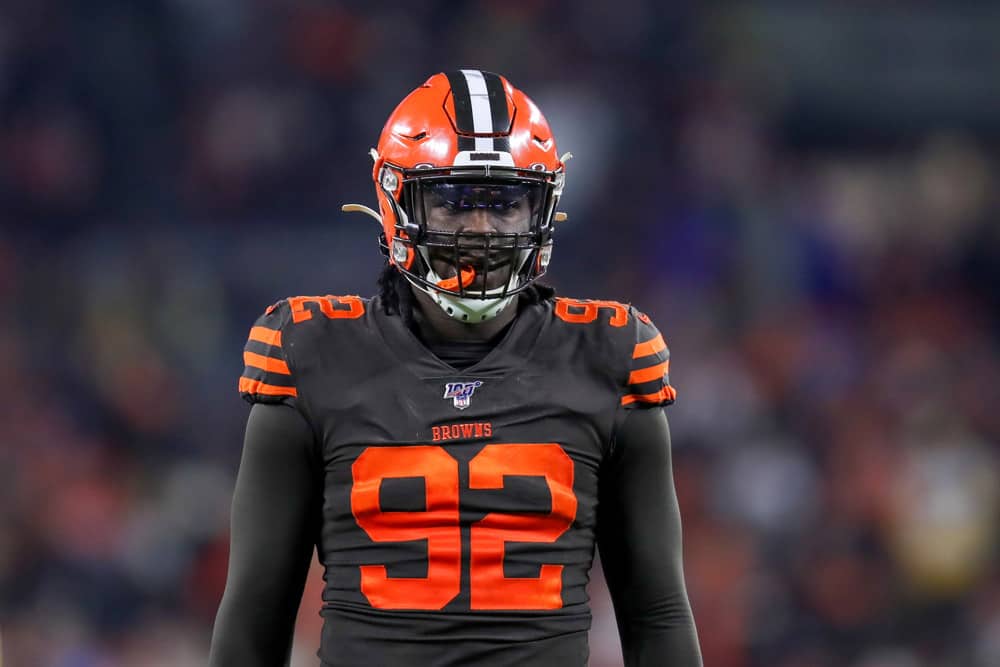 It's never easy trimming down your team to the final 53-man roster.
On Saturday, the Cleveland Browns became the second organization to finalize their team.
They waived 24 players, but a lot of the players were undrafted or had no real shot at making the roster.
However, there were a few surprising cuts such as defensive back A.J. Green and receiver Damion Ratley.
The biggest shock was Cleveland cutting former third round pick defensive end Chad Thomas.
#Browns DE Chad Thomas has been waived, per source

— Mary Kay Cabot (@MaryKayCabot) September 5, 2020
Thomas was expected to be the backup defensive end for the 2020 season.
Clearly, the Browns have decided to go in another direction without Thomas.
What Happened To Thomas?
The Browns thought they were getting a future starting defensive end when they selected Thomas in the third round of the 2018 NFL Draft.
He didn't do anything his rookie year, but was able to do some damage last season.
Thomas finished with 26 tackles, six tackles for loss, and four sacks through 16 games (eight starts) with the Browns.
Those aren't great numbers, but it was a decent beginning to his career.
The Browns passed up on quite a few studs during the draft when they selected Thomas.
List of players on the board when John Dorsey took Chad Thomas:
Justin Reid
Fred Warner
Sam Hubbard
Michael Gallup
Orlando Brown Jnr
Mark Andrews

— 💥Junior💥 (@chris_bjnr) September 5, 2020
Obviously, it's easy to say that now after the draft, but maybe the Browns gave up on Thomas too early.
He did see extra reps during camp because Myles Garrett was sidelined due to a hamstring issue.
However, Thomas was not able to capitalize on the extra playing time unlike someone else.
Second-year player Porter Gustin was able to climb over Thomas on the depth chart.
Gustin didn't see much action last season, but impressed the coaching staff during camp.
He clearly was solid enough that the Browns decided to cut Thomas.
Depth At Defensive End
The Browns might have the best front-four in the entire league.
Myles Garrett and Olivier Vernon should both be reliable options at defensive end.
However, it's always important to have depth even when they have trustworthy options.
Cleveland went out and signed veteran Adrian Clayborn to add some experience to the d-line.
He hasn't been a starter in quite some time, but Clayborn has been able to make an impact off the bench.
The Browns are hopeful that Clayborn can continue to contribute as a rotational player on defense.
The other backup is Gustin, who was one of the more impressive players during camp.
He finished with 13 tackles, two quarterback hits, and one sack through six games last season.
Obviously, there wasn't a huge sample size, but Cleveland believes he can develop into a solid player.
He's not expected to see a lot of time on the field, but you can never predict injuries.
Cleveland believes that Gustin brings more to the table than Thomas, so we'll see if that is true.
The regular season is just around the corner, so time will tell if the Browns made the right decision.