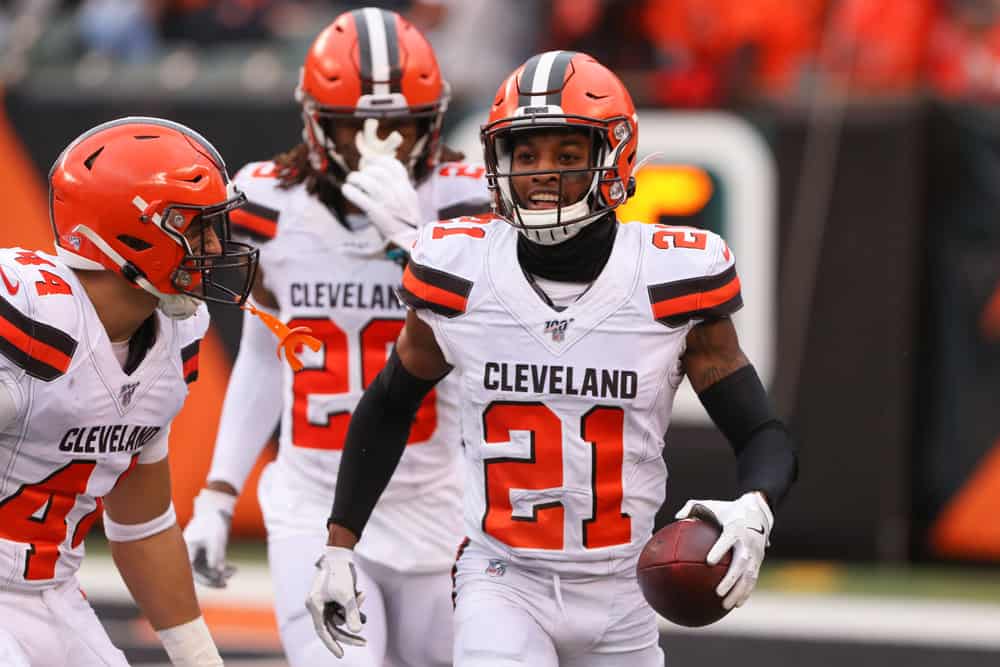 In this edition of our "Training Camp Preview" series, we'll be taking a look at the Cleveland Browns' defensive backs.
While the biggest question mark defensively centers around the linebacker unit, Cleveland's secondary will be a group to keep your eye on as well.
It is a fairly inexperienced group that will see some interesting position battles before the regular season gets underway.
In part one, let's take a look at some of the guys toward the top of the depth chart.

Denzel Ward
The former Nordonia Knight and Ohio State Buckeye had an up and down year in 2019.
Ward struggled at times, particularly in the opener against Tennessee where PFF ranked him as the worst-performing Brown that day.
Other times, however, like the week 14 matchup against the Bengals, he was as sharp as ever.
Denzel Ward house CALL! 🏠🗣

The Browns DB gets his first career pick-6 on this 61-yard play ⬇️

(via @NFL) pic.twitter.com/X9zHvH4q1e

— FOX Sports: NFL (@NFLonFOX) December 8, 2019
There's no question that Ward will be listed as the top cornerback on the roster when the first depth chart is released.
Competition for that top spot will be non-existent as well, so Ward's role on this team is clear.
He'll be called upon week after week to match up with the other side's number one receiver.
"Denzel, to me, has the capability and the talent to be one of the top corners in this league with his size", said former Browns defensive coordinator Steve Wilks last season.
Despite missing games early last season with a hamstring injury, Ward showed signs that he can become one of the league's best corners.
Denzel Ward held opposing QBs to a 44.9% completion percentage when throwing his way: the best mark among CBs in 2019 per PFF. I'm going with the Warden🔒#Browns https://t.co/oR6G8SNfSo

— John McCafferty (@johnnyblitzz) July 8, 2020
Look for Ward at the top of the depth chart, and maybe at the top of the Pro Bowl votes.

Greedy Williams
Second on the depth chart and starting opposite of Ward will more than likely be Greedy Williams.
He started all twelve games he appeared in during his rookie campaign.
He, like Ward, missed a few games due to injury.
Some were disappointed with his efforts in 2019, mainly stemming from his zero interception total.
However, Williams proved to be a tougher guy to throw to than people initially thought.
#Browns Among 74 qualifying DBs, Greedy Williams allowed the 7th-lowest completion percentage (40%) and 20th-lowest QBR Against (65.0) while in Cover 0/Cover 1 in '19 (Sports Info Soloutions)

0 TDs to boot.

Some highs and lows during his rookie season, but I love his potential https://t.co/LIbzW2VhGH

— Cody Suek (@CodySuek) July 21, 2020
Don't expect anyone else on the roster to challenge Williams for the second cornerback spot on the depth chart.

Terrance Mitchell
Back for a third season in northeast Ohio is Terrance Mitchell, the former Oregon Duck.
Mitchell started 4 of his 15 games played last year with the Browns and will serve a similar role this season.
While not the most prolific name on the roster by any stretch, Mitchell continues to be one of the more underappreciated secondary members on the roster.
He tends to be one of those "right place, right time" type of players.
Duck Hodges threw a duck of a pass and it was picked off by Terrance Mitchell.pic.twitter.com/c5MFEJyt9N

— Dov Kleiman (@NFL_DovKleiman) December 1, 2019
Will he be challenging Ward or Williams on the depth chart?
No. But he'll certainly be mixed into the rotation when need be, and he'll be able to hold his own.
Don't expect any competition for Mitchell for the third spot behind Ward and Williams.

Kevin Johnson
The Browns may finally have their answer at the Nickel corner position in Kevin Johnson.
They tried Mitchell and T.J. Carrie last year, neither of which proved to be long-term solutions.
So, Andrew Berry decided to bring in Johnson from Buffalo on a one-year, $3.5 million deal that could nearly double after incentives.
Kevin Johnson ranked 27th out of 133 CBs in QB rating allowed last year. Only 91 coverage snaps out of the slot but 32nd out of 52 CBs in yards/snap allowed. Assuming he's the Browns main slot DB next year. Another solid signing for 1 year

— TA (@ClevTA) March 19, 2020
Johnson is a great talent, but the former first-round pick has battled his fair share of injuries, including missing the entire 2018 season with a concussion.
Still, he produces when on the field and healthy.
Look for the Browns defense to use plenty of nickel and dime packages this year to keep Johnson on the field.
Despite appearing next to each other on the projected depth chart, Johnson and Mitchell won't be competing for the other's defined role.
Check back for part two of the 2020 Browns defensive backs preview!