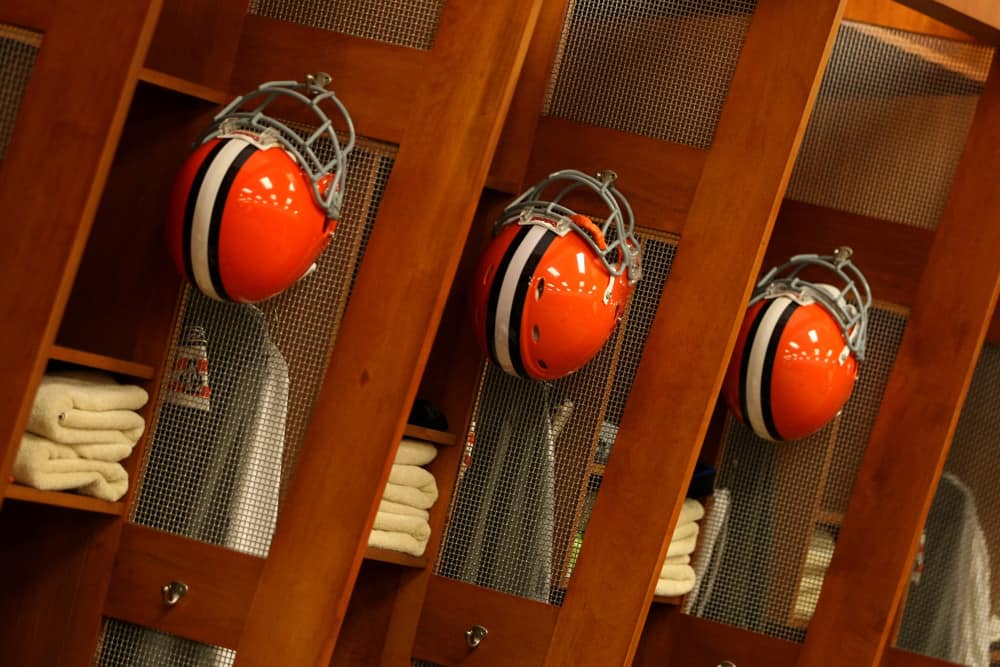 Injuries played a role in bringing the Cleveland Browns roster to the new limit of 85 this week.
The team placed tight end Stephen Carlson (knee) and wide receiver Ryan Switzer (foot) on injured reserve.
But Defensive back Kiondre Thomas (hamstring) was waived with an injury designation.
Offensive lineman Cordel Iwuagwu and linebacker Montrel Meander rounded out the cuts.
We've reduced our roster to 85 players

📰 » https://t.co/et4Fo61LLo pic.twitter.com/jTB3wZePqQ

— Cleveland Browns (@Browns) August 16, 2021
Iwuagwu played 4 snaps against Jacksonville Saturday night.
That was the fewest plays of any active player.
Meander did not see action in the first preseason game.
But Thomas saw 40 snaps, including 4 on special teams, before incurring his injury.
What The Cuts Mean 
The first round of cuts is usually the easiest as camp bodies provide excess resources.
And Meander and Iwuagwu probably saw the writing on the wall in Jacksonville.
Cleveland used 6 linebackers with the injured Tony Fields and free agent Anthony Walker sitting out.
No starting offensive linemen saw action as the Browns try to find the best among their backups.
#Browns have waived OG Cordel Iwuagwu, LB Montrel Meander, CB Kiondre Thomas and placed TE Stephen Carlson (knee), WR Ryan Switzer (foot) on reserve-injured list. Roster now down to 85.

— Jake Trotter (@Jake_Trotter) August 16, 2021
Veteran Chris Hubbard, secure in his swing tackle role,  called it a night after 16 snaps.
But nobody else saw fewer than 24 plays of action, making Iwuagwu's limited action suspect.
Mack Wilson's shoulder injury might have given Meander hope of another week in camp.
But for now,  he'll join Iwuagwu and the injured Thomas in searching for another opportunity.
What About The Injuries 
The NFL brought back the shorter injured reserve time frames for the 2021 season.
But the rules only apply to players injured during the regular season.
Players on injured reserve before September 1 can not be brought back during the season.
Multiple sources report Carlson's knee injury is likely to knock him out for the 2021 campaign.
#Browns TE Stephen Carlson suffered what's believed to be a season-ending knee injury vs the #Jaguars, a league source confirmed. He left the stadium in a large brace and on crutches, as reported last night.

— Mary Kay Cabot (@MaryKayCabot) August 15, 2021
But if Ryan Switzer's injury is less serious, the team could finagle the roster to bring him back.
Cleveland could release Switzer and then re-sign and activate him later.
Andrew Berry can also trade Switzer before September and his new team can activate him.
But the fact they went right to injured reserve probably means Switzer is done for the year.