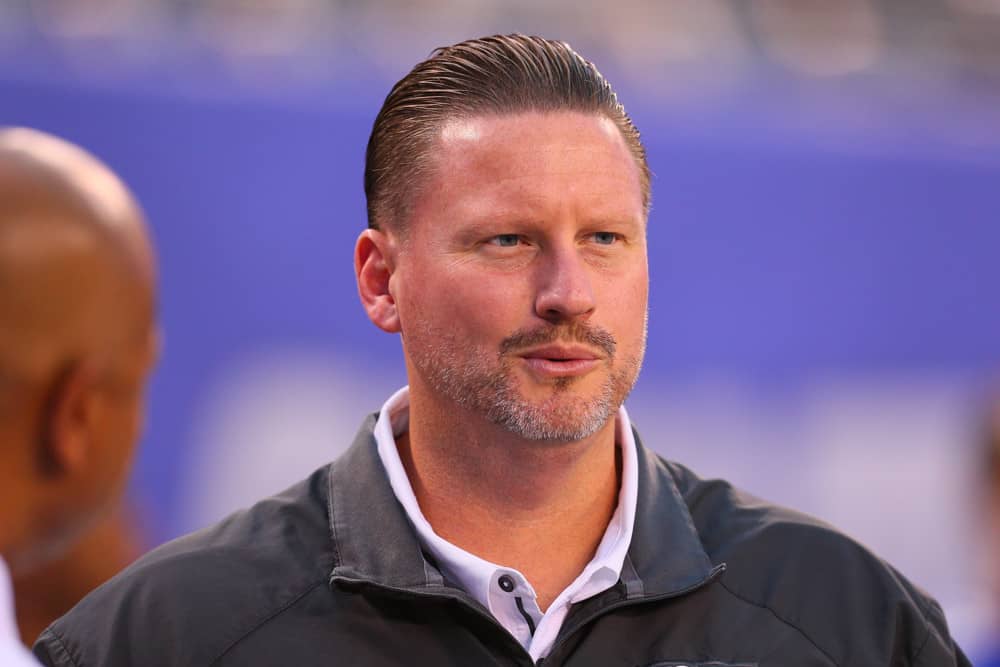 Former New York Giants head coach Ben McAdoo arrived Friday morning at the Cleveland Browns facility to interview for an offensive coaching position, according to reports.
The role McAdoo is interviewing for has not been determined.
Former Giants head coach Ben McAdoo is in the Browns facility, per me and @JordanRaanan. Unclear if he's interviewing for a spot on Kevin Stefanski's staff, or what spot that would be. McAdoo was also Giants OC before becoming their head coach.

— Jake Trotter (@Jake_Trotter) January 24, 2020
New Browns coach Kevin Stefanski still has not hired an offensive or defensive coordinator as of Friday afternoon.
Earlier this week, the Browns interviewed former Denver Broncos offensive coordinator Rich Scangarello for their OC position.
After Super Bowl 54 on Feb. 2, the Browns are expected to hire San Francisco 49ers defensive coordinator Joe Woods as their new defensive coordinator.
Stefanski said at his introductory news conference he wasn't sure whether he or the new offensive coordinator will call plays for the Browns during the 2020 season.
Earlier this month, McAdoo interviewed for the Jacksonville Jaguars' offensive coordinator position.
The Jaguars instead decided to hire former Washington Redskins head coach Jay Gruden.
McAdoo has also interviewed with the Carolina Panthers.
The Philadelphia Eagles could also have interest in McAdoo for their offensive coordinator position, according to ESPN reporter Adam Schefter.
Last offseason, McAdoo interviewed for a position on Kliff Kingsbury's staff with the Arizona Cardinals.
McAdoo, 42, interviewed for the Browns offensive coordinator job in 2018, but the team instead hired Todd Haley.
The Browns are filling their offensive-coordinator vacancy after Todd Monken left to take a job with Kirby Smart's staff at the University of Georgia.
When McAdoo was Giants head coach in 2016 and 2017, the team compiled a 13-15 record.
The Giants fired McAdoo 12 weeks into the 2017 season when the team had a 2-10 record.
It was a far cry from the team's 11-5 record during the 2016 season, which ended in an NFC Wild Card loss to the Green Bay Packers.
McAdoo served the previous two seasons as offensive coordinator under former head coach Tom Coughlin.
In New York, McAdoo worked alongside wide receiver Odell Beckham Jr.
However, Beckham challenged McAdoo's authority several times in New York, including January 2017's infamous Miami boat trip days before the Giants' playoff game against the Packers.
Beckham took criticism for his performance in his lone playoff game, posting just four catches for 28 yards and a few costly drops.
On Thursday, Stefanski met with Beckham after the star receiver had core-muscle surgery and after his strange behavior at the College Football Playoff title.
McAdoo also has NFL coaching experience with the New Orleans Saints (2004), San Francisco 49ers (2005) and Packers (2006-2013).
He also has college coaching experience with Michigan State (2001), Fairfield (2002) and Pittsburgh (2003).