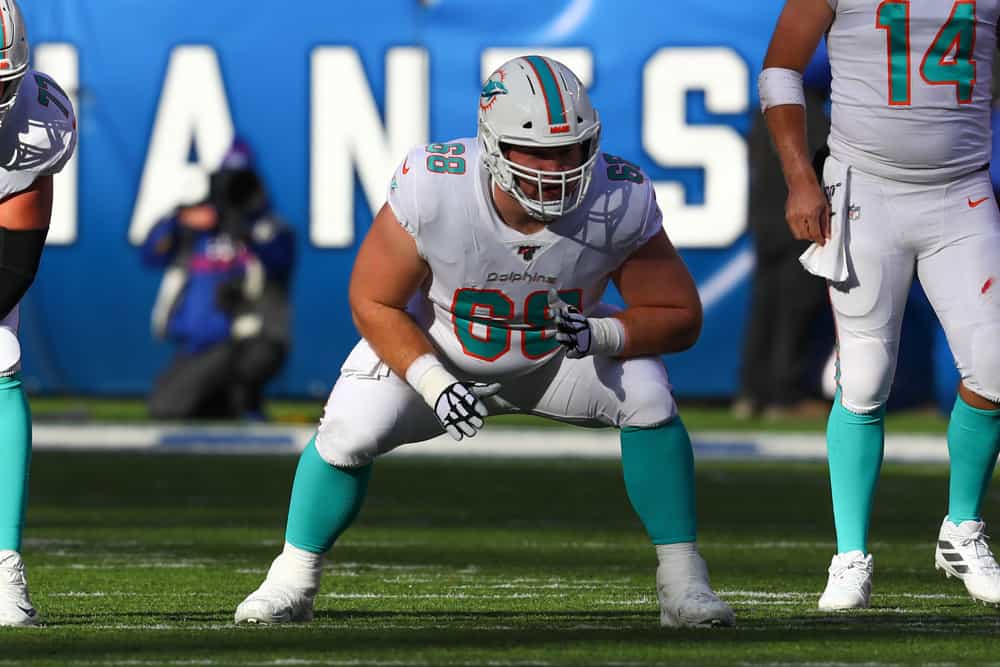 The Cleveland Browns added depth at offensive line on Thursday.
Along with the signing of defensive tackle Andrew Billings, the Browns announced the addition of center Evan Brown.
Additionally, we've signed C Evan Brown

Details » https://t.co/Zj3goJ4VoM pic.twitter.com/t2L9YDuQPb

— Cleveland Browns (@Browns) March 26, 2020

Brown, 23, played for the New York Giants and Miami Dolphins last season.
Brown is 6-foot-2 and 312 pounds.
It was his second season after going undrafted in 2018 out of Southern Methodist.
Brown's Career
After going undrafted in 2018, Brown made the New York Giants' final roster.
However, Brown was inactive for every game during his rookie season.
At the beginning of the 2019 season, Brown was waived by the Giants and assigned to the practice squad the next day.
Brown was then promoted to the active roster on November 9th but was waived two days later before resigning to the practice squad.
On December 4th, the Dolphins signed Brown off the Giants' practice squad.
Brown appeared in the final three games of the season for the Dolphins and was released on March 18th.
Dolphins cuts: Reshad Jones, Evan Brown, Rashard Causey, Chidi Okeke, T.J. Rahming. The team also released/failed physical linebacker Mike Hull.

— Adam Beasley (@AdamHBeasley) March 18, 2020
Moving forward, Brown will likely backup center J.C. Tretter.
SMU Days
Brown started 10 games primarily at right guard as a true freshman in 2014 and then all 12 games at right guard as a sophomore in 2015.
In 2016, Brown started 12 games at center and was named to Dave Campbell's 2016 All Texas College Team.
As a senior, Brown started all 13 games at center and blocked for an offense that ranked 12th in the nation in scoring offense, 15th in total offense, and 19th in passing offense.
He finished his career being named to the All-American Athletic Conference honorable mention team.
Extra Money
The Browns picked up extra money after restructuring Chris Hubbard's contract.
Brown's contract may not have cost an arm and a leg, but every penny saved matters when there is a salary cap.
The Browns & OL Chris Hubbard have agreed to a reworked 2-year deal: $1M signing bonus, $1M of a $2.15M base salary gtd, with max cash value of $5M in 2020. If Hubbard plays 90% of the snaps in 2020, he can void the 2021 year.

Some cap space for Cleveland, security for Hubbard.

— Field Yates (@FieldYates) March 26, 2020
Moving Forward
The Browns have a glaring need at left tackle and Washington Redskins' Trent Williams remains a possibility.
#Redskins Trent Williams still an option for the #Browns, Odell Beckham Jr. not on the block, #Vikings Anthony Harris not in the cards right now, and more https://t.co/asoyjTw9tR

— Mary Kay Cabot (@MaryKayCabot) March 23, 2020
Cabot added that Williams' former offensive line coach in Washington, Bill Callahan, "is now with the Browns in that capacity, and thinks highly of Williams."
Washington continues to be open for a trade of Trent Williams. I'm told it's not a rigid second-round pick, though. Team is willing to work with a potential trade partner.

— Jonathan Jones (@jjones9) March 17, 2020