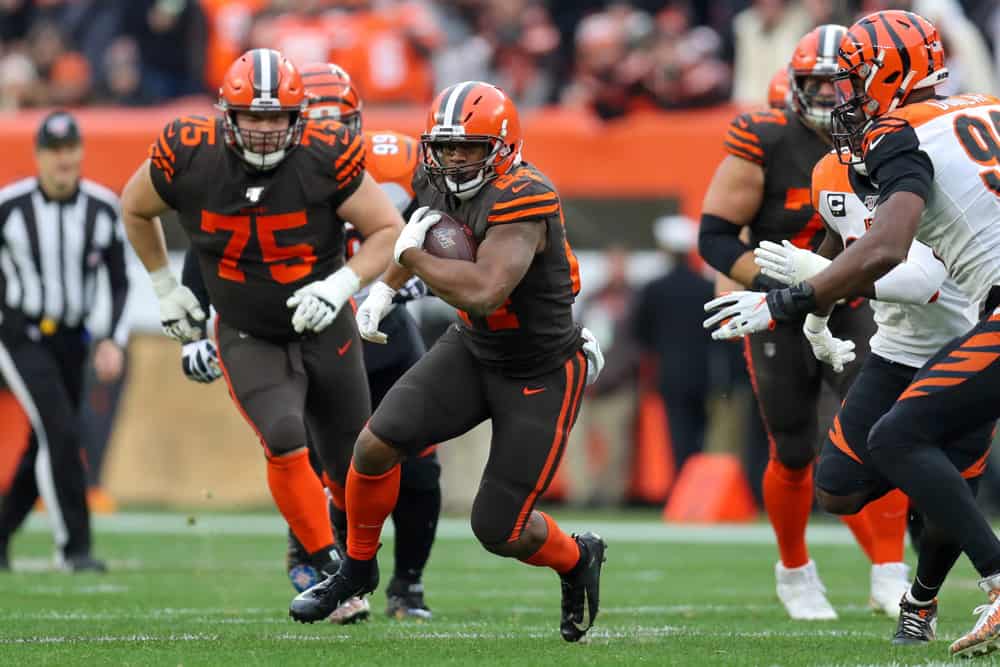 In week 14, the Cleveland Browns beat the Cincinnati Bengals 27-19 at First Energy Stadium.
In a game against one the NFL's worst-ranked defenses, Baker Mayfield was only 11/24 for 192 yards and 2 INT's.
Will Mayfield be better this time around?
Since Andy Dalton has been reinserted as the starter, the Bengals have shown signs of life.
Many viewed the Browns 27-19 win against the league's team as less than impressive.
What will happen in the Browns and Bengals final game of the season?
Let's take a look at our writer's bold predictions for this Sunday's matchup
Writer: Drake Jesse

The 6-9 Browns play the 1-14 Bengals in what will be both team's last game of the decade.
Sure it's called the "Battle of Ohio" but what will really be happening in Cincinnati is a test of that age-old thought experiment: If two teams play football and no one watches it, does it really happen?
So why should you watch?
Well, for starters it's always nice to see the Browns win a division game, which they should do again on Sunday.
In their previous meeting just a few weeks ago, the Browns took care of business.
Was it a solid dismantling of the league's worst team?
No, but a win is a win.
Another reason you should watch is to say goodbye to some familiar faces.
It's likely the last game in a Bengals uniform for quarterback Andy Dalton who will likely be displaced by Athen's favorite son, Joe Burrow, after the upcoming draft.
With one year left on his contract, it's possible the Bengals will want Dalton to stick around and mentor Burrow, but will Dalton settle for that?
This game should give Browns fans a chance to see Freddie Kitchens possibly holding a clipboard in Cleveland one last time.
The experiment went horribly wrong, but will there be the courage to make the change yet again?
Stay tuned.
The farewells are decent reasons to watch, but the best reason to watch this game is to watch Nick Chubb capture the NFL rushing crown.
Chubb comes into Sunday's game leading Panther's playmaker Christian McCaffery by 92 yards, so he's got a great shot to hold on to the lead for good Sunday.
Chubb claims not to care about the crown saying, "I care because everyone else cares." That's a nice team-first attitude to have during a disappointing season for the team, but just get it done Chubb.
It would be a huge boost for teammates, and give something for fans to be proud of as well.
We need it.
Chubb comes into the game with 1453 yards on the year, which is a mere 410 yards behind Jim Brown for the team single-season record.
Sure, it's a long shot but why not try to get NFL single-game rushing record at the same time?
And who knows, maybe Freddie will give him all those carries he missed during the first 15 games of the year?
Obviously, I'm kidding.
Have a great off-season Browns fans, you've earned it.
My Prediction: Browns 25-13
Writer Mark Bergin

Both teams' fate is already sealed.
The Cleveland Browns are eliminated from the playoffs, and the Cincinnati Bengals already have secured the No. 1 overall pick in the 2020 NFL Draft.
Running back Nick Chubb can capture the Browns' first league rushing title since Leroy Kelly in 1968.
Chubb has 1,453 rushing yards headed into Week 17.
The Bengals rushing defense is abysmal, allowing 4.8 yards per carry (27th) and 153.9 yards per game (32nd).
Sunday could also be Andy Dalton's last start on the Bengals.
Many experts expect the Bengals to select LSU quarterback Joe Burrow with the first overall pick in the draft.
"The Red Rifle" threw for 396 yards and four touchdowns in the Week 16 loss to the Miami Dolphins.
Bengals running back Joe Mixon shredded the Browns in Week 14, rushing for 146 yards on 23 carries and a touchdown.
The Browns rushing defense has been horrible this year, allowing 5.0 yards per carry (29th) and 142.4 yards per game (30th).
However, Mixon is coming off an unimpressive performance against the Dolphins where he had 21 carries for 50 rushing yards.
The Browns enter Sunday's game as a 3-point favorite with the over/under set at 43 points.
This game might be the "Battle of Ohio," but fans might as well wish for the start of Spring Training with the Cleveland Indians and Cincinnati Reds.
My Prediction: Browns 27, Bengals 21
Writer: Pat Opperman

It wasn't that long ago that the 5-6 Browns rode a three-game winning streak into Pittsburgh with dreams of a 6-0 division record and a playoff appearance dancing in their heads.
It might as well have been a lifetime ago.
Failure to beat the 1-14 Bengals could force John Dorsey to declare the team collapsed over the last three weeks.
Declaring a collapse means all bets are off on head coach Freddie Kitchens returning in 2020.
There is little else to inspire Baker Mayfield than saving his friend's job.
Mayfield spent part of this week talking about off-season training plans.
Nick Chubb and the offensive line have a little more at stake.
Chubb starts the weekend with a 92-yard advantage over Christian McCaffrey in the race for the NFL rushing title.
It would be the Browns' first rushing title since Leroy Kelly brought his second consecutive title home in 1968.
Is that enough to push the Browns to victory in Cincinnati?
I don't think so.
The Bengals played the Browns tough back when the Browns still had something to play for.
The team showed they still have some fight in them with a three-touchdown, fourth-quarter comeback to force overtime last week.
Sunday could mark the farewell appearance for nine-year veteran Andy Dalton.
Cincinnati is expected to use the first overall draft pick on their next quarterback.
Emotion will be on the Bengals' side.
With nothing much else to play for, it could make the difference for the less-talented team.
Chubb gets the rushing title.
Dalton gets the 27-19 victory.
Freddie gets the door.
My Prediction: Bengals 27, Browns 19
Writer: Rocco Nuosci

Another season, another pair of mediocre NFL teams in Ohio.
2019 marks the fourth consecutive season that both the Cleveland Browns and Cincinnati Bengals finish at the bottom of the AFC North.
While the Browns have been disappointing, the Bengals are straight-up abysmal.
They enter Sunday's season finale with a 1-14 record having already locked up the number one overall pick in the 2020 NFL Draft.
Cleveland won the first matchup three weeks ago but did not look pretty doing so.
Cincinnati had a lead in the second quarter and managed to stay within striking distance throughout the game.
The Browns defense had no answers for Joe Mixon, as the Alabama product ran for 146 yards and a touchdown.
The defense did manage to limit Andy Dalton to no touchdowns, and Denzel Ward intercepted a Dalton pass and returned it for a touchdown.
Cleveland displayed a strong ground game in their own right, as the NFL's leading rusher in Nick Chubb ran for 106 yards.
Baker Mayfield, however, was not good at all.
He completed just 11 total passes for 192 yards and threw two interceptions in the process.
They could be without Odell Beckham Jr. on Sunday, as he missed practice Friday and is questionable for the game.
Head coach Freddie Kitchens has assured the media this week that his team is focused and ready for a tightly contested game.
However, we've seen this team sleepwalk through games before.
Dalton will be looking for a win in what could be his final game in Cincinnati, and I think he gets it.
My Prediction: Bengals 28, Browns 17
Writer: Jimmy Swartz

In a game that features two teams with virtually nothing left to play for, there are still some interesting reasons to watch.
A win would secure the Browns a 4-2 record in the AFC North.
This would be their best divisional record since the NFL went to 4 team divisions in 2002.
Browns offensive MVP Nick Chubb enters the game as the NFL's leading rusher with 1,453 yards.
Chubb only needs 92 yards to finish with the 2nd best rushing total in franchise history behind Jim Brown.
Odell Beckham Jr only needs 46 receiving yards receiving to surpass 1,000 on the year.
This would make him only the 10th wide receiver in franchise history to accomplish this.
This also could be the last time we see Joe Schobert in a Browns uniform.
There have been some reports that the Browns may let Schobert walk in free agency.
Win or lose, this also could be the final game for head coach Freddie Kitchens.
I've mentioned before that winning on the road in the NFL is a tough task, no matter who is playing.
However, I see a lot of Nick Chubb coming in this game.
And when you keep feeding the NFL's leading rusher, good things are bound to happen.
My Prediction: Browns 27, Bengals 20