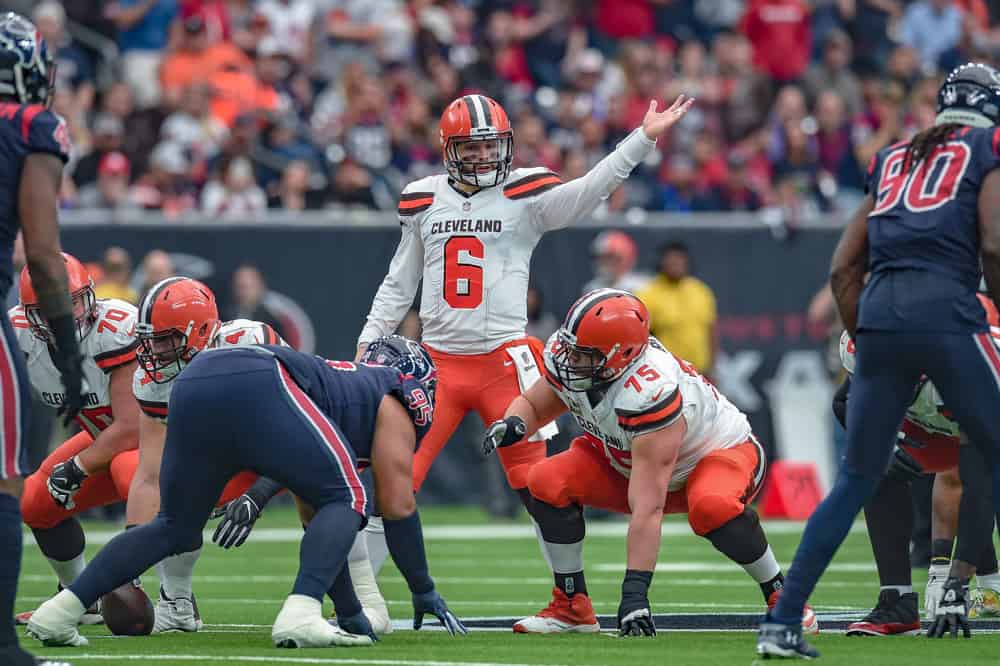 The Cleveland Browns (5-3) are hosting the Houston Texans (2-6) in what should be a great matchup.
After a hot start, the Browns have suddenly lost 2 of their past 3 games and find themselves tied for sixth place in the AFC standings
Can the Browns get back on track at home against the Texans?
Let's take a look at our writer's bold predictions for this Sunday's matchup
Writer: Mark Bergin

The bye week came at the perfect time for the Cleveland Browns.
During Sunday's game against the Houston Texans, the Browns are set to welcome back running back Nick Chubb (knee), guard Wyatt Teller (calf strain) and Austin Hooper (appendectomy).
Plus, the team put quarterback Baker Mayfield on its COVID-19 list after he was exposed to the virus even though he never tested positive for it.
The team has since reactivated Mayfield, and he is expected to play Sunday.
Mayfield has not missed a game.
The return of Chubb and Teller should help the Browns reestablish their running game, which was the team's strength before their injuries.
Plus, there is a 90% chance of rain for Sunday's game at FirstEnergy Stadium in Cleveland.
The weather will likely make it more difficult for both teams to throw the ball.
It's unclear whether Texans starting running back David Johnson will play after he sustained a concussion in the team's Week 10 win over the Jacksonville Jaguars.
If Myles Garrett and company can limit Texans quarterback Deshaun Watson, I would expect the Browns to get back on track Sunday.
My Prediction: Browns 27, Texans 24 
Writer: Pat Opperman

Cleveland kicks off what is supposed to be an easy stretch of games with a home contest against the Houston Texans.
Overlooking a team with a 2-6 record who already fired their head coach is understandable.
But it should be noted that 5 of the Texans' losses came against playoff-caliber teams.
Houston fell short in games against the Chiefs, Ravens, Steelers, Packers, and Titans.
The Texans beat the Jaguars twice but also lost to the 3-5 Vikings.
So, the question is whether the Browns are a playoff-caliber team who can expect to beat the Texans.
Or are the Browns a pretender against whom the Texans can emerge victorious?
There are two things Browns fans should know.
One is that the Texans feel like they are in the middle of an easier stretch of games, too.
Houston hosts the Patriots next week and travels to Detroit in Week 12.
Their local pundits believe the team could be 5-6 before they face the division-leading Colts.
The other thing to remember is that Houston's interim head, coach Romeo Crennel, as complimentary as he is about the current Browns, would love to beat his former team.
Houston will be a fashionable pick to pull off the upset in Crennel's return to Cleveland.
But Nick Chubb, Austin Hooper, and Wyatt Teller return this week, too.
And that is too much power for a flawed Houston team to handle.
My Prediction: Browns 27, Texans 24 
Writer: Rocco Nuosci

Coming off their bye week, the Cleveland Browns have a chance to start the second half of the season strong against a scuffling Houston Texans team.
Getting Healthy
Browns fans received great news this week when it was announced that running back Nick Chubb was activated off injured reserve and returned to practice.
Good to see @NickChubb21 back at practice 🙌 pic.twitter.com/okUcXuDhaH

— Cleveland Browns (@Browns) November 11, 2020
The offense has not been terrible without him, but it is clear his presence has been missed.
The one-two punch of Kareem Hunt and himself will once again be back on the field together. Against a Texans rush defense that is second-worst in the league, those two should have a field day.
Nick Chubb leads the NFL with 6 runs of 20+ yards

He hasn't played since Week 4 🤯 pic.twitter.com/fmnIUDir8k

— PFF Fantasy Football (@PFF_Fantasy) November 12, 2020
Wyatt Teller may also be back on the field this week.
The offensive line has sorely missed him, and he will provide an instant boost to this Browns offense.
Just how much of an impact does Wyatt Teller make?

The Browns rushed for 8 TDS with him.

Zero without him. pic.twitter.com/NaLSRrU3Zw

— Nick Karns (@karnsies817) November 12, 2020
Tight end Austin Hooper was also back at practice this week after undergoing surgery on his appendix.
While nothing is official yet, most expect all three of these guys to be back in action on Sunday.
Containing Deshaun
Of course, the Texans are always a threat if Deshaun Watson is under center.
Houston may be struggling this year, but it certainly hasn't been Watson's fault.
Best passer rating through week 9….

Aaron Rodgers – 117.5
Russell Wilson – 117.1
Patrick Mahomes – 115.9
Drew Brees – 110.3
Derek Carr – 110.0
Ryan Tannehill – 109.4
Deshaun Watson – 108.7
Josh Allen – 107.2
Justin Herbert – 104.7
Ben Roethlisberger – 101.8

— NFL Stats (@NFL_Stats) November 11, 2020
Most 20+ yard completions:
1. Patrick Mahomes – 38
2. Josh Allen – 37
3. Matt Ryan – 36
T-4. Deshaun Watson/ Tom Brady – 32 pic.twitter.com/L2orfc21ro

— PFF (@PFF) November 12, 2020
Best completion % this season:

Drew Brees – 74.0%
Teddy Bridgewater – 71.9%
Russell Wilson – 71.0%
Ryan Fitzpatrick – 70.1%
Derek Carr – 69.8%
Josh Allen – 68.9%
Nick Mullens – 68.4%
Deshaun Watson – 68.3%
Kyler Murray – 68.1%
Cam Newton – 68.1%
Ben Roethlisberger – 68.1%

— NFL Stats (@NFL_Stats) November 12, 2020
If he's on, Houston should be able to at least stay in the ballgame.
If the Browns defense can force him into some bad decisions, however, it could be another long afternoon for Texans fans.
My Prediction: Browns 31, Texans 20 
Writer: Wendi Oliveros

The 5-3 Cleveland Browns had a well-timed bye week during Week 9.
Media frenzy around the loss to the Raiders calmed down.
Week 10's Story Is The Returning Players.
Injured players recuperated and are slated for return from prolonged absences.
Most notably are RB Nick Chubb, G Wyatt Teller, TE Austin Hooper, and LB Jacob Phillips.
Both sides of the ball benefit from these players returning.
We know how the offense has looked without the Chubb/Teller combination that went down in Weeks 4 and 5 respectively.
#Browns OC Alex Van Pelt on if run game can return to top form with RB Nick Chubb and RG Wyatt Teller back: That's our thought. We want to get that reestablished

— Nate Ulrich (@ByNateUlrich) November 12, 2020
What a week for them to come back against the Texans whose defense ranks 32nd against the run.
And Hooper has also been missed since undergoing an emergency appendectomy on October 23.
As for the defense, Jacob Phillips suffered a knee injury in Week 5.
He could be the spark the defense needs.
Speaking of defensive sparks, Myles Garrett also used the bye week to recuperate a knee injury.
Time To Reset and Contend
Though the Texans are a formidable opponent, I look at this as the reset button for the Browns.
Also, the Browns know this is a must-win game to stay in the playoff hunt.
All systems are go for a Browns Week 10.
My Prediction: Browns 31, Texans 17 
Writer: Ben Donahue
The Browns come off a much needed buy week sitting at third place in the AFC North with a 5-3 record.
Up next for Cleveland is the Houston Texans.
This should be a win for the Browns, but stranger things have happened.
The Texans are just awful this year.
A team that hoped to turn the corner and make a deep playoff run has gone the opposite direction.
Houston is 2-6 and both victories have come at the hands of division rival Jacksonville.
Despite their record, the Texans do have an exciting offense.
Deshaun Watson is one of the best young quarterbacks in the NFL.
He has two speedy and elusive receivers in Will Fuller and Brandin Cooks.
Fuller has 36 catches for 590 yards (16.4 yards per reception) and six touchdowns for the year.
Cooks has 37 receptions for 510 yards (13.8 yards per reception) and three scores.
Overall, the Houston offense is ranked in the middle of the pack, gaining 368.4 yards per game.
Most of that is through the air.  However, Watson is also a threat to run.
So far this year he has rushed for 197 yards, so the Cleveland defense must keep an eye on him.
If the Browns don't keep Watson in check, he will do serious damage in picking up crucial yardage plays such as third and long.
The Houston running game is not great, having accumulated only 701 total yards this year.
Starter David Johnson sustained a concussion in Sunday's game against Jacksonville and may not play this weekend.
That means former Brown Duke Johnson will start for the Texans.
He more than likely won't be a factor against a fairly stout Browns run defense.
The Texans defense is shaky at best.
The team is ranked near the bottom in the league, having given up 3,335 yards including 416.9 yards per game.
With this in mind, the Browns offense will have a field day against the Texans D on Sunday.
Running back Nick Chubb, who has been out the past month with a knee injury, looks like he will suit up this weekend.
Both Chubb and Kareem Hunt should slash and gash their way to big yardage.
We have designated RB Nick Chubb for return from injured reserve

Details » https://t.co/aUGBe9FyVL pic.twitter.com/2zKUCipMHs

— Cleveland Browns (@Browns) November 9, 2020
Even with a porous Houston secondary, I'm a little nervous about Baker Mayfield throwing to an OBJ-less receiver group.
Jarvis Landry, Donovan Peoples-Jones, and Rashard Higgins should be enough to help the Cleveland offense.
Sprinkle in some underneath throws to Harrison Bryant and David Njoku and Cleveland will keep JJ Watt and crew off balance.
Part of me thinks that Houston could actually pull off a heist and steal one from Cleveland.
However, I'll put my money on Chubb and the defense.
My Prediction: Browns 27, Texans 17