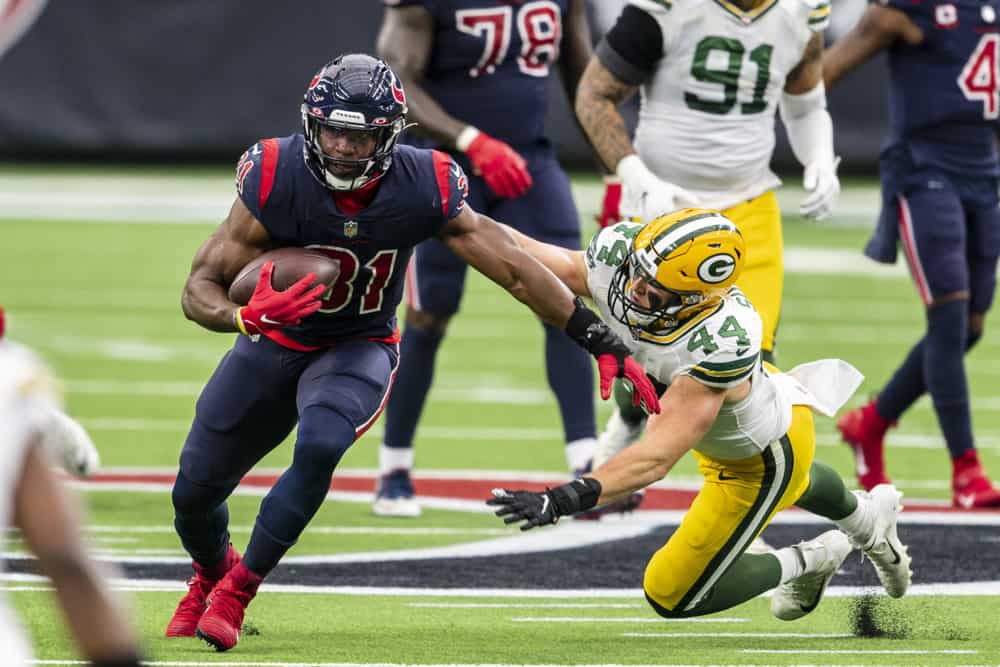 It's still unclear whether Houston Texans running David Johnson will play Sunday during a road contest at FirstEnergy Stadium against the Cleveland Browns.
During a Wednesday news conference, Texans interim head coach Romeo Crennel said Johnson's status against the Browns is "up in the air."
Johnson, 28, will not practice Wednesday after suffering a concussion during Sunday's 27-25 win over the Jacksonville Jaguars.
"He's still being evaluated," Crennel said.
Johnson suffered the injury after sustaining a huge hit from Jaguars linebacker Myles Jack.
For now, Johnson remains under concussion protocol.
Myles Jack with the hit and strip of Duke Johnson. #Jaguars pic.twitter.com/pjDN2u7NVj

— Matt Waldman (@MattWaldman) November 8, 2020
Former Browns running back Duke Johnson (2015-2018) filled in for the Texans against the Jaguars, finishing the game with 16 carries for 41 yards and a rushing touchdown
Duke Johnson also had four catches on four targets for 32 yards.
"I think Sunday was a great example of what Duke brings to the table," Crennel said. "He went in there and after David got hurt, he took I guess just about every snap. I think maybe he was out for two plays after that, but he took every snap.

"That was blocking, that was running, that was pass receiving and he's a productive runner. He's got great vision. [He's] got quick feet and he can make people miss, so that's what we expect from him going forward."
During Week 9, Duke Johnson's 20 touches marked his career-high.
In six games this season, Duke Johnson has 34 rushing attempts for 95 rushing yards and a rushing touchdown.
Crennel also discussed the importance for the Texans to establish their running game against the Browns, especially if weather and wind are factors in Cleveland.
"That's when you need your running game probably the most," Crennel said. "Hopefully, the wind will not be what it was for their last game. They were talking about 30 mph wind gusts. That's tough to run and to throw.

"As you look back on the history of the league, when all the games were outdoors and it got to November and December, those teams that could run it and those teams that could stop the run had the best chance because of the weather conditions."
The Browns (5-3) are considered 3-point favorites over the Texans (2-6) on Sunday.
Crennel, 73, coached the Browns from 2005-2008.
"I enjoyed Cleveland," Crennel said.
While Crennel compiled a 24-40 record in Cleveland, he led the team to its last winning season in 2007 when the Browns went 10-6.
"That's probably the one that stands out the most," Crennel said of the 2007 season. "We won 10 games and really should have made the playoffs that year, but we lost to Cincinnati in Cincinnati in a bad weather game that kept us out. And, we were still in it in the tiebreaker, but you had to depend on other [teams] to do things and you had no control over it, so then we lost out on the tiebreaker."
Sunday marks the second time Crennel has been a head coach against the Browns.
The first time came on Dec. 9, 2012, when Crennel was the head coach of the Kansas City Chiefs.
On that date, the Browns won 30-7.
This past offseason, the Texans traded wide receiver DeAndre Hopkins and a fourth-round pick in exchange for David Johnson, a second-round pick and a fourth-round pick in 2021.
After an 0-4 start, the Texans fired head coach and general manager Bill O'Brien.
Crennel took over as the team's interim head coach.
David Johnson has started in all eight games for the Texans with 103 carries for 408 rushing yards and three rushing touchdowns.
He also has 16 receptions for 161 yards and a touchdown.
In 2019, David Johnson played in 13 games for the Cardinals.