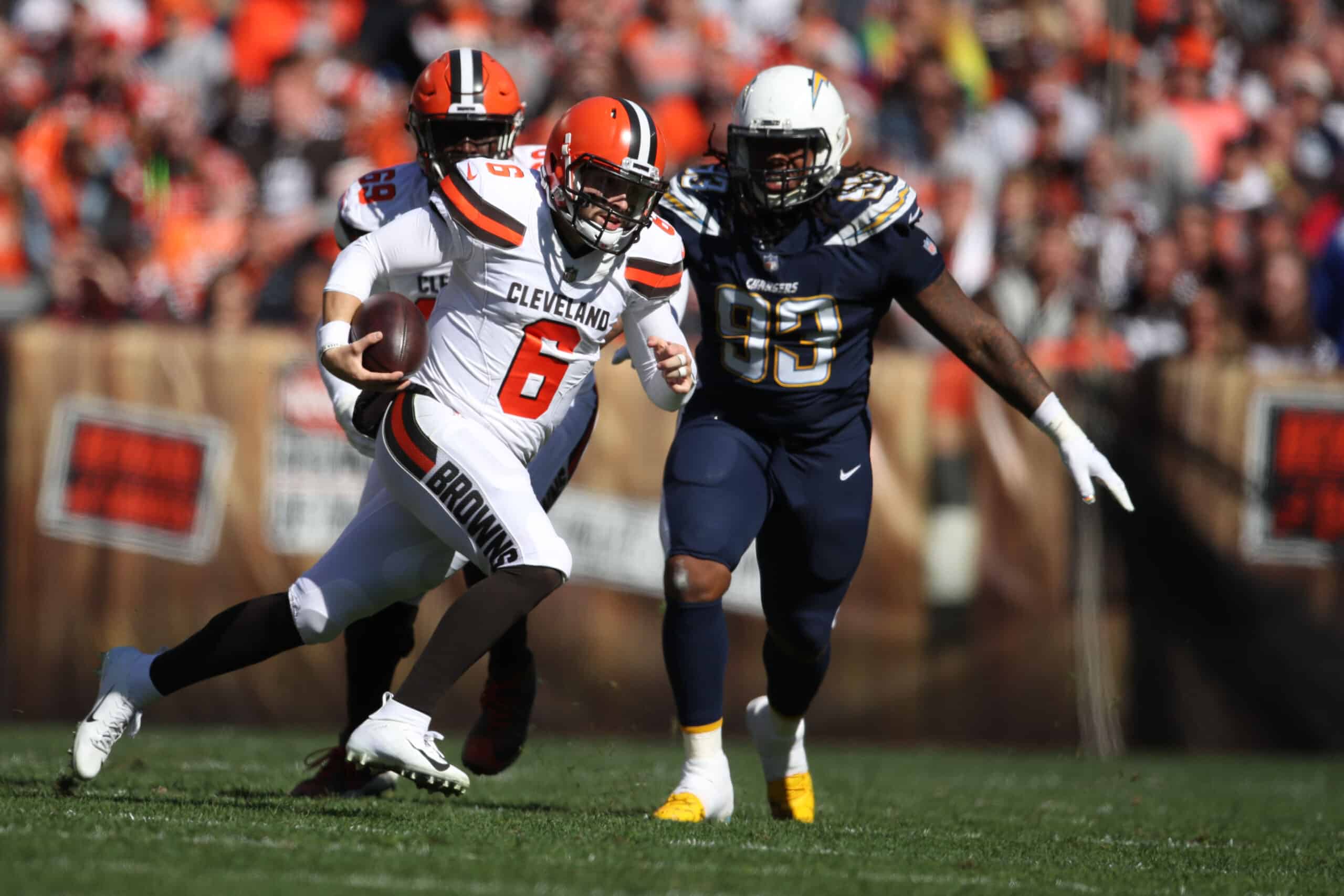 The Cleveland Browns and Los Angeles Chargers are both off to fast starts at 3-1.
The Chargers have beaten the Browns in their last two meetings and are 5-2 in their last 7.
Which team will prevail?
Let's take a look at our writer's bold predictions for this Sunday's matchup.
Writer: Wendi Oliveros

The Browns enter Week 5 with a 3 game winning streak on the line.
I wrote two different predictions and struggled to decide which to select as my final answer.
In the end, I am going with my heart over my head.
I am expecting the defense to carry the load again for an ailing and somewhat ineffective offense that will need more than a week to put the pieces together.
This could also be the week for something "special" to happen on special teams; there could be a big play with a kick/punt return or a kick.
It will be improbable and again maybe not pretty, but the Browns will come out of LA with a win.
My Prediction: Browns 23, Chargers 21
Writer: Ben Donahue
The Browns picked up victory number three last Sunday, but it wasn't pretty.
Cleveland's defense showed up again, limiting the Vikings to only seven points.
However, the Browns' offense was largely abysmal (save for Kareem Hunt and Nick Chubb).
Baker Mayfield passed for 155 yards and had a 59.5 QBR, both are his lowest of the season.
There is reasonable speculation that Mayfield's shoulder injury from the Houston game may be limiting his effectiveness.
Baker Mayfield has been playing with a partially torn labrum in his left shoulder, sources tell @Jake_Trotter. https://t.co/Ezxzh3Ru1n pic.twitter.com/XGhNVh6dQ8

— SportsCenter (@SportsCenter) October 7, 2021
If that is the case, this weekend's match up with the Chargers won't help.
Just like Cleveland, LA is 3-1.
They are a solid team with victories the past two weeks over Kansas City and previously unbeaten Las Vegas.
Chargers second-year QB Justin Herbert is a star on the rise.
So far this year, he has thrown for 1,178 yards, nine touchdowns, three picks and a 68.9 completion percentage.
Justin Herbert: 90.4 passing grade on 3rd and 4th down this season

1st among all QBs 🎯 pic.twitter.com/sVXEcvgvSs

— PFF (@PFF) October 8, 2021
Herbert's 6'6", 237-pound frame allows him to have a clear view of the field and connect with his talented skill players.
LA's best receiving threat is Mike Williams.
The Chargers also boast Keenan Allen, Austin Ekeler and a sneaky good Jared Cook at tight end.
On defense, LA is potent with linebacker Joey Bosa, D tackles Jerry Tillery and Linval Joseph and a talent heavy secondary that includes Asante Samuel Jr., Nasir Adderley and Derwin James Jr.
Basically, if Mayfield continues to get pounded, or has a repeat performance like Week 4, we just might have a Case Keenum sighting.
Until Baker and left tackle Jedrick Wills get right, I don't have much faith in the passing game, making Cleveland one dimensional.
My Prediction: Chargers 28, Browns 17
Writer: Pat Opperman

Odell Beckham and Baker Mayfield have nothing on me when it comes to torn labrums.
It's been 30-plus years since I wrecked my shoulder and put my job and livelihood at risk.
There's probably a good book in how I adapted to keep my kids fed and my career on track.
And that is exactly what Mayfield, with a lot of help from Beckham and the rest of the Cleveland Browns, will do.
Before the season, I tapped the Chargers game as one of my expected 4-5 losses.
But now I see this as a rally-around-Baker week.
Offensive trickery and power, along with a defensive fury like nothing Justin Herbert's ever seen, are imminent.
And when the dust settles, there will be victory for Baker… and all of Cleveland! (Woof! Woof! Woof!)
My Prediction: Browns 26, Chargers 13
Writer: Mark Bergin

Heading into Week 5 of the 2021 season, the Cleveland Browns lead the NFL in rushing.
Meanwhile, the San Diego Los Angeles Chargers defense allows 139.5 rushing yards per game, which ranks 28th in the NFL.
The Chargers defense also allows 5.3 yards per carry.
While the Los Angeles defense could look to stack the box to slow down Nick Chubb and Kareem Hunt, the big key is going to be whether quarterback Baker Mayfield can play better.
Mayfield has played through a torn labrum injury in his left shoulder since Week 2, which has impacted his accuracy whether he'll admit it or not.
I don't think Mayfield will play as poorly as he did against the Vikings in Week 4.
Given the Browns' ability to establish their running game, and thus the ability to control the clock, I think they'll win outright despite being two-point underdogs.
My Prediction: Browns 31, Chargers 27