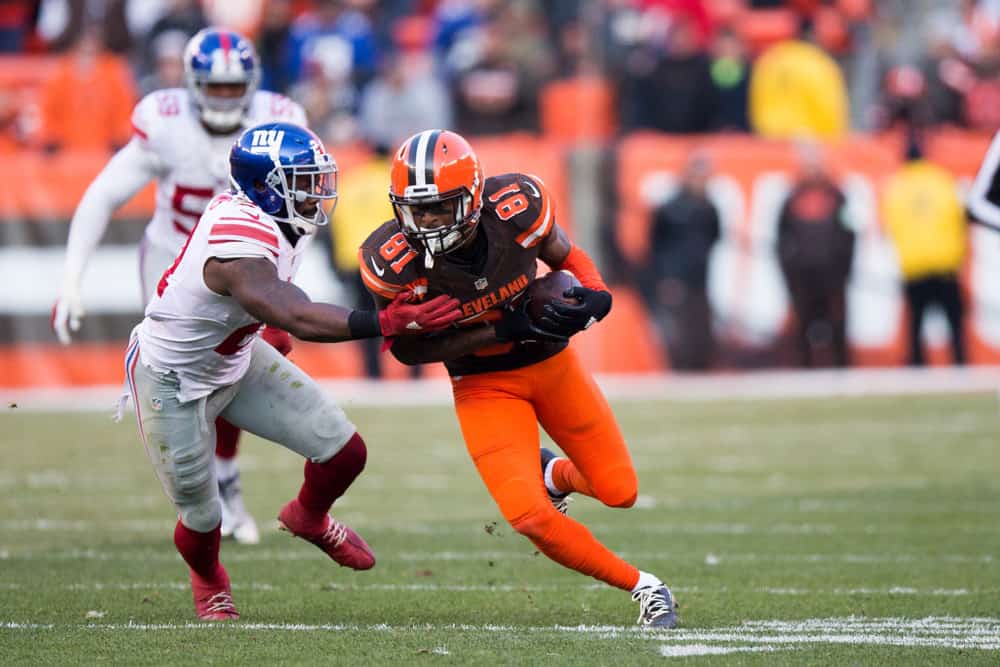 The Cleveland Browns arrive in New York after a heartbreaking loss to the Baltimore Ravens on Monday night.
But, they remain at 9-4 and very much in the playoff hunt.
The Giants are 5-8, but are still alive in the NFC East title picture.
The Giants have also been playing well lately, but had a 4 game winning streak snapped with a loss to the Arizona Cardinals in week 14.
Which team will prevail on Sunday night?
Let's take a look at our writer's bold predictions for this Sunday's matchup.
Writer: Rocco Nuosci

For just the second time since 2008, Sunday Night Football is back in Cleveland.
The Browns will host the New York Giants in what could turn into an entertaining game.
It isn't "must-win" territory for the Browns, but getting a win could help their playoff seeding tremendously.
Familiar Faces
Freddie Kitchens will be calling plays for Colt McCoy in Cleveland on Sunday night. And it won't be for the Browns. It's incredible how these things just have a way of happening. Both Kitchens and McCoy had less than stellar careers in Cleveland during their respective tenures.
.@TheRealTRizzo "If Colt McCoy and Freddie Kitchens beats me (Browns) this weekend I'm going to jump off a bridge."

— ESPN Cleveland (@ESPNCleveland) December 18, 2020
McCoy was just 6-15 as a starter during the 2010 and 2011 seasons for the Browns.
Kitchens finished just 6-10 last season as head coach and was dismissed after the season ended.
Neither are in a much better situation now with the Giants.
So long as the Browns show up for primetime, they should have no problem handling these two.
Baker the Touchdown Maker
Baker Mayfield has had his best stuff over the past two games.
He's thrown six touchdowns and just one interception.
Mayfield has missed some easy throws this year, but in these past two outings, he has an average completion percentage of 68%.
#Browns Baker Mayfield's last three games:

• 935 passing yards
• 9 total TDs
• 1 INT

— Cody Suek (@CodySuek) December 15, 2020
He's changed the narrative surrounding himself with consecutive solid performances.
Kevin Stefanski may want to continue to let Baker attack downfield as the Giants are without their top cornerback James Bradberry.
Giants' James Bradberry out against Browns after going on COVID-19 list https://t.co/uUP7P1UWu6 pic.twitter.com/L1QTLcdrMr

— New York Post (@nypost) December 17, 2020
My Prediction: Browns 31, Giants 17 
Writer: Jake Luppino

The Cleveland Browns will be featured in back-to-back primetime games.
In Week 15, on Sunday Night Football, they will take on the New York Giants.
Both teams are coming off of a loss and will be looking to bounce back.
The Browns and Ravens put on quite the game in Week 14 as both sides scored over 40 points.
Baker Mayfield once again proved the naysayers wrong, by consistently delivering for his team in the big moments.
This week though, the story of the game will be defense
Who Can Apply More Pressure?
This Week 15 matchup is going to come down to, which defense can force the big turnover?
Which defense will make the big play when it matters most?
Now, we know that Daniel Jones is likely to miss this game, but that does not mean the Browns have the automatic win.
We saw Colt McCoy and this Giants team pull off the upset in Seattle just two weeks ago.
Mainly because there defensive disguise post snap confuses most offenses.
The key for the Giants will be slowing down the run.
The key for the Browns will be applying pressure on Colt McCoy.
In the Week 14 loss to the Cardinals, Daniel Jones was sacked 8 times.
DE Myles Garrett will have a chance to post a dominant performance.
If he is able to do so, this may be another long game for the Giants.
But, I am predicting a close game that has the Browns getting their revenge on Freddie Kitchens.
Kitchens will be calling the plays in this game as Giants offensive coordinator, Jason Garrett, has tested positive for COVID.
We wish him a speedy recovery.
My Prediction: Browns 21, Giants 17 
Writer: Mark Bergin

As of Friday morning, the Browns are considered 6.5-point points over the Giants after opening as 4.5-point favorites.
So much for the Freddie Kitchens revenge game.
Surely something hilarious is bound to happen with Kitchens serving as the Giants' play-caller on Sunday.
It comes after offensive coordinator Jason Garrett tested positive for coronavirus.
I'm not sure if Colt McCoy is a downgrade compared to Daniel Jones, but the former Browns quarterback is likely to start against his former team.
Before the start of the 2020 regular season, the Week 15 matchup against the Giants and the Week 16 game against the Jets were must-win games for the Browns if they wanted to make the playoffs.
It's not much different now: As pointed out by Browns beat reporter Jake Trotter, ESPN's Football Power Index FPI shows the Browns have a 95% chance to make the playoffs with a victory over the Giants.
However, the Browns' playoff chances drop to 68% with a loss Sunday night.
It should give Browns players all the incentive they need.
Cleveland does need to shore up its defense after allowing 45 points 47 points to the Ravens on Monday Night Football.
My Prediction: Browns 31, Giants 23
Writer: Pat Opperman

Last Friday, the Browns and Giants were on a roll with big things on the line in their Week 15 matchup.
New York could bounce back to a .500 record after a 1-7 start, with the NFC East title chances in their control.
Cleveland, fresh off an upset of the Ravens, could clinch a playoff berth.
The NFL flexed the game into primetime with such thoughts in their heads.
But… things change pretty fast in the NFL.
And now both teams with try to bounce back from losses in Week 14.
Their losses had decidedly different tones.
Baker Mayfield led a spirited showing in what was probably the most exciting game of the 2020 season.
Meanwhile, Daniel Jones convinced his head coach he was ready to return from a hamstring pull against Arizona.
He wasn't, and after posing as a statue for four quarters, he has an ankle injury hobbling him, too.
This Friday, New York is reeling after the loss of their best cornerback and probably, their quarterback.
If it is possible to gain momentum from a loss, Cleveland pulled it off by showing they could compete with anyone.
Cleveland's defense bounces back against a bad offense and Mayfield leads another big game for the Browns' offense.
My Prediction: Browns 45, Giants 17 
Writer: Wendi Oliveros

The Cleveland Browns take their show on the road the next two Sundays to East Rutherford, New Jersey to take on the New York football teams.
First up is the New York Giants who at 5-8 are playing well for their rookie coach Joe Judge.
There are a lot of storylines associated with this game, but let's get to the score prediction first.
Prediction
This is a must-win for the Browns after dropping the Baltimore game.
I actually think this one won't be a nail-biter; the Browns will build a lead and fans can actually relax and enjoy the game.
Storylines
1. Flexed Game
This game was flexed from a day game which means the Browns will be on nationwide TV for the second time in a week.
2. Freddie Kitchens Angle
The ghosts of Browns past reared their ugly heads this week when it was revealed that Giants' offensive coordinator Jason Garrett tested positive for COVID-19.
Now we will see Giants tight ends coach and former Cleveland Browns head coach Freddie Kitchens calling the plays, in Garrett's absence.
3. Philly Friends Reunite
Then, there is the longstanding relationship between Giants Coach Joe Judge and Browns Coach Kevin Stefanski that dates back to 9th grade at St. Joseph Preparatory School in Philadelphia.
This will be the first time both head coaches, rookies this year in the NFL, face each other.
Should be a fun game to watch with playoff implications for both teams, but I do believe the Browns will run away with it.
My Prediction: Browns 28, Giants 14 
Writer: Ben Donahue
Yes, sometimes there IS such a thing as a good loss.
The Browns 47-42 loss to the Ravens this past Monday showed just how far the team has come since Week 1.
During their first meeting with the Ravens, Cleveland looked like the same 'ol Browns.
Entering the season with high expectations, they were shellacked 38-6.
It is obvious that the Browns have vastly improved and that they can hang with the good teams.
Give credit to coach Kevin Stefanski, who appears to be the leader that Cleveland has been waiting for since 1999.
Stefanski has tailored his play calling to suit the skill set of Baker Mayfield and give the team a fighting chance each week.
Speaking of Mayfield, he had his second straight 300+ yards passing day and looks more and more like he'll earn his extension.
Now, it's on to Week 15 and the New York Giants.
🚨 FLEX ALERT! 🚨@Browns. @Giants.

Week 15 on @SNFonNBC. pic.twitter.com/pUEd6d7WnP

— Sunday Night Football (@SNFonNBC) December 9, 2020
If you would have asked me a month ago, I would have given this a certain victory for Cleveland.
However, the Giants have actually looked better the past month.
After starting the season 1-7, the G-men have since gone 4-1.
They took down a pretty good Seattle team in Week 13, 17-12.
New York quarterback Daniel Jones missed some time to injury a few weeks ago, came back last week, and promptly got the stuffing knocked out of him.
The Cardinals sacked him six times before he was eventually replaced.
If Jones' hamstring and ankle continue to bother him, backup Colt McCoy will spell him.
McCoy looked a little better than Jones, particularly in the Seattle victory.
However, he too was sacked by the Cards twice in relief.
As a whole, New York has given up 41 sacks on the year, which is tied for 29th in the league.
Myles Garrett and the Browns pass rush will have a field day with the Giants O-line.
After all, against the Ravens and Lamar Jackson, the Browns pass rush had four sacks and four quarterback take-downs.
Despite the recent upswing in victories, the Giants offense does have its issues.
Not only do they give up a plethora of sacks, they have also lost 10 fumbles for the year, which is tied for 25th in the league.
So, ball handling isn't exactly New York's strong suit.
The Giants could succeed against the Browns through the air.
Cleveland continues to struggle in pass defense due to injuries and downright sloppy play.
The final few minutes of the Ravens game showed the glaring weakness of the Browns secondary.
New York running back Wayne Gallman is the team's leading rusher with 561 yards, 4.6 average yards per carry, and six touchdowns.
Wayne Gallman has answered the bell this season and currently owns the 4th highest yards AFTER contact per attempt this season among qualified rbs (3.68)

Take advantage of every opportunity. pic.twitter.com/7pkN68jZgc

— PFF NY Giants (@PFF_Giants) December 7, 2020
Meanwhile, the Browns run defense has had issues.
Against Baltimore, the team gave up 231 yards and five touchdowns.
Although, that was against a much better opponent.
The Giants defense is pretty good against the run, only allowing 3.9 yards per carry (6th in the NFL) and 101.5 yards per game (7th in the NFL).
Can they continue to fare this well against Nick Chubb and Kareem Hunt?
I doubt it.
Afterall, both backs together average 4.9 yards per carry (4th in the league) and 156.2 yards per game (good for 3rd in the league).
Last, but not least, Mayfield has been on a roll the past two weeks.
Given the quality of the opponent this week, he should see his third straight 300+ yard passing game.
Last week, the Giants gave up 244 yards and a 97.8 QB rating to Arizona's Kyler Murray.
Their pass defense as a whole gives up an average of 241.5 yards per game.
I believe all this adds up to win number 10 for Cleveland.
My Prediction: Browns 35, Giants 21