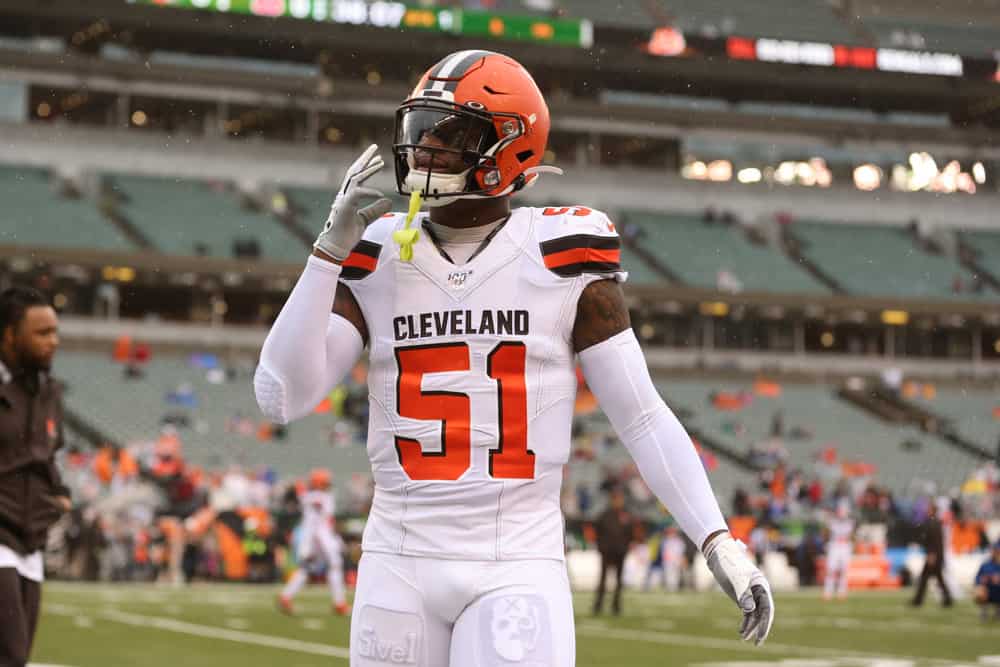 The Cleveland Browns have now lost two players to injuries on consecutive days.
On Tuesday, linebacker Mack Wilson was carted off the field after suffering a significant hyperextended knee.
He is going to miss some time and will need to undergo further evaluation.
It sounds like all the options are on the table, including season-ending surgery.
All options are on the table, including season-ending surgery. Cleveland is hoping that's not the case for its LB https://t.co/GXHYGxzGaX

— Ian Rapoport (@RapSheet) August 19, 2020
This would be a huge blow to the Browns as Wilson emerged as a key starter last season.
Wilson was the lone starting linebacker left on the roster from last year.
The Browns are certainly hopeful that Wilson will be able to play football in 2020.
Rough Start To 2020
Just a day before suffering the injury, Wilson delivered a hard hit to teammate Nick Chubb in practice.
The Pro Bowl running back was placed in concussion protocol before receiving the hit.
Chubb is going to be sidelined until he clears protocol, but he should be fine going forward.
Tight end David Njoku mentioned that Wilson's hit was not the right behavior.
Wilson then went on social media to defend himself against Njoku and others who believe his hit on Chubb was dirty.
I just practice with a lot of passion, my intentions is to never hurt anyone on my team nor any other player I'm going up against. We good though keep the negative comments to yourself. #NoBarkALLBITE

— Mack Wilson (@5mackwilson1) August 17, 2020
There is no reason to believe that Wilson would go out of his way to hurt his own teammate.
Sometimes accidents happen and you hit the player at the wrong time or place.
Hopefully both players are able to get back on the field soon.
What Wilson Means To Cleveland
As mentioned earlier, losing Wilson would not be ideal for Cleveland.
The Browns already are lacking experienced depth at the linebacker position.
Wilson is coming off a fairly solid rookie season and is looking to build off that momentum.
He recorded 82 tackles, four tackles for loss, and one sack through 16 games (14 starts) with Cleveland.
Wilson mentioned that he wants to be a vocal leader and motivator for the defense.
The fifth-round pick is certainly rising above expectations thus far.
Losing Wilson for a significant period of time would really hurt the Browns going into the 2020 season.
Fans will have to wait and see what happens after the Browns are done evaluating Wilson's knee.