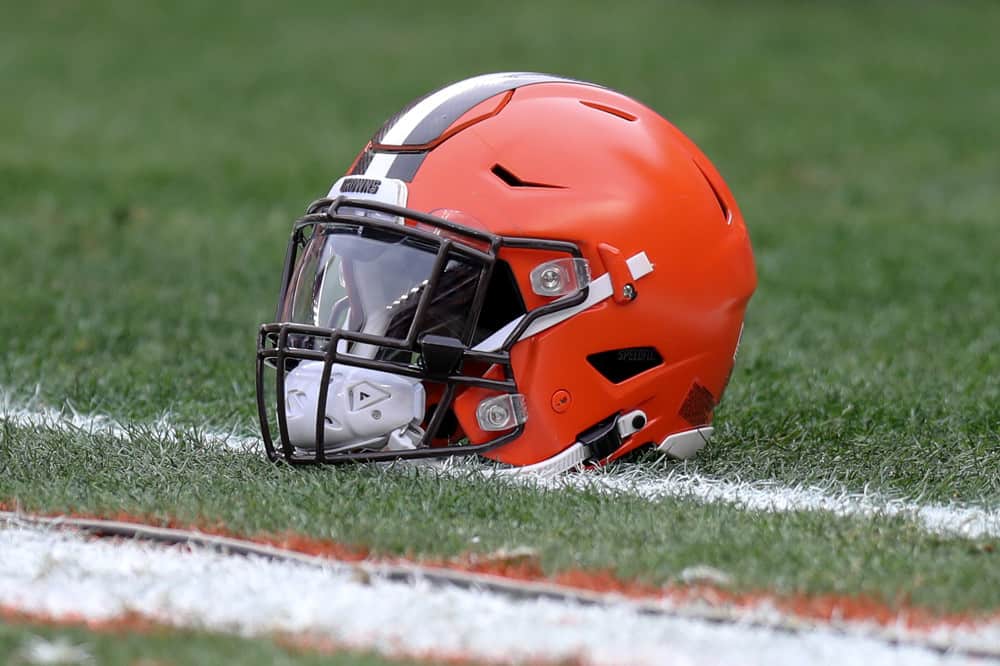 It's no secret that the Cleveland Browns offensive line was less than stellar last season.
They weren't the worst in the league by any stretch, however.
The unit managed to rank 11th in run blocking and 17th in pass protection per footballoutsiders.com.
Still, the Browns line was heavily penalized throughout the year and certainly stands as a weak spot on the team as currently constructed.
New general manager Andrew Berry has his work cut out for him when looking at trying to retool the line.
He has an opportunity now to add somebody he already drafted with the Eagles one year ago in the form of offensive tackle Andre Dillard.
In 2019, Berry was the VP of football operations with Philadelphia.
Even though he was not the GM, it's safe to assume he played a role in the decision to draft Dillard.
Berry was not the only GM high on Dillard, however.
The Browns met with Dillard before last year's draft even though they had just re-signed Greg Robinson.
Andre Dillard mentions that he's had a formal meeting with the entire brass from the #Browns. Despite re-signing Greg Robinson to a 1-yr. deal, CLE could still be searching for a LT of the future.

— Jordan Reid (@JReidNFL) February 28, 2019
Of course, Cleveland had already traded their 2019 first-round pick to the Giants, and the Eagles snagged Dillard with the 22nd overall selection.
2019 was a bit of an average season for Dillard.
Pro Football Focus ranked his overall score at 59.7, a fairly mediocre score for a tackle.
Dillard was also never given the opportunity to start consistently last year though.
He started just four games with the Eagles, appearing in just 29% of offensive snaps for the club.
One positive is that he only recorded one penalty all season long on a false start.
It's a small sample size, but the Browns need guys in the trenches who can perform without costing the offense yards every other snap.
So, why exactly would the Eagles want to move Dillard?
Why give up so early on a first-round pick?
Well, the answer might not be the ones Browns fans, or fans of any team who need offensive line help, are looking for.
Wow @Tim_McManus just now on the Mike Missanelli show said he's heard whispers that the Eagles could be looking to use Andre Dillard as a means of dumping Alshon Jeffrey's contract. Thinks the fact Eagles seem very interested in bringing back Jason Peters tells you a lot.

— Play Like A Jet (@Playlikeajet1) March 2, 2020
Ah, so Dillard is just being used in a salary-dump trade.
That still might not make a whole lot of sense until you realize Alshon Jeffery is set to make over $9 million with the Eagles next season while his play has continued to decline over the last three seasons.
In 2019, Jeffery played just 10 games, caught 43 passes for 490 yards and snagged 4 touchdowns.
Excluding his rookie season, he saw career lows in targets, receptions, and receiving yards.
So, yeah, the Eagles may want to use that $9 million elsewhere.
They are certainly a team with plenty of roster holes to fill.
The problem, of course, with trying to trade large contracts is that no one is necessarily chomping at the bit to pick up an overpaid player.
The Browns especially need to be cautious as the duo of Jarvis Landry and Odell Beckham Jr. is more than enough to anchor a receiving core.
As talented as Jeffery is, the Browns do not exactly need him for the passing game to succeed.
So, what do teams do to sweeten the deal?
They attach other pieces that are less expensive but can also help bolster a roster.
In this case, a tackle is the perfect piece to try and entice Berry to move forward on a deal.
I don't think it would be a good idea to take on Jeffery's contract just to get Dillard.
You already must worry about Olivier Vernon's $15 million this season and have to make a decision on him, so why add more weight to that?
The Browns need to fix that offensive line, no doubt about it.
But taking on unwanted contracts, especially in a position where you don't need more stars, may not be the best way to do it.