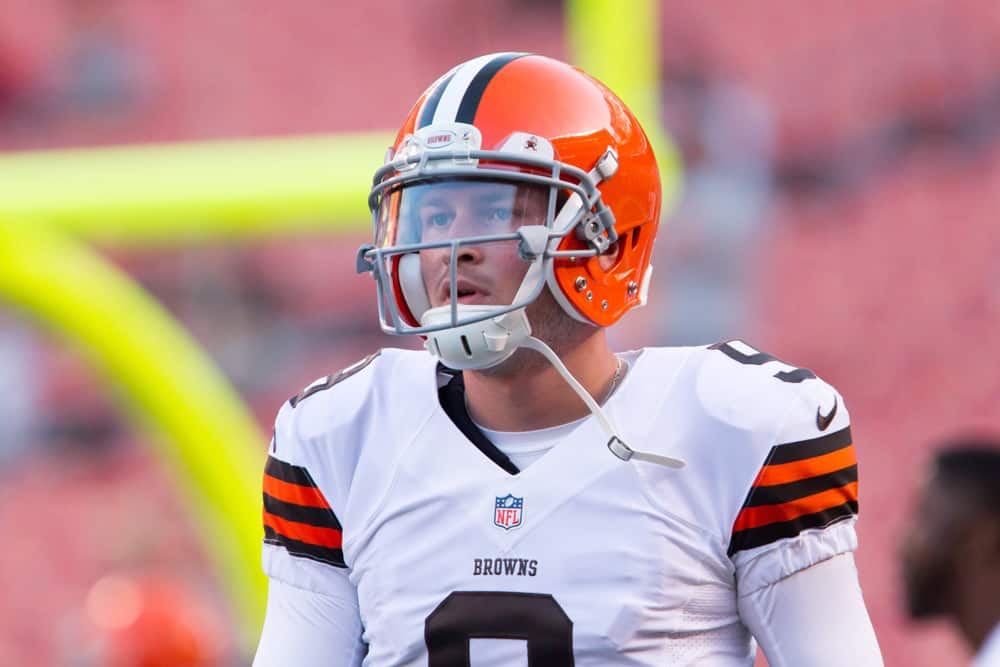 Former Cleveland Browns quarterback Connor Shaw will have a new job at South Carolina according to new HC Shane Beamer.
Shaw finished the 2020 season as an interim quarterbacks coach at South Carolina, but it was uncertain that he would be tabbed a permanent option.
Quick CFB update from Columbia..Shane Beamer has decided to retain OC, Mike Bobo, RB's Coach, Des Kitchings, DL coach, Tracy Rocker, and outside linebackers coach, Mike Peterson.

In addition, Connor Shaw
will return in a to-be-determined, off-the-field role. #SouthCarolina

— Frank Fowler (@FrankFowlerSEC) December 27, 2020
Beamer was a recruiting coordinator that helped bring Shaw to South Carolina over a decade ago.
"The day I walked into the building, when I met with Connor, the first thing I said to him was 'Under no circumstances am I letting you walk out this building and not be part of this program,'" Beamer said Monday morning. "He is everything that is right about South Carolina football and I'm not going to let him walk out of that building and go anywhere else, even if that was across campus to go work in administration."
Beamer announced 7 of his 10 assistants, but didn't offer a specific role for Shaw at this time.
"My last conversation with Connor was we would sit down again and hash out the specifics and craft the specifics of his role that is right for both of us. He is excited about this position. We certainly talked about on-field positions and talked about off-field positions. I want him to do what is right for Connor and he wants to do what is right for South Carolina. I'm confident we're on the same page with that and really enthused about the impact he's going to make on this program going forward."
Connor Shaw's time with the Browns
Shaw, undrafted out of the University of South Carolina, started a single game for the Browns during the 2014 season.
He went 14-28, with 177 yards passing and an interception.
He would stick around the league for a few more years, ending up on the Bears' practice squad before calling it a career in 2016.
@Browns Thankful for the two years spent in CLE. Learned & grew a lot! Ready to see where God guides my family next!

— Connor Shaw (@cmshaw14) June 30, 2016
Shaw At South Carolina
Shaw is the winningest quarterback in South Carolina history and went 27-5 as a starter during his career with them.
This included a 17-0 record at Williams-Brice Stadium.
He also helped guide South Carolina to 3 consecutive 11-2 seasons from 2011 to 2013.
After wrapping up his playing career, it didn't take Shaw long to get into coaching.
In 2018, he signed a contract to coach tight ends at Furman University, an FCS school.
He would leave just before the start of the 2018 season because of conflicts with "a personal business opportunity."
2020 would see him return to South Carolina, becoming the head of player development under former head coach Will Muschamp.
South Carolina fired Muschamp on Nov. 15th, with three games left on the schedule.
Interim head coach Mike Bobo tabbed Shaw to be the interim quarterbacks coach, and also helped him work with the offensive planning.
Bobo wasn't seriously considered for the permanent gig, and it went to Shane Beamer (longtime Virginia Tech coach Frank's son).
You typically don't see holdover from one staff to another, but Beamer did the opposite.
Needless to say, Gamecock fans are hoping for a little more success in the coming years.