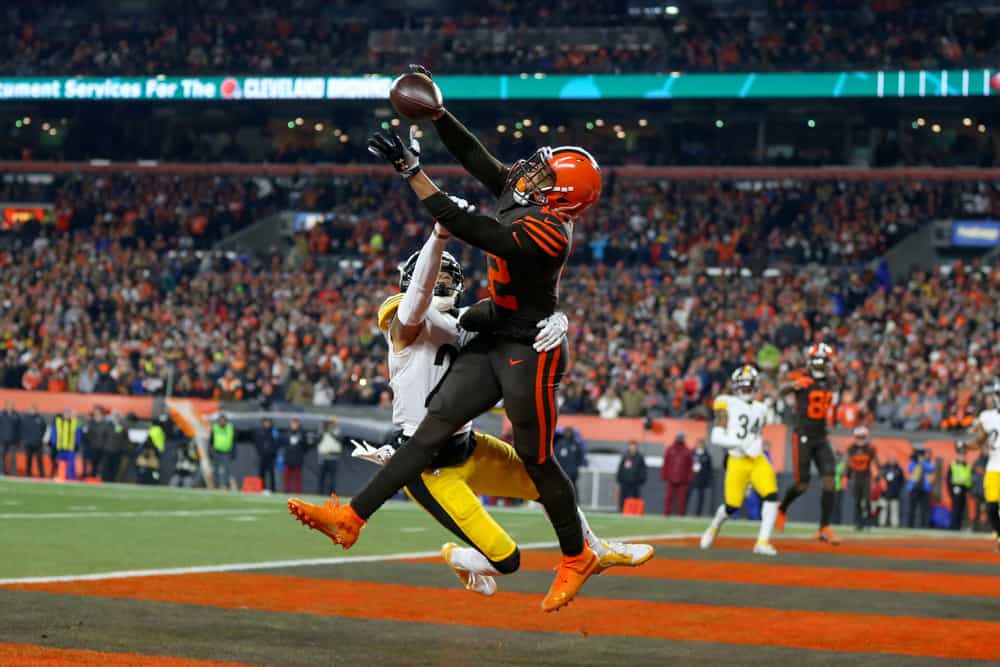 For the Cleveland Browns, it's simple.
With a win this weekend over the Pittsburgh Steelers, they make the playoffs.
If they were to lose, they would need some help along the way in order to still reach the playoffs.
Cleveland Browns fans need to remain optimistic in-spite of the bad loss to the Jets.
The Browns have shown steady improvement over the last month.
With everything on the line in Week 17, here are three Browns who need to step up.
1. WR Jarvis Landry
For starters, Jarvis Landry needs to actually show up.
As in literally suit up and take the field.
After being deemed high risk and forced to miss the Week 16 matchup against the Jets, Jarvis will need to make up for his missed team.
The good news for Landry and the other members of this wide receiving core is that they continually test negative for COVID-19.
Good news – Jarvis Landry and other Browns 'close contacts' continue to test negative for COVID-19 https://t.co/UITqMKiJ4V

— The Browns Wire (@TheBrownsWire) December 29, 2020
Over the last month or so, in a time in which the Browns have shown significant improvement, Jarvis Landry has been a huge pillar for this offense.
Since Week 12, Landry has 29 receptions for 318 yards and 2 touchdowns.
In their first meeting with the Pittsburgh Steelers, Landry only caught 3 balls for 40 yards.
Granted, that was at a time where Odell Beckham Jr. was still healthy, but Landry has proven to be Baker's go to guy from there on out.
He will need to continually be there for Baker in what could be the final game of the Browns season.
2. DE Myles Garrett
Myles Garrett — the $125 million dollar man — needs to bring this home for the Browns.
Ironically, he may have an opportunity to sack Mason Rudolph, the man who he hit with his helmet last year late in the season.
Trying to get my head around the possibility of Myles Garrett chasing Mason Rudolph with a playoff spot on the line.#Browns

— Tom Withers (@twithersAP) December 28, 2020
But, for argument's sake, let's assume that Ben Roethlisberger is the starting quarterback for Sunday.
The first time these two teams met, Garrett finished the game with 1 sack.
Going up against Pittsburgh is quite the tall task, as they have one of the better offensive lines in the league.
Thus far on the year, Big Ben has only been sacked 13 times.
Along with that, Big Ben currently leads the league in average throw time with a release of 2.3 seconds.
Myles Garrett is going to need to replicate his Week 3 performance against Washington, where he just absolutely wrecked the game.
He will need to play up to his contract in this one as he looks to help end that near two decade playoff drought.
3. QB Baker Mayfield
All year long, the one looming question surrounding this Browns organization has been, "is Baker that guy?"
Can he lead this team to victory with his arm?
Well, he answered the bell in Week 13 against the Titans, in which he threw for 334 yards and 4 touchdowns.
He also played exceptionally well against the Baltimore Ravens and New York Giants, but dropped a dud against the New York Jets this past week.
More importantly, he probably had his worse game of the season against the Steelers in Week 6.
Baker Mayfield took only one question during his postgame Zoom call. Completely owning the loss — "I failed this team" — this is what else he had to say: #Browns pic.twitter.com/PxSjbLglID

— Jake Trotter (@Jake_Trotter) December 27, 2020
Baker Mayfield knows what's at stake this upcoming weekend.
He understands that the game against the Jets needs to be put in the rear view mirror as everything the Browns want still lies in front of them.
When the Cleveland Browns took Baker Mayfield with the number one overall pick in 2018, they expected him to come in and lead this franchise to greatness.
He now has the opportunity that he has been relishing ever since entering the league.
This Sunday, he can silence the noise with a victory.