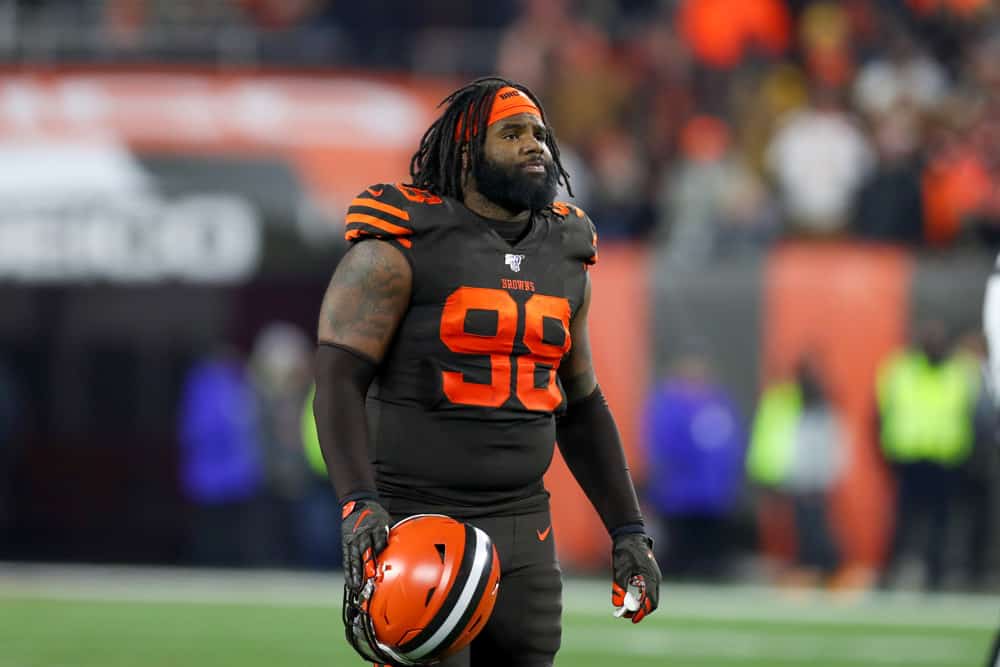 Sheldon Richardson's release shocked many of the Cleveland Browns fans.
Earlier in the offseason, his contract and lack of dead cap impact prompted some speculation it could happen.
But Andrew Berry capped off his free agency period with Jadeveon Clowney and still had cap space.
Many fans thought the Browns' GM successfully filled the holes on his defense without having to cut anyone.
We've released DT Sheldon Richardson

Details » https://t.co/dO4UBfHmBo pic.twitter.com/ES5lFwQYs3

— Cleveland Browns (@Browns) April 16, 2021
That made the late cut a surprising and disappointing action in the eyes of many.
One of those disappointed was head coach Kevin Stefanski, judging from his comments to the press this week.
"As a coach, I want to keep everybody, [but] there are some salary cap constraints that I think everybody understands and they are hard decisions,'' he said. "Sheldon in particular played really productive football for us. He played through injuries, and he took great pride in getting to the playoffs for the first time in his career. He was a big part of that. I hope there's a scenario [where he can come back], but those are the hard decisions that are made. I really want to point out that Sheldon was such a big part of what we did last year."
Stefanski went on to mention that Richardson, who never missed a game for the Browns, played through injuries.
Last year was the first time in his career the 30-year-old Richardson played in a playoff game.
In his comments, the coach told reporters the Richardson decision was particularly difficult.
Could Richardson Return To The Browns? 
Stefanski did not say whether Berry tried to renegotiate Richardson's contract.
But it stands to reason he was offered a chance to stay at a lower salary, and possibly with an extension.
Richardson played at a high level last season, possibly as well as he has played in his career.
Cleveland would love to have him on the team, but at a salary closer to the $5 million mark.
Berry certainly threw a number that works for the team at Richardson's agent.
Don't rule out the #Browns working out a new deal and re-singing Sheldon Richardson, like the Steelers did with Vince Williams

— MoreForYouCleveland (@MoreForYou_CLE) April 16, 2021
Then he released the popular tackle to seek a better deal elsewhere,
Such a deal probably won't be announced before the draft as teams look for an answer there.
But many draft scouts are unimpressed with the depth of the interior defensive line pool this season.
Teams in need of a quick impact will kick the tires on Richardson.
If Richardson wants to play for another team, Houston, Detroit, and Chicago could be in play.
But if he wants another taste of the playoffs, Green Bay and Cleveland are his best bets.
Nobody Knows What Richardson Wants
Richardson posted a heartbreaking Instagram post, saying Cleveland was just beginning to feel like home.
In a dramatic development, Richardson would not be the first player this year to actually want to play for the Browns.
Last year's playoff experience certainly left him with the taste for more.
But how much of a pay cut is the seasoned veteran willing to take?
#Browns Sheldon Richardson on IG says goodbye to Cleveland. "It was just starting to feel like home." pic.twitter.com/dh2jqDiTT0

— Brad Stainbrook (@BrownsByBrad) April 16, 2021
Another issue is Richardson's career plans as a 30-plus-year-old player?
Retirement thoughts could affect his decision, and hopes of retiring with a Super Bowl help Cleveland.
But he shows no signs of slowing down and it is not unheard of for defensive tackles to play into their 30s.
Richardson might still land a 3-year deal with any number of teams.
And the truth is, nobody is playing their hands beyond the mutual expressions of appreciation.
This means Browns fans simply have to wait and see if Richardson lands back in Cleveland.