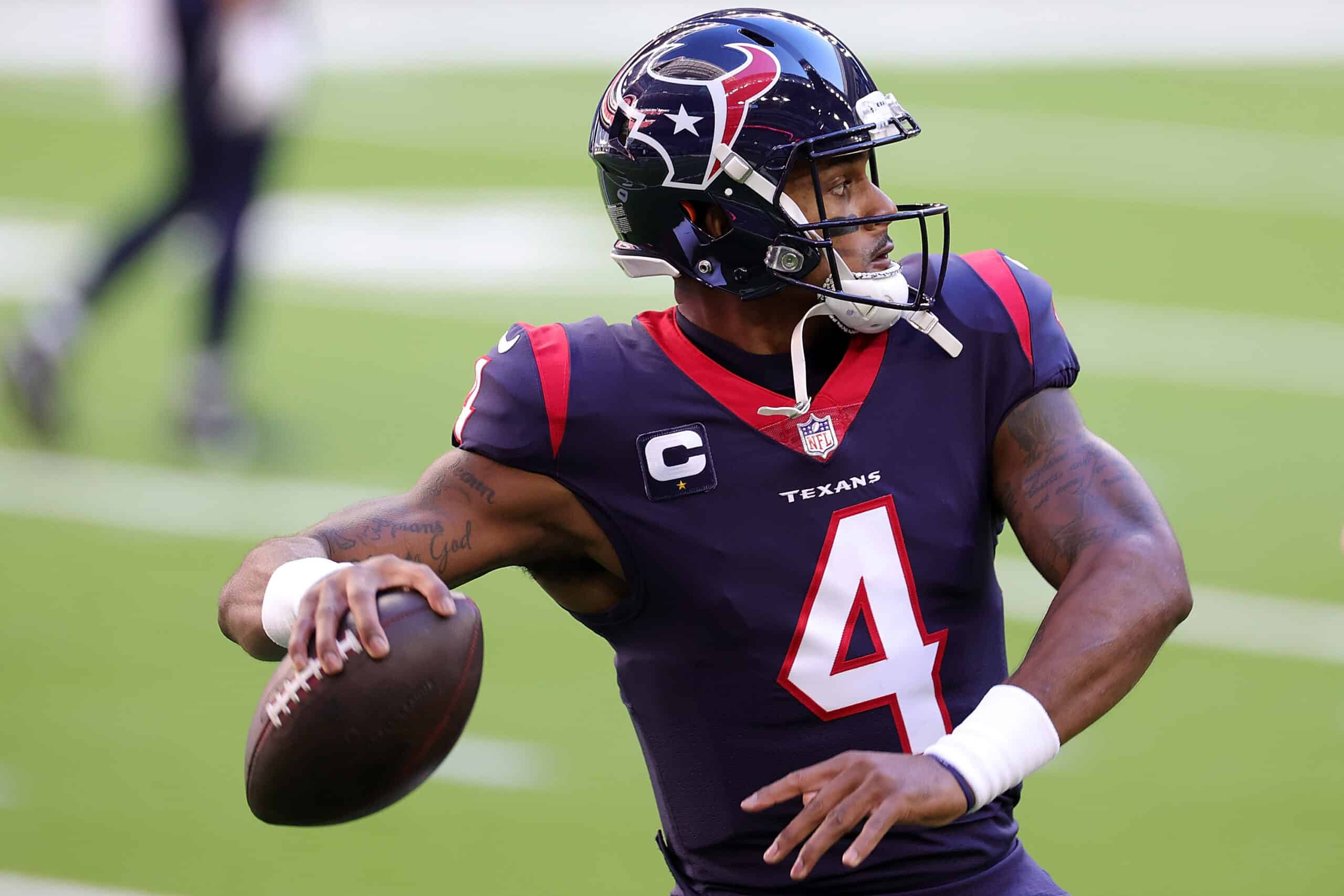 The Cleveland Browns have had an interesting 2021 season, to say the least.
On Bull & Fox on 92.3, Sports Illustrated's Albert Breer has just added some Deshaun Watson drama to the mix:
Breer thinks that the Houston Texans quarterback could be the next quarterback of the Browns.
After finishing with the most passing yards in the NFL in 2020, Watson has not seen the field for the 2021 season.
So, can the Browns realistically go after Watson?
The answer may be yes.
What Is Breer Saying About Watson Coming To Cleveland?
Breer provided some insight into the situation with Watson.
The Texans starting quarterback from 2017 to 2020 could be a trade piece for Houston soon.
If he is on the trade block, then Breer assumes it will be similar to the Los Angeles Rams' acquisition of Matthew Stafford last season:
"I think we all assume the Texans will get him out on the market in the same sort of way the Lions got Stafford on the market pretty quickly last year." said Breer.
The Detroit Lions shipped off their franchise quarterback and received Jared Goff, two first-round picks, and one third-round pick.
Now, with Stafford, there were no off-the-field problems:
"Obviously, this is all pending the legal stuff, but I expect the Browns to be a player. I think the Browns are going to throw their hat in." said Breer.
Breer appears to be hemming and hawing about the situation, but he thinks the Browns can be a "player" for Watson.
At this point in the 2021 regular season, any and all possibilities should be considered for a Cleveland team that has not been able to duplicate 2020's performance.
It is understandable that excuses can be made because the 2020 and 2021 NFL seasons have been anything but normal.
However, the Browns have provided quite a few opportunities for Mayfield to succeed and he has not risen to expectations this season.
Breer continues to discuss the ability for the Browns to land Watson:
"Now, are they going to be willing to go the distance? I don't know that, but I absolutely believe the Browns are going to be a player for Deshaun Watson if he becomes available …but again, let's call it an educated guess, I do think they'd throw their hat in the ring." said Breer.
An "educated guess" is an interesting way to put it, but with the current situation of Browns football, an educated guess could mean a future acquisition of the star signal-caller.
Is It Worth It To Bring Watson To The Browns?
In September 2020, the Texans signed Watson to a four-year, $160 million contract extension through 2025.
Looking back, maybe Houston could have instead released him.
However, the Texans may be able to trade the franchise quarterback.
The 7-7 Browns are not in a strong position in 2021 after a tremendous 11-5 season in 2020.
It has been a couple of roller-coaster seasons for Baker Mayfield, Kevin Stefanski, and Cleveland.
The former Minnesota Vikings offensive coordinator came in and helped the franchise to their first 11-win season since 1994.
Mayfield and Stefanski seemed to have a lot of things going for them.
However, the time has come to make a decision about the quarterback position.
With the Browns having to employ more than a dozen starting quarterbacks the last decade, they could make another change.
Remember that the Browns have not had a positive point differential in a season since 2007.
They were close in 2020 but fell just short with a -11 point differential.
Could Mayfield Be Worth Bringing Back?
If the Browns want to keep Mayfield, they will have to try to find the right combination for him.
He has had his successes and failures this season.
There are even instances in which he performed well and the team did not play well around him:
THREAD: The main criticism of Baker Mayfield from #Browns fans this year has been his inability to lead 4th quarter comeback drives. Let's take an in-depth look at that…

Week 1 vs KC. After 2 first down passes, Baker is tripped & throws a fluke INT trying to throw it away. pic.twitter.com/0KDbgQRGHI

— Ed Greenberger (@EdGreenberger) December 21, 2021
However, Breer poses the all-important question:
"This is going to come down to a really simple question: Are you willing to pay Baker Mayfield $40 million a year? And if you're aren't, is there somebody out there that you are willing to give that money to?" he said.
Is Mayfield worth it?
He may not be.
Are the Browns were to replace Mayfield?
They seem to have options:
"If it's somebody on the outside, who is it? If you look at Russell Wilson and Deshaun Watson and Aaron Rodgers, those are the three that everybody's bandying about." said Breer.
Breer has also mentioned the Browns as a possible suitor for the Seahawks quarterback on the Rich Eisen Show:
It's now official that Russell Wilson will have his first losing season with the #Seahawks… does that mean his time is coming to an end in the Pacific Northwest?@AlbertBreer on what he's hearing and feeling from Seattle:#NFL pic.twitter.com/Js5qZ2hnn9

— Rich Eisen Show (@RichEisenShow) December 22, 2021
Here is what Breer had to say about Wilson to the Browns:
"Cleveland is an interesting one because they are going to have to come to a decision point on Baker Mayfield." said Breer.
It is all up to Andrew Berry and the front office to make the right decision, but at this point, there are a lot of interesting possibilities.