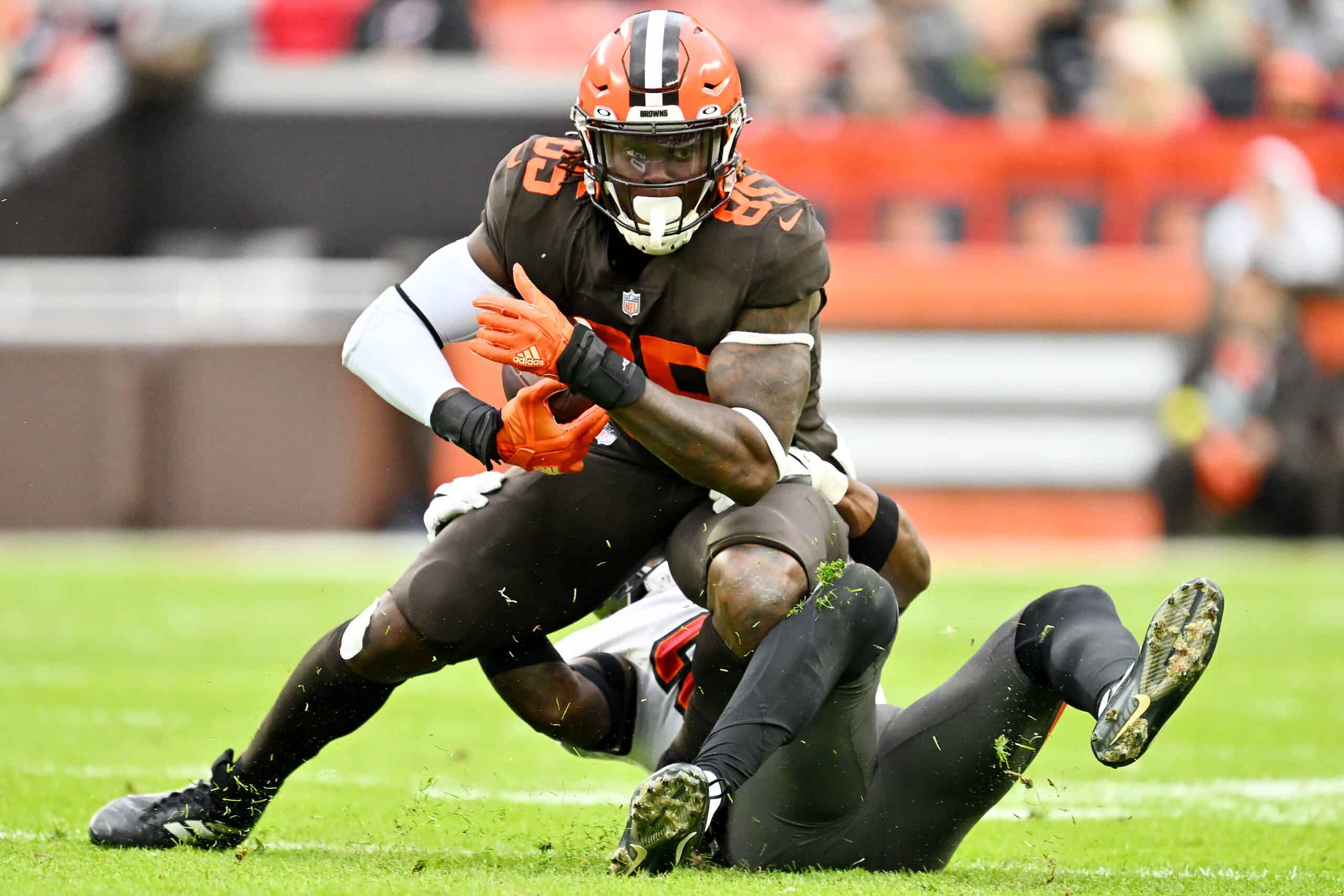 High expectations surround the Cleveland Browns offense once again this summer.
Quarterback Deshaun Watson is not facing a suspension heading into this season like he did one year ago.
That alone has Browns fans excited for an improved year.
One individual who expects more from both himself and the offense as a whole is tight end David Njoku.
As seen in the below clip from Browns reporter Fred Greetham, Njoku opened up to reporters this week at training camp about his feelings on the offense.
#Browns David Njoku on the prospects of his game and the offense this season. pic.twitter.com/I0YT4lj8YO

— Fred Greetham (@FredGreetham9) July 24, 2023
"I feel like this year, not just myself, but a bunch of the guys, especially on offense… we really took it upon ourselves to figure it out", Njoku explained. "Have we figured it all out yet? No. Every day we're trying to get better and better."
At the end of the clip, Njoku goes on to say, "God willing, good things will happen".
Browns fans are hoping for just that.
Big Year For Njoku?
Njoku seems more comfortable than ever with his role in Cleveland.
Head coach Kevin Stefanski even acknowledged the growth and maturity he's seen from Njoku in their time together.
#Browns Kevin Stefanski says he's "really proud" of maturity and growth of TE David Njoku in their three-plus years together.

— Scott Petrak ct (@ScottPetrak) July 24, 2023
Last year, Njoku caught 58 passes and averaged 44.9 receiving yards per game, both career highs.
With Watson delivering passes to him right from the jump this season, Njoku could be in for another career year.
#Browns David Njoku said the offense has high expectations pic.twitter.com/PNYS1oURVD

— Fred Greetham (@FredGreetham9) July 24, 2023
Reaching The Ceiling
The best version of what the 2023 Browns offense can look like includes Njoku as a consistent presence.
Whether that's helping Watson push the ball downfield or serving as a red-zone target, Njoku will play an important role.
This week, Stefanski also noted Njoku's improvement as a run and pass blocker, saying, "he's up there with the best of them in that world".
#Browns Kevin Stefanski on David Njoku's continued growth pic.twitter.com/bHaEGRAZw6

— Fred Greetham (@FredGreetham9) July 24, 2023
That's just another way for David to stay on the field while making the offense better.
We'll wait until September to see if this offense starts meeting expectations in games that matter.
For now, the vibes and feelings are good, which is a positive sign.