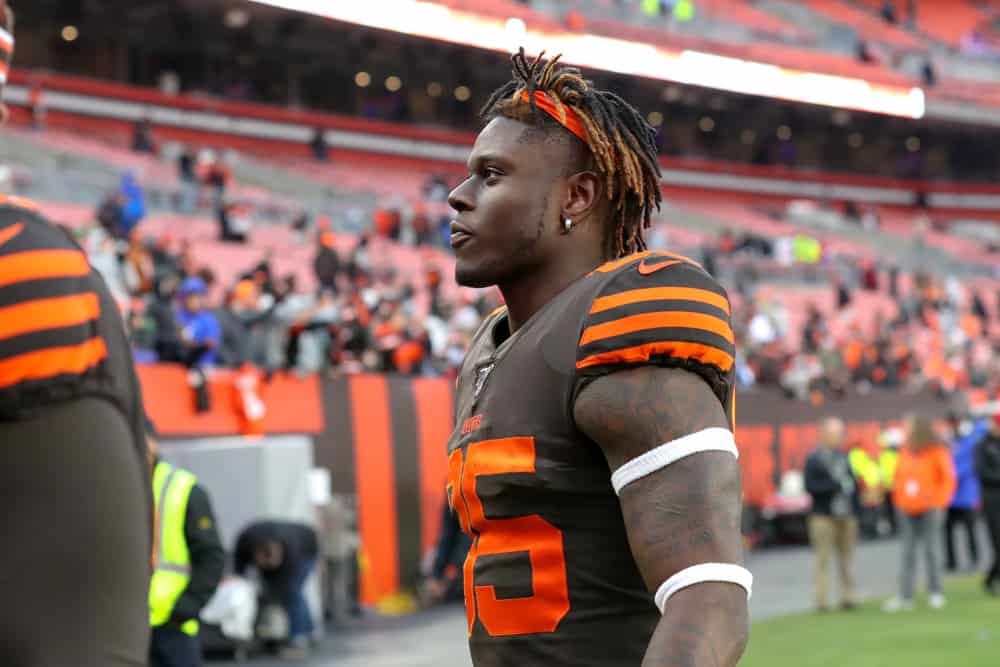 The Cleveland Browns might endure another offseason where tight end David Njoku publicly expresses his frustration about his role with the team, especially given the number of tight ends on the roster.
Njoku recently appeared on the Jim Rome show and talked about his situation with the Browns.
"Do you feel like you're still in the right spot with the right team?" CBS Sports Radio show host Jim Rome asked Njoku during a Friday interview.

"That's a good question," Njoku said. "You know, I"m not gonna answer that right now. I have no comment towards that at this moment."
Njoku, 24, enters the upcoming season with one year left on his rookie contract.
Before the start of the 2020 season, the Browns opted to pick up Njoku's fifth-year deal in 2021 for $6,013,000.
"I was confused because the Browns took my fifth-year option," Njoku said. "They have another year of me, and they got all these other tight ends.

"At the same time I had been hearing that Kevin Stefanski's offense is very tight end oriented, so I was optimistic."
Njoku insisted he is great friends with one of last offseason's big free-agent signings two-time Pro Bowl tight end Austin Hooper.
"Austin is one of my best friends right now," Njoku said. "Just these last few months that we've hung out, that guy and I, we've been through a lot. We've strained together a lot, and that's someone that I call like a real close friend of mine."
The Browns also selected John Mackey Award winner Harrison Bryant out of Florida Atlantic University with the 115th pick of the 2020 NFL Draft.
Njoku also had positive things to say about Bryant.
"He's a very, very innocent dude," Njoku said of Bryant. "[He's] a young kid that just got drafted [and] has his whole life ahead of him.

"I'm very excited to see how his career plays out. He's a phenomenal athlete. Let me start out by saying that because those two guys I have much respect for."
Perhaps Njoku would like to become more of a target in the Browns' passing game.
Njoku started five of the 13 games he played this season, had 19 catches on 29 targets for 213 yards and two touchdowns.
A wrist injury limited Njoku to four games in 2019.
In 2018, Njoku posted career-highs in games started (14), games played (16), receptions (56), targets (88), receiving yards (639) and receiving touchdowns (four).
Njoku's 2020 numbers were even lower than his rookie year in 2017 when he started five of the 16 games he played, caught 32 passes on 60 targets for 386 yards and four touchdowns.
"It put me in a predicament where I had nothing to do but just put my head down and work," Njoku said. "I don't believe just giving up or XYZ, so I just focus on whatever I have control on and I just pursue that."
During the 22-17 AFC Divisional Round loss to the Kansas City Chiefs, Njoku played perhaps his best game for the Browns, catching four passes on five targets for 59 yards.
Last offseason, Njoku demanded a trade, made several cryptic Instagram posts, rescinded his trade demand and vowed his love for the city of Cleveland.
In July 2020, Njoku hired agent Drew Rosenhaus, who is notorious for helping clients cut ties with their current teams to generate new deals with other teams.
In the past, Browns general manager Andrew Berry and head coach Kevin Stefanski have said they'd like to keep Njoku on the roster.
It's unclear what the Browns could fetch in return if they were to trade Njoku.