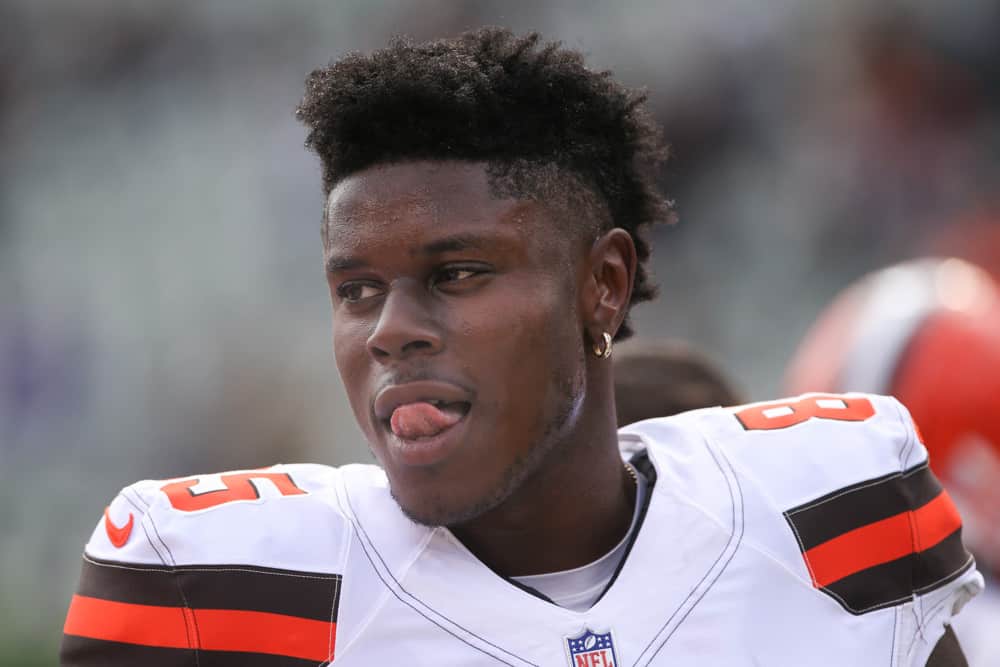 It came as quite a shock when Cleveland Browns tight end David Njoku requested a trade from the organization.
The 23-year-old tight end is looking for a change of scenery and would like to be moved before the beginning of training camp.
1/2 Browns' TE David Njoku and his agent Drew Rosenhaus asked today for the team to trade him. The Browns told Njoku they would like to keep him, but Rosenhaus told them he's intent on a trade. They want a trade before training camp.

— Adam Schefter (@AdamSchefter) July 3, 2020
The former first-round pick didn't see much action on the field last season due to injuries.
It seems odd that now would be the time to search for a new team.
However, if the Browns do keep Njoku, then he could be in for a big season in 2020.
Why Would Njoku Succeed?
In 2018, Njoku saw 88 targets as the Browns No. 1 option at tight end.
That won't be the case anymore with the team adding Pro Bowl tight end Austin Hooper this offseason.
Hooper is going to take away targets from Njoku, but he'll also draw more attention.
New head coach Kevin Stefanski loves using multiple tight end sets on offense.
Stefanski's offensive scheme worked well with the Minnesota Vikings offense last season.
In Minnesota last year, Irv Smith Jr. almost had as many receptions as their No. 1 tight end in Kyle Rudolph.
That means Njoku could see plenty of balls coming his way even with Hooper being above him on the depth chart.
Another important factor is quarterback Baker Mayfield loves throwing to the tight end.
Throughout his career, Mayfield has thrown 17 of his 49 touchdowns to the tight end spot.
There is plenty of reason to believe that Njoku could be successful in the Browns' new system.
Will Njoku Gets Moved?
It sounds like Njoku is ready to move on, but that's not really up to him.
The Browns already accepted his fifth-year option for the 2021 season.
Also important to note that Mary Kay Cabot reported the Browns don't plan on trading Njoku despite him requesting a trade.
Cleveland did draft Harrison Bryant in the fourth-round, so they have depth if they move Njoku.
However, Njoku showed promise during his 2018 season, so the Browns might want to keep him and see if he can do it again.
Njoku missed almost all of the regular season last year due to a concussion and broken wrist.
The Browns don't exactly have the best leverage for Njoku, so they might not be able to get a respectable return.
This new offensive scheme appears to be a great fit for Njoku, but it doesn't sound like he's willing to give it a shot.
2/2 About David Njoku's trade request today to the Browns, agent Drew Rosenhaus said: "It is in David's best interest to find a new team at this time."

— Adam Schefter (@AdamSchefter) July 3, 2020
The Browns offense is still stacked even without Njoku on the roster.
At best, Njoku is the fourth or fifth passing option on the offense.
Cleveland does not have a lot of incentive to trade Njoku, but there are plenty of teams that could use an upgrade at tight end.
The Browns should listen to offers, but it wouldn't be surprising to see Njoku remaining with Cleveland to begin the 2020 season.