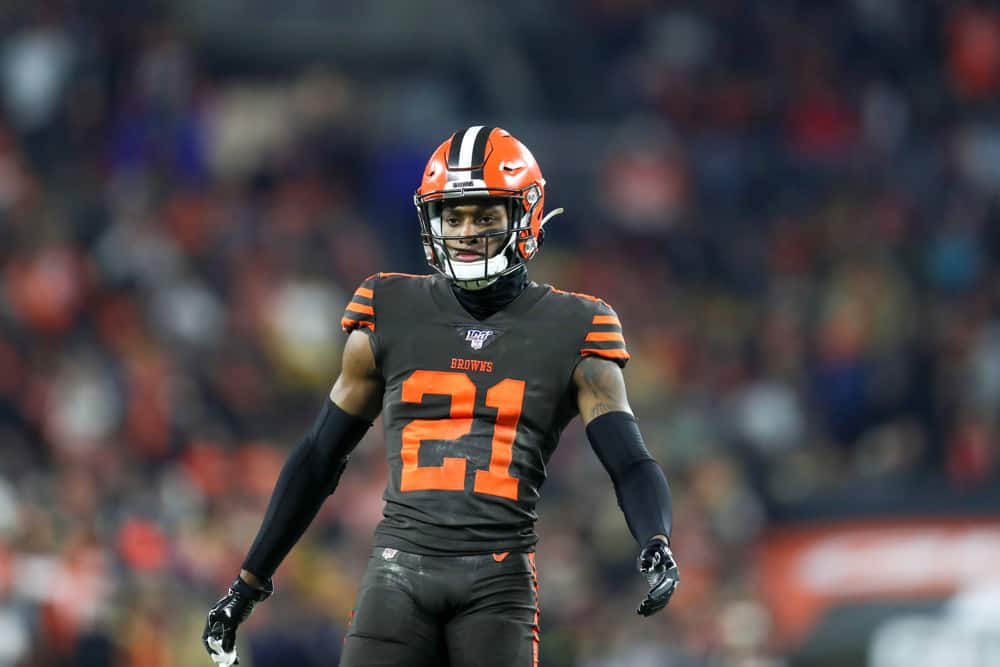 Andrew Berry locked up a pair of key pieces for the Cleveland Browns this week.
Maybe he thought that would calm fans clamoring for some other pending contract extensions.
But he would be wrong as the great debate over Baker Mayfield's value continues.
Browns recent contract extensions:
-Myles Garrett signed through 2026
-Wyatt Teller signed through 2025
-Joel Bitonio signed through 2025
-Nick Chubb signed through 2024
-Kareem Hunt signed through 2022

Up next: Baker Mayfield? Denzel Ward?#Browns

— Hayden Grove (@H_Grove) November 10, 2021
Jadeveon Clowney, David Njoku, and the rest of the offensive line become free agents in 2022 or 2023, too.
But there is one other player who might be signed before all the others.
Or he might not be signed at all.
Denzel Ward showed us what he can do when he is healthy this past Sunday.
Denzel Ward coverage stats vs. Bengals:

🔸41 snaps
🔸1 Catch Allowed (11 Yards)
🔸1 Pick Six
🔸0.0 Passer Rating When Targeted

🔒⬇️ pic.twitter.com/DZzdE0gFja

— PFF CLE Browns (@PFF_Browns) November 7, 2021
With a big pick-six and lockdown coverage, Joe Burrow managed a 0.0 QB rating when throwing Ward's way.
But is Ward on the field enough to warrant a big contract?
Here is my best shot at projecting a Denzel Ward contract extension.
Pay The Man: 4 Years, $18.5 Million Per 
Denzel Ward has consistently proven to be a top man-to-man NFL cornerback.
Unfortunately, Joe Woods has him playing an awful lot of zone coverage.
That might be about to change after Woods acknowledged both his starting corners excel one-on-one.
Denzel Ward: 35.8 passer rating allowed when targeted in man coverage

1st among all CBs 🔒 pic.twitter.com/pPCyxMC9L5

— PFF (@PFF) November 10, 2021
And that could serve to highlight Denzel Ward just in time for contract extension discussions.
Spotrac currently ranks Ward among the top 3 cornerbacks and assigns him a market value of $18.5 million/year.
Only Jalen Ramsey ($20 million) and Marlon Humphrey (19.5) would top Ward at that range.
Buffalo's Tre'Darious White would slide in at $17.25.
Shocking what happens when Denzel Ward plays press man vs. off C3.

— Cory (@realcorykinnan) November 7, 2021
Berry and the coaching staff are on record that they can never have enough good cornerbacks.
Taking out a star receiver from every opponent makes the defense's job easier.
But with the Mayfield extension pending, $18.5 million sounds like something Ward would get from another team.
Berry Special Price: 5 Years, $14.5 Million Per
Andrew Berry signed several players for less than projected values or even less than competing offers.
It is a testament to the Browns that NFL players recognize Cleveland as a place they can win.
But he might have a bigger advantage when it comes to Denzel Ward.
DENZEL WARD TOOK IT 100 YARDS FOR THE PICK-SIX

(via @NFL)pic.twitter.com/lz5UIww2tt

— SportsCenter (@SportsCenter) November 7, 2021
Ward was raised in Northern Ohio and played his college ball at Ohio State.
He told several news outlets how special it would be to remain in Ohio for his entire football career.
There was no discussion about hometown discounts or special deals.
But Berry can agree that $14.5 million is about 20-percent-off the market value.
Denzel Ward tips Burrow's poorly placed slant and John Johnson with the INT pic.twitter.com/qazkUh4Q8Q

— Matt Waldman (@MattWaldman) November 7, 2021
And remind his agent about the 20-percent of games Denzel Ward misses in a typical season.
Ward still lands a top-10 cornerback contract on a deal that could look like an absolute steal by the third season.
The extra year and significant guaranteed cash make this a more likely scenario for Ward and the Browns.
Worst Case: Franchise Tag or Free Agency? 
Denzel Ward and Andrew Berry are motivated to make a deal happen.
But players have agents, and Browns fans can look at David Njoku to see how fast that can change a situation.
Ward is on the books for 2022 at a guaranteed $13.5 million, which is right around the 2022 franchise tag amount.
Denzel Ward broke Joe Burrow's ankles 🤧pic.twitter.com/8eAzsf1AI4

— PFF CLE Browns (@PFF_Browns) November 7, 2021
Early projections for the 2023 cornerback franchise tag are in the $16.2 million dollar area.
That could make signing Ward to a discounted rate trickier than it might otherwise be.
But Berry has to weigh how many players he can offer a top salary to without undermining the rest of the roster.
And Ward's biggest obstacle to staying in Cleveland on a top-end deal might be his fellow cornerbacks.
I think it's safe to say the #Browns have two CB1's Denzel Ward and Greg Newsome ll. pic.twitter.com/M5mHDYskqF

— Tyler Johnson (@T_johnson_TJ) November 7, 2021
Greg Newsome and Greedy Williams have similar injury concerns but are also adept coverage backs.
And if AJ Green continues to develop, Ward could be deemed too expensive a luxury for Joe Woods' secondary.
While the team wants to extend him, it will not be surprising to see Ward play out his fifth year and hit free agency.