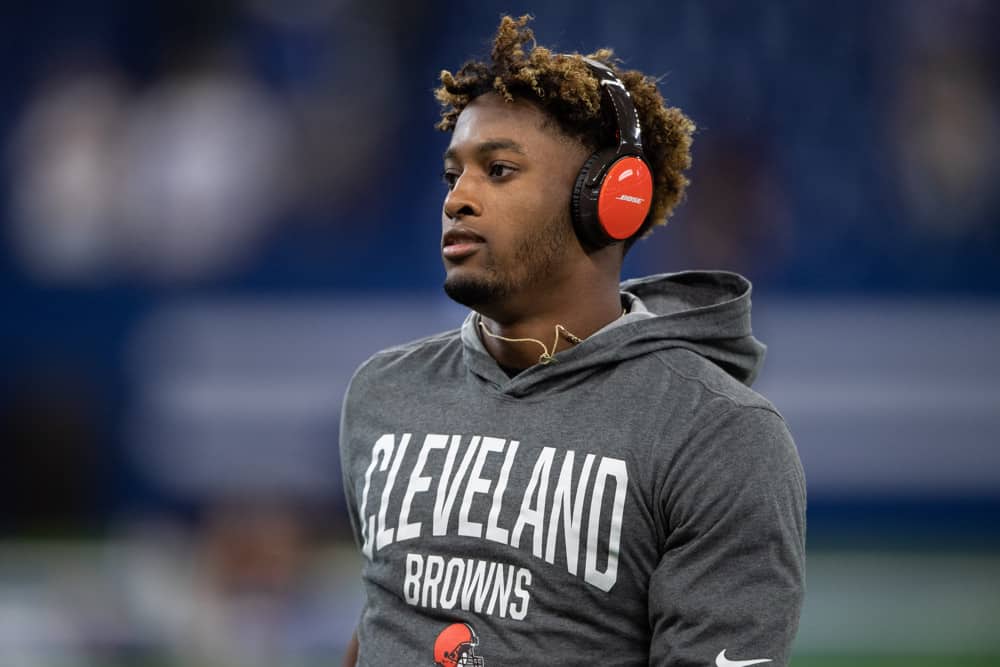 The "Buckeye-bias" that exists with certain Cleveland Browns fans often results in flawed analysis of guys that Ohio State sends to the NFL.
In the case of Denzel Ward, fans are justified in wanting to keep this Buckeye around long-term.
The only question becomes, just how much will he cost?
PIIIIIICKED by The Warden ‼️ @denzelward #BIA

📺: #PHIvsCLE on FOXpic.twitter.com/Xtig2hKmK1

— Ohio State Football (@OhioStateFB) November 22, 2020
Ward penned a four-year deal with the Browns in 2018 worth just over $29 million.
It includes a fifth-year option for 2022 before Denzel becomes an unrestricted free agent following that season.
Ward's career in Cleveland has been a bit interesting, so let's take a peak at the finances the former Buckeye might be dealing with soon.

Looking at the Market
Sorry AMC and Gamestop, the market discussed here has nothing to do with stocks.
Or, perhaps it does.
The free agency market in the NFL sees players treated similarly to stocks, with values rising and falling while certain investments are applauded while others are jeered.
There are obvious differences, but let's look at where Ward stacks up in that market.
Per overthecap.com, the top-19 cornerbacks in the league all make over $10 million a season with the top-six guys each over $15 million per year.
Ward isn't in that top-six range, but you'd have a hard time naming 19 better cornerbacks than him.
Denzel Ward seals the win for the Browns. pic.twitter.com/nMrQ4Cyjvk

— Eleven Warriors (@11W) October 4, 2020
When he's healthy and on the field, he is one of the best young cornerbacks in the game.
His tackling seems like it can be judged on a week-to-week basis, but his ability in coverage continues to frustrate opposing receivers.
He's someone you can trust if left alone in single coverage, and that's instrumental for mixing up defensive schemes.
You can send a safety on a blitz, double a tight end (Kelce, Gronk, etc…), and do all kinds of creative things because you know your number one corner isn't getting beat.
Does that ultimately lead to him getting beat occasionally?
Sure, it's the NFL, that WILL happen.
But to know that Ward is one of the best corners in single coverage is a luxury for the Browns defense.
Denzel Ward: 31% completion % when in single coverage the last 3 seasons

The only CB below 40% 🔒 pic.twitter.com/XuCwD3sr1K

— PFF (@PFF) January 13, 2021
That alone will up the market value of Ward. It's not ALL positive for Denzel, however.

Staying on the Field
There is a fine line to walk when discussing contracts and injuries.
A general manager would not be doing their job correctly if they didn't know and understand the injury history of a player they are looking to extend or bring aboard.
It's easier for Andrew Berry in this instance because Ward has been under just one roof in his professional career.
Anything that's went wrong for Ward on an injury-front, the Browns know the full extent of it.
With that being said, Denzel has missed 11 games so far in his career.
That isn't an insane amount, but it's not small either.
One of the problems is that he's missed games each season.
It hasn't been just one "freak" injury that's caused him to miss time.
Ward has dealt with a hip sprain, concussion, hamstring strain, and groin strains/pulls since entering the league.
That's a lot of different parts of his body taking punishment that's forced him to sit out.

The Verdict
The injury bug will ultimately reduce Ward's value.
It's not impossible to still get paid well if you're Ward though.
His talent alone will catapult him up over the $10 million per season range.
The injuries, unfortunately for Denzel, will likely prevent him from being in that "top-five paid cornerbacks" category.
A four-year extension, somewhere in the $12-$14 million per season range, seems like an adequate price tag for Ward.
That keeps him among the league's better-paid corners, which will keep him happy, while also allowing the front office to have financial wiggle room elsewhere.
With talented receivers littered across the league, a great NFL defense now demands a lockdown corner to be effective.
Cleveland should absolutely prioritize keeping Denzel around, even if it means overpaying a bit.
What Berry can't do, however, is make too many sacrifices elsewhere on the roster just to keep Ward around.