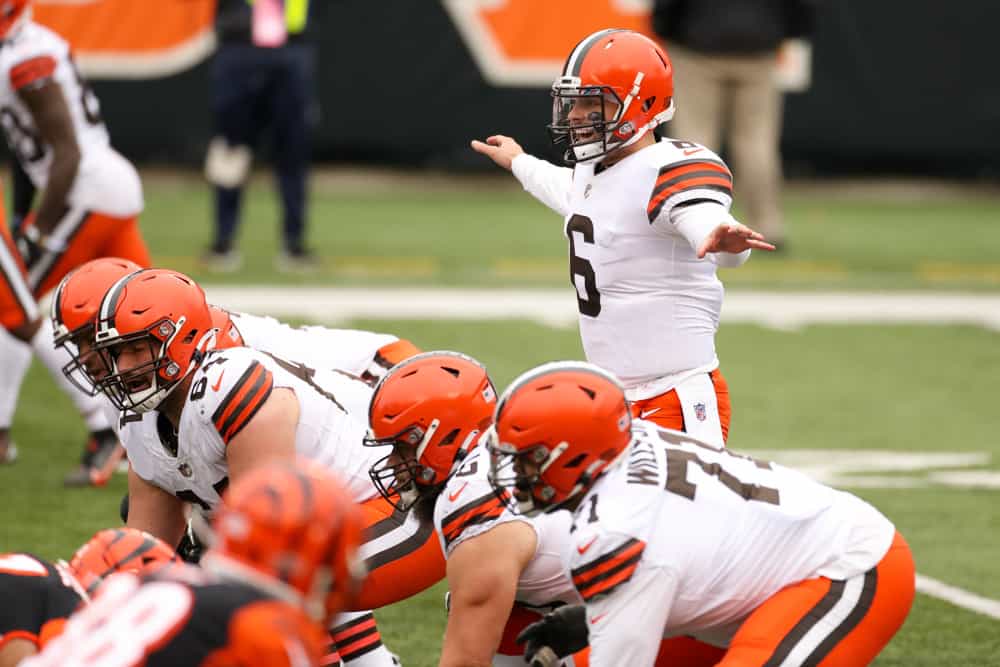 The 2021 Cleveland Browns offseason is in full swing.
Included in that task is an evaluation of all the positions starting with quarterback.
As everyone knows, Baker Mayfield is entering the fourth year of his rookie contract, and the Browns have a fifth year option to consider or an extension.
This is just a brief snapshot of how Mayfield performed and where it compared to his peers; NFL regular season statistics were used.
.@bakermayfield's top plays from the 2020 season 🎯 pic.twitter.com/LaIYo58SQC

— Cleveland Browns (@Browns) January 21, 2021
1. Completion Percentage
Packers QB Aaron Rodgers leads NFL starting quarterbacks with a 70.7% completion percentage in 2020.
Two other QBs were over 70% in 2020; they are Drew Brees and Deshaun Watson.
The Super Bowl QBs came in at 66.3% for Mahomes and 65.7% for Brady.
Mayfield's 2020 completion percentage was 62.8% in 2020; that is up from his 59.4% in 2019.
There is definitely room for improvement for Mayfield in this area of his game.
2. Passing Yards
Mayfield threw for 3,563 yards in 2020.
Some may find that underwhelming, but Mayfield's number is about middle of the road for NFL quarterbacks.
Deshaun Watson leads in this category with 4,823 yards.
Including Watson, 12 QBs threw for over 4,000 yards.
They are:
Watson
Mahomes
Brady
Ryan
Allen
Herbert
Rodgers
Cousins
Wilson
Rivers
Carr
Stafford
Passing yards can be a deceptive number.
Consider that the Browns offense is a run-oriented one so passing yards will not be as plentiful for any Browns quarterback in this system.
Another factor is that the Browns used the run game to manage the clock in games where they had the lead.
3. Interceptions
This is a huge barometer for NFL quarterbacks and perhaps where Mayfield excelled the most in 2020.
Aaron Rodgers led the league among NFL starters with an astonishingly low 5 INTs.
Patrick Mahomes, Deshaun Watson, and Baker Mayfield came in with 6, 7, and 8 INTs respectively.
Mayfield and Watson were the only two who didn't throw an interception through four games in November.
In fact, Mayfield had two stretches where he threw no interceptions; the first was 5 weeks from Weeks 8 through 12, and the second was from Week 13 through 16.
Mayfield threw half of his 2020 interceptions in the two October games against the Colts and Steelers.
Last season, Mayfield threw 21 INTs so there was a measured improvement in this area of his game.
4. Touchdowns
Aaron Rodgers led with 48 TD passes.
Baker Mayfield was again in the middle of the pack with 26.
Baker Mayfield ➡️ Austin Hooper TD#Browns (+200) up 35-7 as we close into halftime

— The Game Day NFL (@TheGameDayNFL) January 11, 2021
Mayfield had 22 in 2019.
Like passing yards, this number is also contingent on the offensive scheme.
Green Bay obviously was a pass-first and run-second offense this year with the apparent 2020 MVP Rodgers under center.
5. Sacks
Mayfield was sacked 26 times this season, significantly down from 40 times in 2019.
That improvement represents better judgement on the part of Mayfield as well as better protection from a 2020 offensive line that played extremely well.
Big Ben was sacked only 13 times in 2020 so he led the NFL in this category.
Brady and Mahomes were sacked 21 and 22 times respectively.
Baker Mayfield wasn't sacked once last night. His LG at the end was not Pro Bowl vet Joel Bitonio, nor the recently elevated Michael Dunn. It was a kid named Blake Hance, signed off the Jets p-squad last week, who Baker first met before the game IN THE LOCKER ROOM. #Browns

— Aditi Kinkhabwala (@AKinkhabwala) January 11, 2021
By all relevant measures, Baker Mayfield improved this season.
The expectations will be even higher in 2021 as it will be the second season with the same coaching and offensive scheme for Mayfield; he has never had two straight seasons with that consistency.