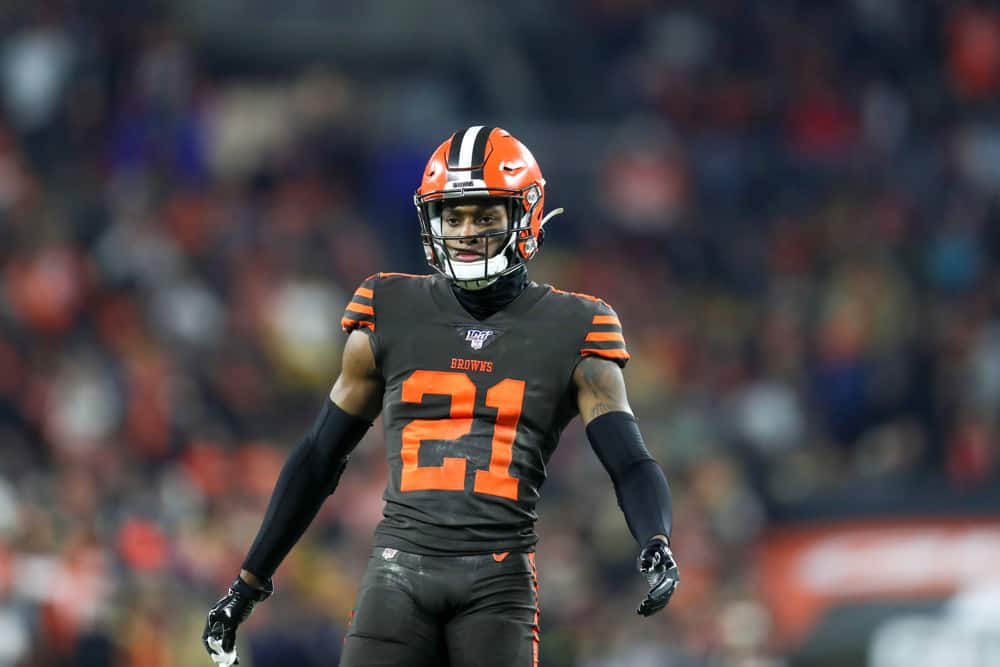 The Cleveland Browns announced on Tuesday that they have selected cornerback and Cleveland native Denzel Ward as the team's nominee for Walter Payton Man Of The Year.
CB Denzel Ward has been named the #Browns 2021 Walter Payton Man of the Year.

— Mary Kay Cabot (@MaryKayCabot) December 7, 2021
Each NFL team nominates one player based on his overall character and charitable works.
From the 32 finalists, the NFL will select its 2021 Walter Payton Man Of The Year.
The Walter Payton NFL Man of the Year Award presented by @Nationwide honors players who have exhibited excellence on-the-field, and whose passion to impact lives extends beyond the game. #ItTakesAllOfUs to make a difference. See the nominees here: https://t.co/R9P2JLXGBm #WPMOY pic.twitter.com/aMOBKbY0Tg

— NFL (@NFL) December 7, 2021
The winner is announced in February during the NFL Honors award telecast.
Ward's Reaction
Upon learning the news, Ward said:
"What an honor it is to be named the Walter Payton Man of the Year for the Cleveland Browns. To be mentioned in the same sentence as Walter Payton is a blessing. It means a lot to be nominated and represent my team, and also to be among so many guys in this league who I respect and who have been doing this a lot longer than me. As a Cleveland native, it is a priority for me to give back to my community, and I hope I can make an impact in a lot of ways – not just in Northeast Ohio but everywhere. I have been fortunate enough with a great support system that helps keep me going on and off the field, and I am excited to see what is in store next."
Ward's Tireless Efforts To Honor His Father
This #CommunityFriday, we rewind back to the #NFLDraft, when @denzelward hosted a celebrity bartending event for his "Make Them Know Your Name" foundation. Named in honor of his late father, the non-profit raises money for CPR kits + defibrillators in schools, gyms & churches. pic.twitter.com/f1EIW4Givv

— NFLPA (@NFLPA) June 18, 2021
Denzel Ward lost his father, Denzel Ward Sr.,  to a sudden cardiac arrest in 2016.
He was working out in a gym when he collapsed and died at the hospital.
As a result, he and his family started a foundation called "Make Them Know Your Name."
The headline on the foundation's website reads: "Denzel Defending For A Difference."
Ward's foundation provides funding for education and for AED and CPR equipment in gyms, schools, and anywhere that a life could be saved.
What Ward Believes His Father Would Say
A few years ago Ward reflected on his dad and the charity created in his honor.
"I think my dad would have been proud — probably as proud as he'd ever been. But I'm telling you … when they named that street after him? That would have been a great moment for him. Because he was never concerned with being the best father he could be. Or the best husband he could be. Or the best teacher he could be. He wanted to be the best man he could be. And he believed that if he did that — if he concentrated on that every day, every minute, every second — then everything else would take care of itself.  He had made everybody know his name."
No Browns Player Has Ever Won The NFL Award
The Walter Payton Man Of The Year award has been around since 1970.
It was renamed from NFL Man Of The Year to Walter Payton Man Of The Year in 1999.
No Cleveland Brown has ever won the award.
Perhaps Denzel Ward will be the first.