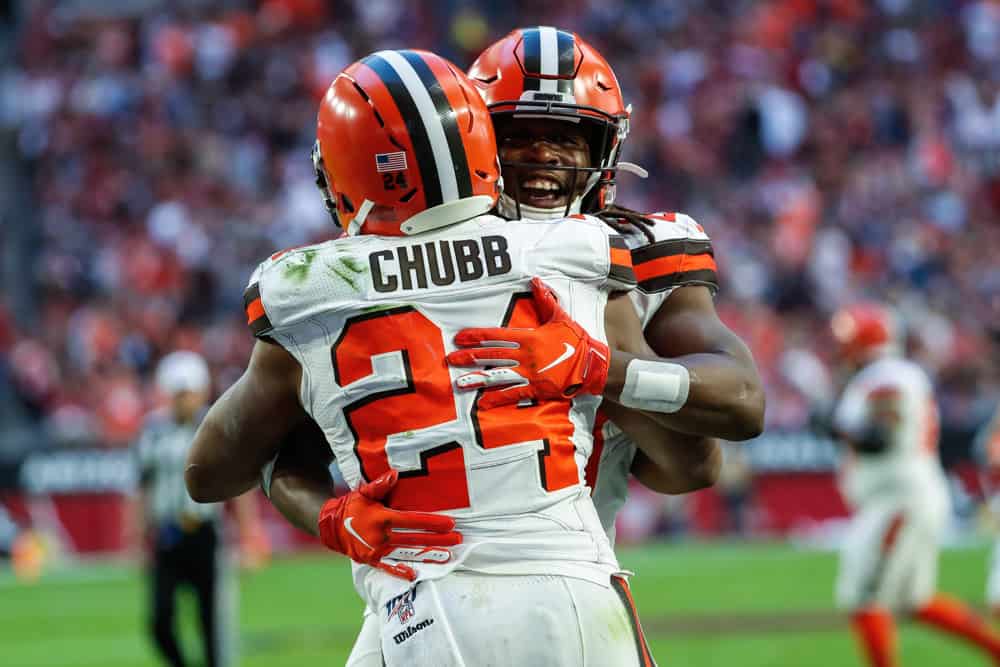 Nick Chubb presents a challenge to most defenses facing the Cleveland Browns.
And when Kareem Hunt jumps off the bench to spell Chubb, things don't get easier.
But imagine the dilemma facing defenses if Hunt and Chubb were in the game together.
What kind of options does that give Baker Mayfield and Kevin Stefanski?
Asked #Browns Kevin Stefanski about using Nick Chubb, Kareem Hunt together, in rushing game and particularly the passing game. pic.twitter.com/TcY5olgtKQ

— Fred Greetham (@FredGreetham9) December 6, 2021
Chubb and Hunt could run all day, alternatively blocking for each other or using misdirection to keep linebackers guessing.
And it wouldn't take much of a fake to freeze safeties long enough for receivers to break free at all levels.
Fans and pundits have asked why Stefanski doesn't use the pair together more often.
And in a bye week presser, the Browns head coach alluded to just that as one way to revitalize his offense.
Stefanski Says He Has To Get Both Involved 
When asked about pairing the former All-Pros, Stefanski was open to it, but not committed.
In typical coach-speak, he acknowledged he has 2 potent weapons and needs to get them involved more.
But his answer left little doubt the possibility has been discussed, as quoted here,
"Those are all things we talk about," Stefanski said. "We want to make sure whatever we do is sound in thinking and sound schematically, those type of things. Those are two great players. We've got to make sure that they're involved so that we can be productive in the run game and in the pass game."
Stefanski doesn't like to divulge much information about game plans and players.
#Browns Kareem Hunt said he'd love to be on the field at the same time as Nick Chubb. Says there are only pros, no cons to that, but he'll do whatever they ask.

— Mary Kay Cabot (@MaryKayCabot) December 6, 2021
And his response doesn't mean we'll see Chubb and Hunt all day against the Ravens.
But it offers hope that he is changing things up enough to think the pair will be behind Mayfield for some plays.
Hunt is among the fans of such a plan, telling reporters he can't think of any reasons it would be a bad idea.
What Would Those Plays Look Like? 
Putting Nick Chubb and Kareem Hunt together in the backfield offers all types of play options.
Each of them is a willing and able blocker and could act like a fullback if called upon.
But that doesn't keep them fresh like the current one-at-a-time process does.
They could use misdirection to fool defenders, using fakes and crosses, or just taking off to opposite flats.
Stefanski said playing Hunt and Chubb together was among one of the many things team discussed last week.#Browns

— Tom Withers (@twithersAP) December 6, 2021
Running or receiving, defenses need an extra linebacker or safety to keep an eye on who takes the ball.
And the more defenders they tie-up, the fewer players Cleveland's receivers have to beat.
Imagine a safety waiting to see if either Chubb or Hunt takes the fake handoff from Mayfield.
How far behind that safety can David Njoku or Austin Hooper get before he knows what is happening?
What Could Go Wrong? 
Stefanski is more likely to put in a small package of 2-running back plays than to commit to a new offensive scheme.
But it has to include traditional plays along with any gimmicks.
For a reigning coach of the year, Stefanski has proven challenged when it comes to surprising defenses.
To make Chubb and Hunt effective, defenses have to be perplexed about how to defend them.
Not the greatest pocket awareness from Jarvis Landry 😬 pic.twitter.com/ZiRq5XTfF9

— PFF Fantasy Football (@PFF_Fantasy) November 29, 2021
Sending Hunt in motion or going wildcat to either back lessens the range of possibilities.
And they need to run a few times if Stefanski expects them to help his wide receivers and tight ends much.
That means staying together for a while series of pass and rush options is the way to go.
And Stefanski has to give it a chance to work, even if the first play gets stuffed.