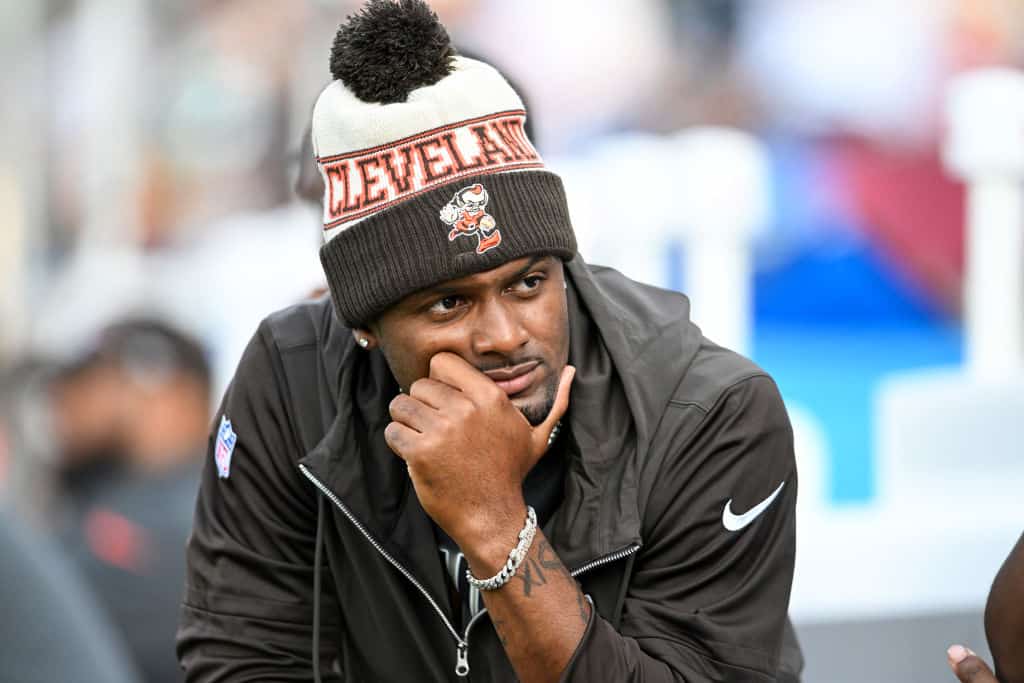 Deshaun Watson certainly has enough targets at Cleveland Browns training camp.
At last count, 17 receivers and tight ends are throwing their hands in the air trying to get his attention.
But Watson was asked about one in particular during yesterday's presser.
And Cleveland's franchise quarterback had nothing but praise for Austin Watkins Jr., via Noah Weiskopf.
#Browns QB Deshaun Watson on WR Austin Watkins, who's really been making a name for himself since being signed by Cleveland: pic.twitter.com/gRnvo1Piyk

— Noah Weiskopf (@BrownsWithNoah) August 9, 2023
"It was cool to be able to watch his USFL tape and then have him come in and help this team," Watson said. "He played good in the Hall of Fame Game. He had to learn quick… and for him to be productive was great."
Watson was impressed with how fast his newest receiver picked up the playbook after his late arrival.
And went on to say that Watkins asks a lot of questions and wants to improve every day.
Cedric Tillman and Watkins led the team with 35 receiving yards each against the New York Jets last week.
Watkins made the highlight reels by taking a quick pass and turning upfield between defenders for a touchdown.
His path to the Browns' 53-man roster might not be easy, but he put himself in the conversation.
And with another big play or two, Watkins could find his name listed in the sixth or seventh wide receiver spot.
A Long Strange Trip It's Been
With his 6-foot-3, 210-pound frame, speed, and good hands, Watkins looks like an NFL wide receiver.
But if he makes the Browns' roster, it will cap off a less-than-routine path to the top.
Watkins' college career started at Dodge City Community College before transferring to UAB as a junior.
He earned All-Conference honors, but a pandemic-affected schedule and statline left him undrafted.
San Francisco waived him with an injury after signing the 2021 UDFA, when Watkins began his professional tour.
ICYMI 👀

Former @USFLStallions WR Austin Watkins Jr. put on a SHOW last night in the NFL's HOF Game 🤩🍿

(via @browns) pic.twitter.com/hO6CUxFI33

— USFL (@USFL) August 5, 2023
That included stops with the Tampa Bay Buccaneers and the Canadian Football League's Saskatchewan Roughriders.
He joined the USFL in October of 2022 only to see his team decide to "take a hiatus."
The entire Tampa roster was transferred to a new team, the Memphis Showboats, who traded Watkins to Birmingham.
Watkins finally got to play, finishing the 2023 USFL season with almost 200 yards and a league championship.
Birmingham released him in July to sign with the Browns and the rest… is yet to be history.