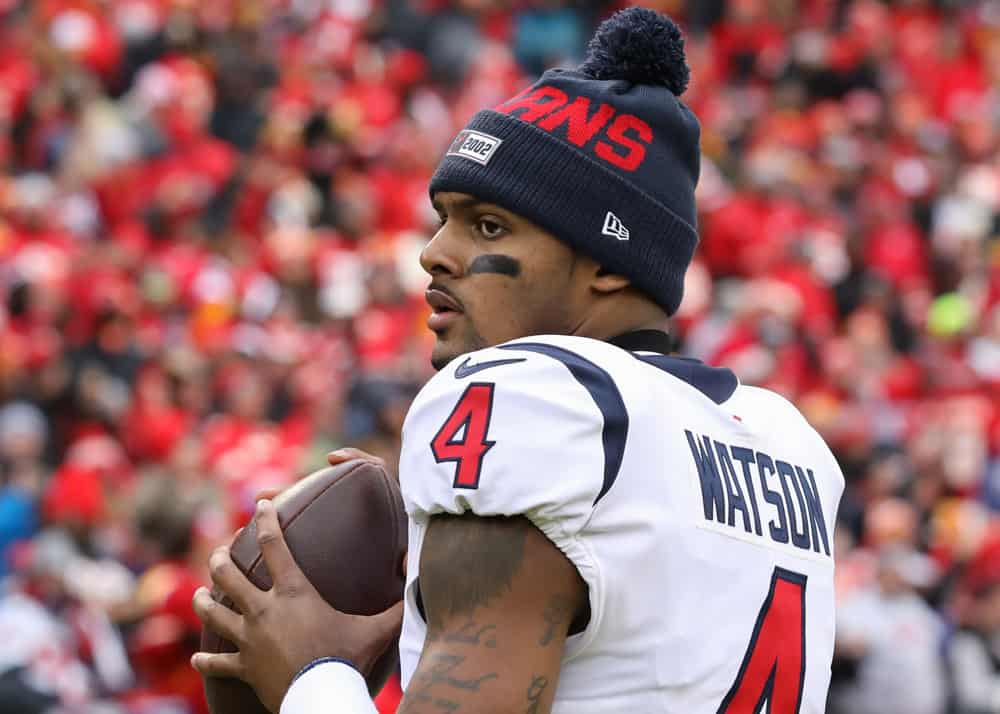 Jimmy Haslam is not known for his patience, at least when it comes to his Cleveland Browns leadership group.
But now that he has his cohesive, single-focused management team in place, things should calm down in Berea.
That hasn't kept a sizable part of the Browns' fan base from engaging in another offseason routine.
Fans might be acting reflexively after years of the Cleveland quarterback carousel.
But it appears they are programmed to expect a change in quarterbacks every season or two.
How else can we explain calls to trade for the Houston Texans' disgruntled passer?
DeShaun Watson might (or might not) be special, even elite, among NFL quarterbacks.
But Baker Mayfield's consistent improvement, and 2 playoff games, makes him the Browns' only choice for 2021.
The notion of changing quarterbacks generates some heated comments regarding true fan status and heritage.
It is a dangerous conversation to have.
But I live for danger, so let me explain why there is no room for debate on the matter.
"But DeShaun Watson Is a Better Quarterback"
There is little debate that Deshaun Watson is the better quarterback… if you're playing fantasy football.
Watson won championships for a lot of folks, while Baker Mayfield wallowed in the lower tiers of emergency streamers.
But those of us living in reality saw 11 wins for Mayfield's team versus 4 for the Angry Texan.
We also saw greatly improved play and new wrinkles almost every week.
It's amazing what a good system and coach can do for a young quarterback.
A thing of beauty 😍@bakermayfield finds @CALLME_WOOD for the touchdown!

📺: @NFLonCBS pic.twitter.com/wuvBuKgjL6

— Cleveland Browns (@Browns) December 6, 2020
And before you point out Watson's playoff appearances in 2018 and 2019, let me point out something else:
Bill O'Brien was a terrible general manager, but he coached Brock Osweiler and Brian Hoyer to the playoffs, too.
In fact, Hoyer and Baker Mayfield have as many playoff wins as Watson.
Cleveland fans and management know they can win with Baker Mayfield behind center.
With an improved defense and consistency on his offensive line, he will only get better in the system.
We don't know what changing teams will do to Watson's productivity.
He could be the Patriots' Cam Newton as easily as he can be the Buccaneers' Tom Brady.
So why risk it when you already have a winner to lead your team?
Think Practically: Can the Browns Afford Watson? 
One can argue the Browns are going to pay Baker Mayfield a lot of money soon.
His contract could end up being comparable to Watson's.
But that is not the only cost involved.
Houston wants a treasure chest of draft picks and young defensive studs in exchange for their star passer.
The price is rumored to be a pair of first-rounders, a pair of second-round picks, plus 2 defensive starters.
Such a deal would severely disrupt the Cleveland Browns development plan.
There is nothing better than seeing the Browns able to sit back and relax as all the QB madness happens this off season.

Baker Mayfield or no one. pic.twitter.com/l2rpMdm4L4

— Nick Karns (@karnsies817) January 31, 2021
Andrew Berry and Kevin Stefanski are geniuses, but Paul DePodesta still plays a role in big decisions.
And DePodesta's mantra is "stay the course."
With the team making the playoffs at least a year ahead of schedule, you can be sure that is what will happen.
Cleveland will not risk upsetting Mayfield just when his confidence and skill set are rising to the same level.
Berry will draft and sign the pieces he needs to improve the roster around Mayfield as planned.
Exactly how the cohesive, single-focused management team imagined they would build a winning organization.
It's All About The Quarterback's Attitude 
For some reason, there are folks who think Watson is abandoning the Texans because of their 4-12 record.
But if that is the case, why are the rebuilding New York Jets his preferred destination?
Houston's front office made enough mistakes this year to make earlier versions of Haslam's Browns look competent.
Among the mistakes was alienating Watson during their GM and head coach searches.
Watson wasted the season of his career while the team fell apart around him without lashing out or complaining.
But he still isn't Baker Mayfield.
Baker Mayfield is good at football.

Like if you agree 👍 pic.twitter.com/kxaIhPVARE

— Everything Cleveland (@EverythingCLE_) February 2, 2021
Mayfield hasn't always gotten rave reviews from this writer.
But as the 2020 season went on, he dispelled my concerns one-by-one.
Cockiness is only an issue if you can't walk-the-walk, and Mayfield showed up big in big moments late in the year.
Nobody can pin the loss in Kansas City on him, even if the defense had to bail him out after his one mistake.
Mayfield is for real, and he has the perfect attitude to take on the traditional bullies of the AFC North.
He tweeted his amusement at another publication's assertion that Berry needs to pursue Watson,
Many folks described it as angry, retaliatory, aggressive, or worse.
But I saw it as the confident response of a franchise quarterback laughing off a silly idea.
Because that is what the notion of the Cleveland Browns trading for Deshaun Watson is at this moment in time:
Nothing but a silly idea.