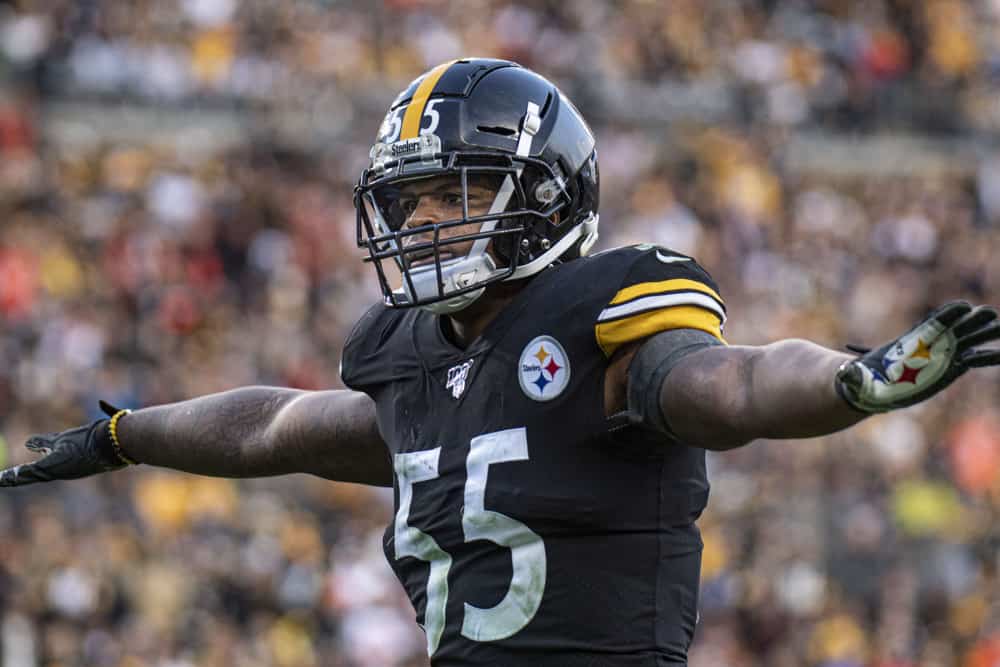 Their fans are still waiting for the Cleveland Browns' offseason mini-camp to kick off.
But the Pittsburgh Steelers already fired a shot at one key player in Baker Mayfield's offense.
Granted, linebacker Devin Bush was set up by a surprise question.
#Steelers LB Devin Bush, in the process of returning from ACL surgery, is asked if when healthy, he can cover #Browns WR Jarvis Landry in the slot: "Yes."
*pause*
"One hundred percent."

— Aditi Kinkhabwala (@AKinkhabwala) June 9, 2021
But his answer is sure to inspire some social media feedback from both sides of the Pennsylvania-Ohio border.
Meanwhile, Jarvis Landry added a darker circle around Halloween, when Pittsburgh next visits Cleveland.
To be sure, the notion of a linebacker shutting down Jarvis Landry is far-fetched to begin with.
#Steelers LB Devin Bush suffered a torn ACL during today's game vs. Cleveland and will miss the rest of the season, per @AdamSchefter. Bush was the defensive play caller for the #Steelers and didn't miss a single snap all season prior to the injury. Huge loss.

— NFL Update (@MySportsUpdate) October 18, 2020
But Bush is recovering from an ACL injury and could be a step slower for a while.
Landry was banged up a bit last season, too.
But he is looking good catching passes from Baker Mayfield in Texas this week.
What Prompted Such a Question? 
Landry didn't have a particularly strong stat line against the Steelers last year.
In the two regular-season games, he caught 8 of 11 targets for 91 yards.
He also scored on a 3-yard touchdown run in the season finale.
But matched his regular-season yardage while catching 5 of 8 targets in the Wild Card game.
And he also had a highlight-reel catch and run in the Browns' big wild card victory in Pittsburgh.
JARVIS. LANDRY.

📺: https://t.co/NyBDmNclTK pic.twitter.com/DESCrHfqWx

— Cleveland Browns (@Browns) January 11, 2021
This might have been on the mind of the reporter who asked Bush about covering Landry.
However, Landry was covered by a cornerback and a pair of safeties were the closest when he caught the ball.
If there was supposed to be a linebacker in a position to defend Landry, the question makes more sense.
Don't cover Jarvis Landry with linebackers

— PFF (@PFF) January 11, 2021
But Austin Hooper runs a shorter crossing pattern inside of Landry and takes the linebacker with him.
It appears the cornerback has Landry at the line and he stays close enough to miss a tackle attempt at the 5.
The play design might have crossed things up if he was supposed to pass Landry off.
Can Devin Bush Cover Landry? 
Jarvis Landry is expected to see plenty of snaps out of the slot this season.
But even if that isn't the plan, we expect Kevin Stefanski to draw up a "Pittsburgh Special" for the Week 8 contest.
So that begs the question: Can Devin Bush cover Jarvis Landry out of the slot?
PFF looked at 124 snaps of Bush in man-to-man coverage as a rookie and gave him an excellent grade of 89.3.
Let's pre-snap shift Jarvis Landry into the backfield, offset Kareem. PA to 80 from the RB alignment and throw it back to him. Because why the hell not. Stefanski was dealing today. #Browns pic.twitter.com/v6Oh5sFqM1

— OBR Film Breakdown (@TheOBRFilmBDN) December 7, 2020
But his zone coverage was weak (52.8) and earned him a reputation as a mediocre coverage linebacker.
With 4.43- 40 speed and a 40.5 verticle, Bush has some tools to cover a tight end or back.
But Jarvis Landry is a different animal, different even from Bush's rookie year.
Over the last 2 seasons, Landry's earned a top-notch analysis score from PFF for his man coverage receiving.
Jarvis Landry now has multiple catches in 💯 straight games, one of five players to ever do that. He's never missed a game, is relentless as a player and made this incredible catch on Sunday.

(🎥: @NFL) pic.twitter.com/WuRjRX7Ayv

— Field Yates (@FieldYates) October 12, 2020
What used to be his biggest flaw has become a strength, as Browns fans saw many times last season.
So to answer the question without exposing my Browns-tilted prejudice…
Watching Devin Bush cover Jarvis Landry man-to-man will be a highlight of the 2021 NFL season.