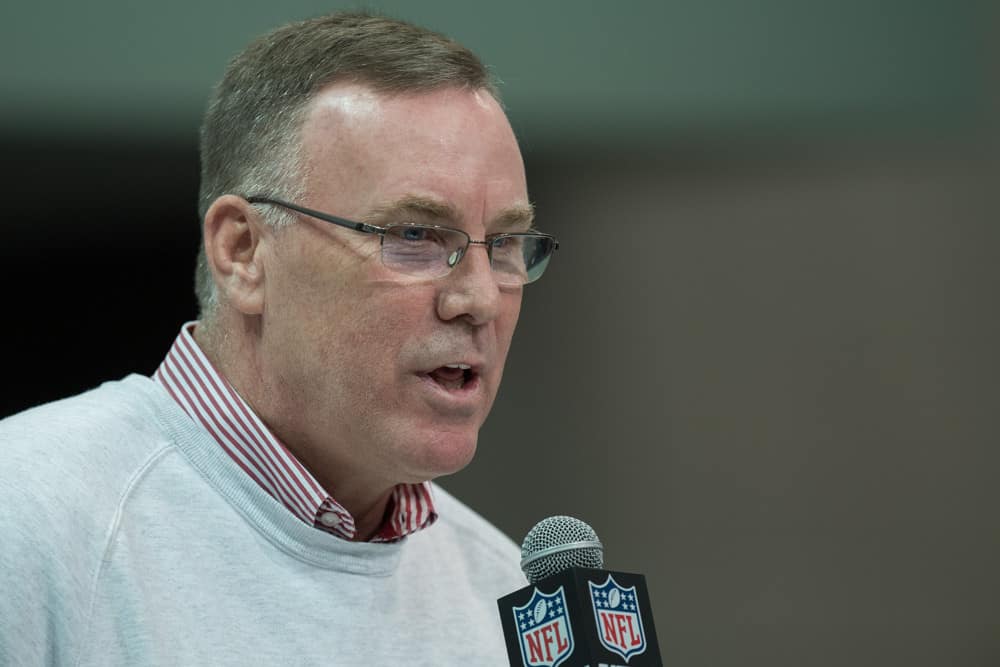 John Dorsey joined the ranks of former Cleveland Browns GMs largely because he failed to fix his offensive line.
But stories around the NFL this week continue to tie Dorsey to an unrealized Trent Williams deal.
When pressed about dealing for the left tackle last season, Dorsey reminded reporters, "it takes two to tango."
Dorsey asked if he's spoken to Washington team president Bruce Allen: "We've had a few conversations." (LT Trent Williams)… When Williams was referenced… "It takes two to tango."

— Jake Trotter (@Jake_Trotter) October 16, 2019

The inference being Redskins GM Bruce Allen wasn´t open to making a deal with Dorsey.
Browns fans lamented the pounding Baker Mayfield was taking each week.
Dorsey heard the fans clamoring for the Redskins´ 7-time Pro Bowler.
Ultimately, Bruce Allen´s failure to pull the trigger might have cost him his job, as well as Dorsey´s.
What Was the Dorsey Offer?
Current Redskins head coach Ron Rivera told Kevin Sheeran of The Kevin Sheeran Show this week:
"There was an opportunity, from what I was told, that last year just before the trade deadline he was worth a first-round pick. But, for whatever reason, the deal was never done,"
Apparently the #Redskins were offered a 1 for Trent Williams last year. Ron Rivera told this to @kevinsheehanDC: "From what I was told, there was an opportunity before the trade deadline that he was worth a 1st-round pick. But for whatever reason the deal was never done."

— NFL Update (@MySportsUpdate) April 29, 2020
There is considerable conjecture that the last-minute proposal included the Cleveland Browns.
But at least one NFL writer reported an angry Dorsey took his first-rounder off the table by that point.
.@CharlesRobinson on Yahoo! Sports NFL Podcast "The Cleveland #Browns are furious w/ the Washington Redskins over Trent Williams." Says 6 wks ago, Redskins could've had 1st rd pk for Williams from CLE. WASH waited 6 wks, CLE basically said "kiss my ass, you're not calling me now"

— Keith Britton (@KeithBritton86) October 30, 2019

John Dorsey never publicly stated what or whom he offered the Redskins.
But most reports were that a first-round pick was on the table before the season began.
NBC Sports reported the New England Patriots also made an offer involving their 2020 first-rounder.
The Browns gave up their 2019 first-round pick to the Giants in the Odell Beckham trade.
It would be very unusual for a team to give up consecutive first-round picks for established players.
The economics of paying too many high-priced salaries compared to rookie contracts is unattractive.
It is possible Dorsey offered a 2021 first-rounder and sweetened the pot further.
But Dorsey´s aggressive dealing and "win now" goal doesn´t rule out dangling the 2020 pick, either.
Rumors that Snyder wanted a first-rounder plus a starting player got some print space early in the season.
It was also reported that the Redskins were asking for Denzel Ward in a deal.
All´s Well That Ends Well… for Cleveland
Browns' fans and pundits directed considerable angst at Dorsey for failing to fix the offensive line.
But you should read some of the Redskin fans´ opinions on the matter.
Past Trent Williams trade offer would have given Washington first-round pick https://t.co/IeUSmuK80a DAMN YOU BRUCE ALLEN!!! YOU SON OF A ……. WE SHOULD HAVE HAD TWO 1ST ROUND PICKS IN THIS DRAFT HAD HE DONE THE RIGHT THING LAST YEAR!!

— Ernie (@ecl326) April 29, 2020
Things got personal early between Trent Williams and Bruce Allen.
Whether or not Allen refused to trade Williams out of spite is unknown, but widely rumored.
Things were bad enough that firing Allen and everybody else Williams was reported mad at didn´t help.
As each reported suitor for Williams´ 2020 services drafted left tackles last week, the debacle was magnified.
But Rivera salvaged a couple of mid-round picks when San Francisco had to replace Joe Staley.
And the Cleveland Browns landed a potential Joe Thomas-level left tackle in Jedrick Wills Jr.
Welcome to Cleveland, Jedrick Wills Jr.!

📰: https://t.co/X4Nll3DMee#BrownsDraft pic.twitter.com/agucLqT4To

— Cleveland Browns (@Browns) April 24, 2020
Bruce Allen might have inadvertently taken John Dorsey down with him.
But with a new general manager, head coach, right and left tackles, and more…
Things look like they will work out for the Browns.