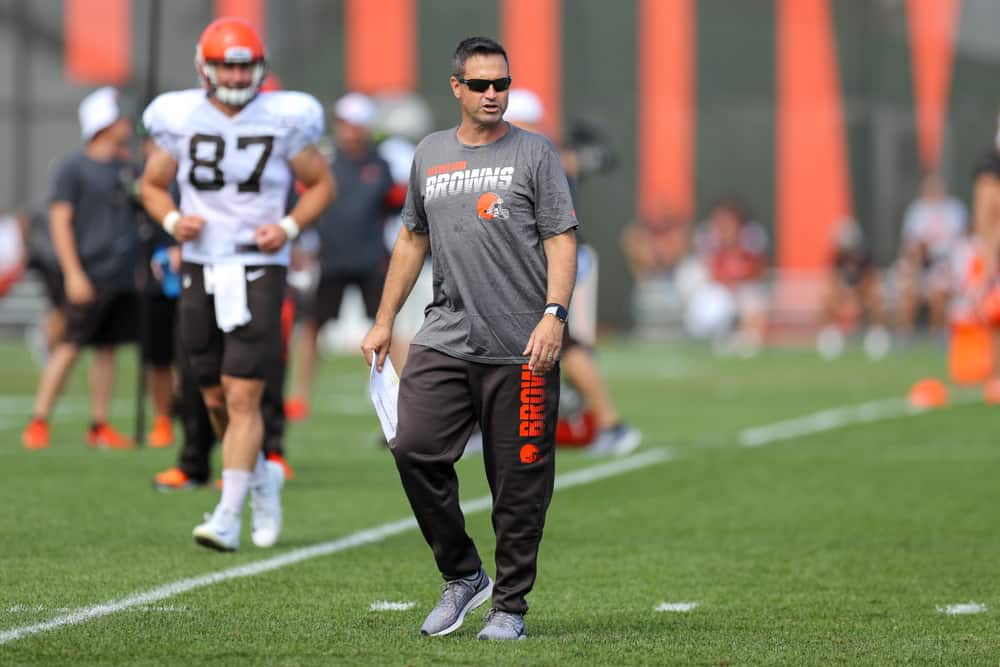 Just two years ago, Cleveland Browns special teams coordinator Mike Priefer led the team to a Wild Card victory in Kevin Stefanski's absence.
Fast forward to the 2022-2023 season, and many are calling for him to be fired.
That's business in the NFL, which, after all, is exactly that.
A business. Furthermore, it's a business where winning comes before just about anything else.
The Browns currently believe Priefer will help the team win.
According to Cleveland.com's Mary Kay Cabot, the Browns have told Priefer his current job is safe and he will return to Cleveland in 2023.
#Browns Special Teams Coordinator Mike Priefer has been informed that his job is safe, as Mary Kay Cabot reported. In addition, Passing Game Coordinator/Defensive Backs Coach Jeff Howard was informed the same, but he'll also interview for the #Chargers linebackers coaching job.

— Noah Weiskopf (@BrownsWithNoah) January 19, 2023
Did the Browns make the right decision in bringing back Priefer for next season?
Let's take a look.
Serious Struggles
While Cleveland's special teams got off to a hot start with Cade York's game-winner in Week One, the unit struggled to find consistency.
York's 75% field goal percentage is the worst among AFC kickers except for Pittsburgh's Chris Boswell.
That's not ideal for someone who the team spent a fourth-round pick on.
While York missing isn't exactly Priefer's fault, some of the blocked kicks this year could be pinned on coaching.
Whether it's bad protection scheme or guys simply not executing properly, the field goal lapses happened a bit too often this season.
WTF MIKE PRIEFER?!?!? pic.twitter.com/LdSZTjjOtc

— 🇺🇸BROWN SPIDER ADVENTURES!!!🇱🇷 #D4L (9-8) (@BrownSpiderCLE) November 1, 2022
Cleveland Browns cheated by Referees on crucial penalty. Leading to cade York having his field goal blocked. Should have been a Cleveland 1st down pic.twitter.com/EWoe1Yj7sm

— Fierce  (@FierceIndepend1) October 23, 2022
Then you look at the punting game. In terms of punt coverage, the Browns were the worst team in the league last season.
According to Rick Gosselin's 2022 NFL Special Teams Rankings, the Browns punt coverage team allowed 12.3 yards on average.
The league average sits at 8.8 yards.
Again, while players need to execute, some of that has to fall on coaching.
Being able to make adjustments in weak areas throughout a season is critical.
While punt return saw hefty improvements, Cleveland's punt coverage is still putrid.
DPJ Saving the Day?
Perhaps Priefer owes Donovan Peoples-Jones a bit of a thank you for keeping his job.
His 223 punt return yards came in as the 15th-best in the league last year.
That, of course, included an explosive return touchdown in Deshaun Watson's debut in Houston.
DPJ 76-yard punt return TD! @dpeoplesjones

📺: #CLEvsHOU on CBS
📱: Stream on NFL+ https://t.co/Vz8D2Cm19r pic.twitter.com/qcbmnkQ9pY

— NFL (@NFL) December 4, 2022
While one punt return score alone isn't keeping Priefer around, it's not helping him out the door, either.
Strides in the return game throughout the year were a strength of Priefer's unit.
Too Little Too Late
Cleveland's defense improved down the stretch.
But the lapses over the first half of the season were enough to send Joe Woods to the exit doors. EPA data, seen here, should tell us a similar story for Priefer.
I dug out some old code on one of the first things I did with NFL play-by-play data. Special teams epa per play. #nflverse
CC:@arjunmenon100 pic.twitter.com/PLidJm63dG

— Sebastian (@mrcaseb) November 22, 2022
The Browns' special teams ranked fourth-worst through the first 11 weeks.
Even though that improved to 18th per Rick Gosselin's aforementioned end-of-year rankings, should it be a case of too little too late?
Verdict: Mistake Bringing Him Back
Time and time again we see special teams making or breaking a game.
The Browns saw that on a number of occasions this season.
With Cleveland's special teams falling as flat as the defense did this year, I don't see the appeal in bringing Priefer back.
Consistency is important for an organization, sure, but Priefer's units didn't do that in 2022.
We'll see if they can find it next season.