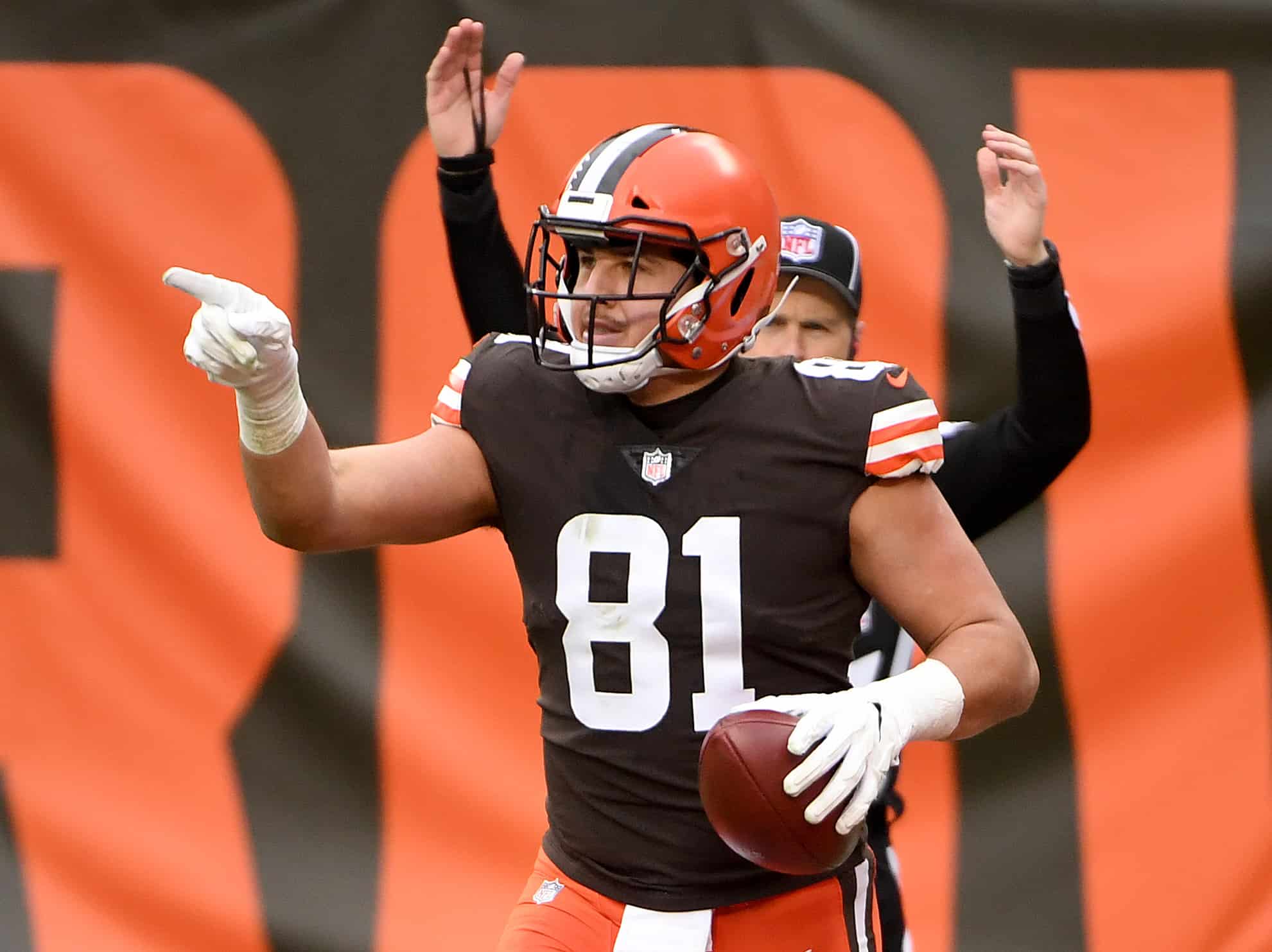 The Cleveland Browns made more intriguing roster news today when they announced that tight-end Austin Hooper will be released.
Source: The #Browns are going to release TE Austin Hooper as a post-June-1 designation.

A 27-year-old dual-threat tight end and two-time Pro Bowler will be on the market.

— Jeremy Fowler (@JFowlerESPN) March 16, 2022
Hooper was set to enter the third year of his four-year $42 million contract.
He was the first splashy free-agent signing under GM Andrew Berry's tenure back in 2020.
Was releasing Hooper the correct decision?
The answer is yes, and here are the reasons why.
1. Hooper's Productivity Didn't Equate To His Salary
For a host of reasons, Hooper was not as productive as anyone hoped he would be with the Browns.
In 2020, he missed time because he had appendicitis.
Though healthy in 2021, his numbers through 16 games were not as good as in 2020 when he played 13 games.
He had 38 catches for 345 yards and 3 touchdowns in 2021.
Some will say that he was an effective blocker and a leader in the tight end room; those things could be true but still for the salary, his stats needed to be better.
He also had the reputation of dropping passes in 2021.
Austin Hooper has dropped A LOT of passes this season. Like a lot.

— Doug, apparently (@xHarveyKiddx) January 4, 2022
Instead of drops, the Browns needed a lot more clutch catches like the one he made on fourth down in the divisional playoff game against the Chiefs.
This season-saving catch from Austin Hooper 🤯

(via @thecheckdown)pic.twitter.com/iNels878DP

— Bleacher Report (@BleacherReport) January 17, 2021
2. Njoku Is Getting Paid
The Browns chose to franchise tag David Njoku.
David Njoku is set to make $10M this season on the franchise tag.

Career stats:
148 REC
1,754 YDS
15 TDS

TE's he will make more $$ than:

• Tyler Higbee
• Darren Waller
• Logan Thomas
• TJ Hockenson
• Noah Fant
• Cole Kmet
• Irv Smith

Was it the right move? No.

— Kyle Williams (@betonthegame) March 8, 2022
As soon as the team elected to tag Njoku, that meant there was no way they could tie up so much money in two tight ends.
Coach Stefanski likes multiple tight-end sets, but it doesn't seem they are used enough to justify both salaries.
Njoku's productivity should go up with Hooper no longer there.
He will be the official TE1 in 2022 even though his 2021 stats outdid Hooper's when he was considered TE2.
In 2021, Njoku had 36 catches for 475 yards and 4 touchdowns.
3. Bryant Is An Up And Coming Player
Don't forget about Harrison Bryant who made his own clutch catches and is an effective TE2 behind Njoku.
Bryant is still playing under his rookie contract.
David Njoku and Harrison Bryant are the future. This saves them cap space. The right call here. https://t.co/dbrIrMRCIT

— Tim 🤙 (@optimusfb) March 16, 2022
Through two seasons and 31 games, Bryant has 45 catches for 471 yards and 6 touchdowns.
Uncertainty Abounds On Browns Offense
There is so much uncertainty associated with the Browns' offense right now.
The receivers are wiped out from last year's roster; Odell Beckham Jr., Jarvis Landry, and Rashard Higgins.
With Hooper gone and the team electing not to tender tight end Stephen Carlson, it is unclear what the plan is.
Browns not tendering TE Stephen Carlson, per source

— Jake Trotter (@Jake_Trotter) March 16, 2022
Carlson may end up back on the team with a lower salary.
Stephen Carlson may end up back on the Browns. It seems likely, but at a veteran minimum or a little more.

They aren't paying TE4 $2.4M

— Pete Smith (@_PeteSmith_) March 16, 2022
Even if the Browns are going with a new quarterback, they can accomplish everything necessary without Hooper.
For depth purposes, they may try to get one in the draft.
Conclusion
Things do not need to make sense on the first day of the NFL year.
There must be a method to the madness, and we cannot see what it is at this juncture.
At the beginning of the league year, it is time to be optimistic and ready for whatever lies ahead.