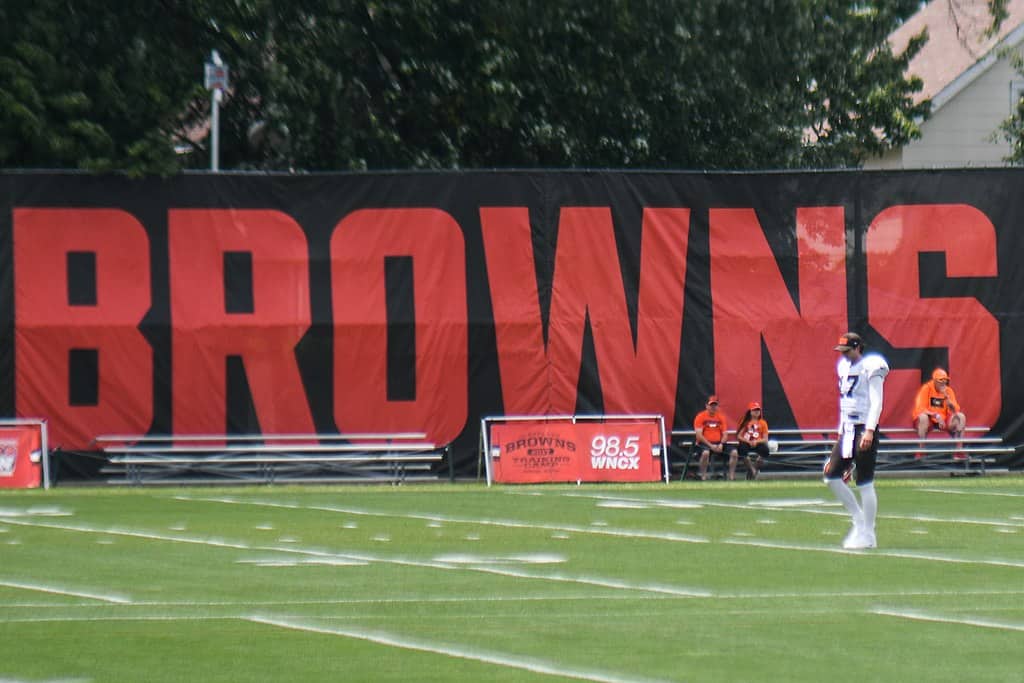 The Cleveland Browns have definitely experienced ups and downs in training camp thus far.
A string of Injuries, issues with the COVID-19 test laboratory, and racial injustice have created a stir.
But there are also players who are performing well, impressing the coaching staff, and giving fans hope for a successful 2020 season.
2 are understudies, and 1 is a newly minted Brown.
1.  Nick Harris – Center

A collective sense of dread permeated the building when it was announced C JC Tretter required knee surgery.
It was an arthroscopic procedure intended to clean up minor issues.
The procedure was completed on August 13, and Tretter committed to being ready for the season opener against the Ravens on September 13.
However, he is not yet back at practice so rookie Nick Harris has been picking up the slack.
And doing it very well.
#Browns Rookie Center, Nick Harris, is taking snaps with the starters in Training Camp.

Veteran, JC Tretter, recently had knee procedure and could be out for a couple of weeks.

Harris is a 5th Round Pick out of Washington and was a 2nd Team All-American last year per @SInow. pic.twitter.com/bJVM8LMGyH

— The Hottest Take Sports Podcast (@Hottest_TakePod) August 16, 2020

Harris, drafted in the 5th round, has shown agility and awareness.
Coach Stefanski has taken notice.
After expressing his confidence in Harris's readiness, Harris responded:
"I'm just trying to optimize whatever role I have and whatever that may be. I'm just trying to be a role player for this team and whenever my opportunity comes, I'm ready for it."
If called to be the starter on opening day, Harris will be the 2nd rookie starter on the offensive line (along with 1st round draft pick Jedrick Wills at left tackle).
#Browns rookie Nick Harris on how working at center in place of JC Tretter (knee scope) impacts his bid to beat out Wyatt Teller at RG pic.twitter.com/11YSkm9EQp

— Mary Kay Cabot (@MaryKayCabot) August 17, 2020
2. Kareem Hunt – Running Back
It seems almost ridiculous to assume that Kareem Hunt could do anything but impress.
Kareem Hunt showing off the speed early in camp #Browns (via Cleveland Browns) pic.twitter.com/twCzEIYIin

— BrownsWave \\: (@BrownsByBrad) August 20, 2020
But the 2017 NFL rushing title champion has not recaptured the glory, speed, and performance of his breakout rookie season with the Chiefs.
Off the field issues cut his time short with Kansas City leading to his release during the 2018 season.
An 8 game suspension gave him only a half season last year.
But he's back and got a lot of early and unexpected work after Nick Chubb entered the concussion protocol.
Everyone who has seen him has mentioned that he looks to be in 2017 form and appears to fit perfectly into the Kevin Stefanski offense.
He also showed off season commitment by participating in Zoom meetings for the WRs.
Hunt is so versatile and at his best, he is hard for any defense to stop.
3. Austin Hooper – Tight End
The Browns paid big money to get Hooper, the former Atlanta Falcon.
So he really needed to hit the ground running and establish himself in Stefanski's tight-end friendly schemes.
And he has.
All the media outlets who have seen Hooper in action at camp have marveled at his abilities.
He is making leaping catches in traffic and proving a worthy and valiant target for Baker Mayfield.
#Browns Baker Mayfield hits Austin Hooper (via Browns) pic.twitter.com/lFQtSjy1T3

— BrownsWave \: (@BrownsByBrad) August 22, 2020
Some of his training camp success could be attributed to Hooper working out with Mayfield in May in Austin.
Baker Mayfield ➡️ Austin Hooper#Browns fans could get used to seeing this combination 👀

More on @Browns Training Camp Daily tonight after Indians Live postgame pic.twitter.com/VNN2890NZJ

— FOX Sports Cleveland (@FOXSportsCLE) August 19, 2020

WR Odell Beckham Jr. and rookie TE Harrison Bryant are also performing well at training camp.
All of this offensive progress is extremely good news for Browns fans and hopefully carries forth into the regular season.