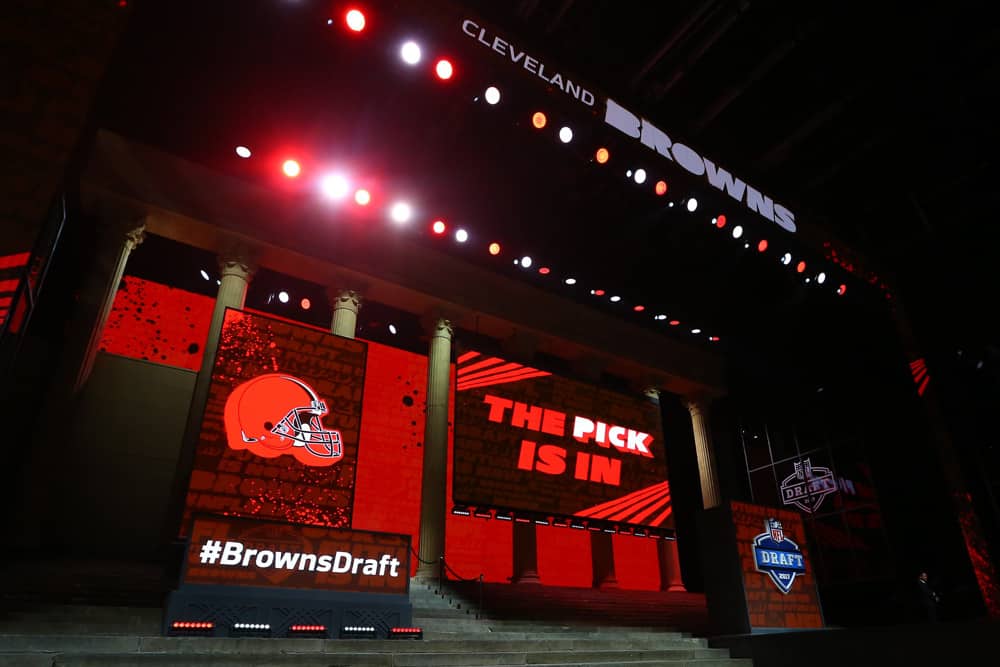 The Cleveland Browns will have a big decision to make with the No. 10 pick in the upcoming NFL Draft.
According to NFL Network's Daniel Jeremiah, there is a 'best-case scenario' that he sees for the Browns with the pick.
In the NFL Network's most recent edition of 'Path To The Draft,' Jeremiah talks about this best-case scenario:
"The Browns in free-agency went out and got Jack Conklin to fill one of those tackle spots. I still think they need another tackle, but best-case scenario, let's give them Isaiah Simmons from Clemson." Jeremiah said.

"Somebody that can be that hybrid-defender, a little linebacker, a little safety, with big time speed. I would love to see him there replacing Joe Schobert. And in a division with Lamar Jackson, you better add some speed on the defensive side of the ball."
Simmons would certainly be a great option for the Browns at pick 10, but the chances of him falling to that pick seem slim.
If the Browns did pick Simmons, they would most likely have to move up in the draft to get him.
Simmons is considered one of the best and most versatile players in the entire 2020 draft.
Thread on Isaiah Simmons:

Simmons is redefines being a "position-less player". Lining up at ILB, OLB, Slot, Safety and even the DE, Simmons is able to use his rare size and athleticism to be versatile in his usage and allow defenses to disguise their tendencies. pic.twitter.com/faz0REJsBj

— NFL Film Review (@NFLFilmReview) April 2, 2020

His 2019 numbers included 104 total tackles, 7.0 sacks, eight passes defended, and three interceptions.
He also had a great combine.
Simmons ran the 40-yard dash in 4.39 seconds, recorded a 39.0 vertical jump, and a 132.0 broad jump.
Isaiah Simmons just scorched a 4.39 at the NFL Combine. My man is about to get paaaaaaid. 💰💰💰 pic.twitter.com/GwqTMe11pW

— Austin Pendergist (@apthirteen) March 1, 2020
Only one linebacker has ran faster than Simmons since the NFL began reporting official combine workout numbers in 2006.
That was Shaquem Griffin in 2018.
But, Griffin also weighed 11 fewer pounds than Simmons.
There isn't a player close in the draft that can match the skill-set that Simmons has at so many different positions.
He can just about do everything according to ESPN's Field Yates.
Isaiah Simmons by alignment for Clemson in 2019:
* Safety: 218 snaps
* Slot CB: 286 snaps
* OLB: 160 snaps
* ILB/MLB: 120 snaps
* Perimeter CB: 17 snaps

He rushed the passer 71 times and had *7* sacks.

The most versatile player in the 2020 NFL Draft.

— Field Yates (@FieldYates) January 18, 2020

Simmons has stated he is most comfortable at weak-side linebacker.
This makes a lot of sense with an athlete like Simmons as this allows him to chase down opponents and make plays all over the field.
In this clip provided by The Athletic's Ted Nguyen, watch Simmons identify the ball, diagnose the play, chase the quarterback, close the gap and finish from the second level.
Simmons goes from covering the RB to closing on the QB in a hurry pic.twitter.com/lPAFUu1m7u

— Ted Nguyen (@FB_FilmAnalysis) March 1, 2020