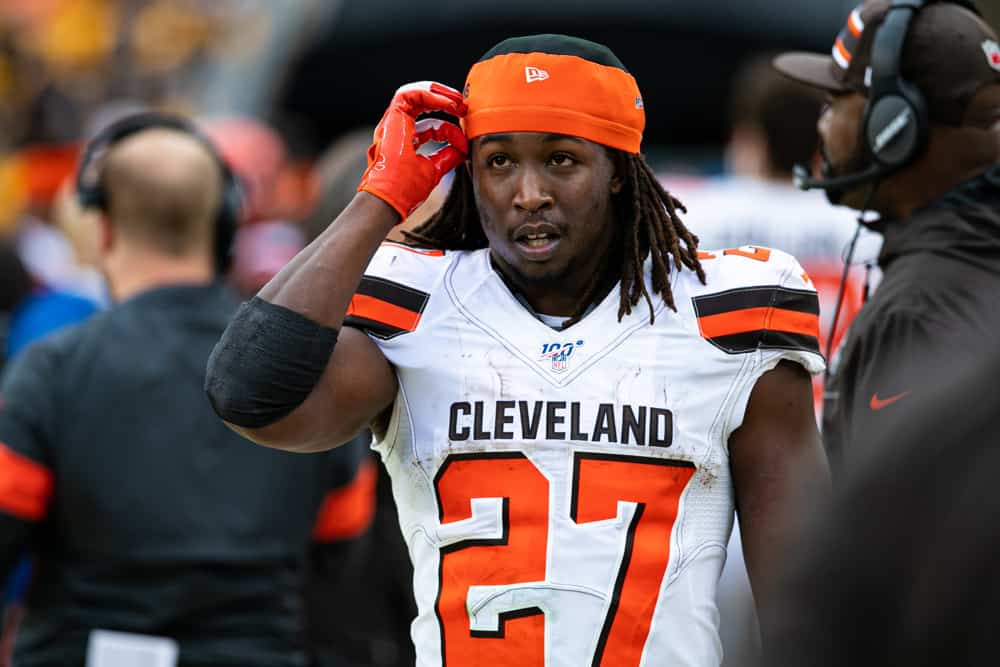 Cleveland Browns running back Kareem Hunt will not face charges after police found marijuana in his car last month.
Rocky River police initially pulled the 24-year-old running back over for speeding on Jan. 21.
"We will not be pursuing charges of marijuana possession against Kareem Hunt," the Rocky River Police Department told the Akron Beacon Journal on Monday.
In addition to marijuana, an officer also found a container of vodka that had been opened but was sealed in a backpack with Hunt's name on it.
In the dashcam video, the officer told Hunt the backpack with the vodka bottle should have been in the trunk of the car.
WATCH: Kareem Hunt's bombshell police video, open vodka container & drug confession pic.twitter.com/D6LYnjCIJx

— TMZ Sports (@TMZ_Sports) January 27, 2020
Police later announced Hunt did not receive preferential treatment even despite the officer referring to himself as "one of the hugest Browns fans ever" during the traffic stop.
Hunt told the officer he would not pass an NFL drug test.
During the stop, the officer did not give Hunt a breathalyzer test.
The Rocky River Police Department told the Akron Beacon Journal the decision not to charge Hunt for possession of marijuana is due to a state law change last summer to legalize industrial hemp.
Hunt initially told the officer the marijuana belonged to his brother.
The officer found less than a gram of marijuana in the car and wrote Hunt a speeding ticket, which court records show he resolved by paying $211.12.
Browns general manager Jimmy Haslam later said that "what he [Hunt] did was not acceptable" and "he's got to do better."
"It's not good," Haslam said. "Kareem knows he has to do better. Kevin [Stefanski] and Andrew [Berry] have talked to him about it, and I'll just leave it at that."
The Browns are planning to tender Hunt as a restricted free agent and bring him back for the 2020 season.
"We have and will continue to work closely with Kareem, but he knows our expectations are higher than what he showed a week or two ago," Haslam said. "If Kareem can follow the expectations that we have laid out for him, (he will be back)."
Hunt has had off-the-field issues in the past.
The Kansas City Chiefs cut him in November 2018 after TMZ released a surveillance video of him shoving and kicking a woman in February 2018 at a hotel in downtown Cleveland.
The NFL suspended Hunt for the first eight games of the 2019 season, which he served with the Browns.
NFL free agency officially gets underway at 4 p.m. ET Wednesday, March 18.